Stock markets are often prone to irrationality. History has shown us that stock prices can often diverge from fundamentals in both directions. We believe that Fossil's (NASDAQ:FOSL) stock price has diverged from its fundamentals, setting up a long-term buying opportunity.
Fossil's stock sank after the watch and accessory maker reported its first quarter 2012 results and offered guidance that was weaker than expected. However, we feel that the more than 37% plunge in the stock was an overreaction, and we outline our bullish thesis below. Before we do that, we will provide a brief overview of Fossil's quarter and its guidance. For the record, the financial figures and management commentary that we will provide in this article will be sourced from either Fossil's earnings conference call or its first quarter 2012 earnings release, unless otherwise noted.
Q1 2012 Results & Guidance: Is There a Silver Lining?
Fossil reported its first quarter results before the markets opened on May 8, and the company delivered another record quarter, with EPS reaching a record 93 cents on revenues of $589.533 million. And yet, these results themselves were something of a mixed bag. Fossil beat EPS estimates by a penny, yet missed on revenue by $27 million. We break down the results below.
Fossil Q1 2012 Results
| | | |
| --- | --- | --- |
| | Q1 2012 | Q1 2011 |
| Net Sales | $589.533 Million | $536.975 Million |
| Cost of Sales | $260.553 Million | $235.163 Million |
| Gross Profit [Gross Margin (%)] | $328.98 Million (55.803 %) | $301.812 Million (56.206 %) |
| Net Income [Profit Margin (%)] | $61.072 Million (10.36 %) | $58.066 Million (10.813 %) |
| Diluted EPS | $0.93 | $0.86 |
While Fossil may have posted record revenues and profits this quarter, its margins fell, albeit slightly. Fossil attributes the decline in gross margins year-over-year to higher input costs, specifically factory labor, higher watch component costs, and increased sales to third-party distributors. The decline was offset in part by increased watch sales, which carry higher margins, higher direct consumer sales, and Asian sales accounting for a larger proportion of total sales. For all of 2012, Fossil expects gross margin to be just below the levels seen in 2011, implying that margins will rebound slightly from Q1 2012 levels.
Fossil's sales, however, rose across all geographies this quarter, including Europe. Wholesale sales rose 9.3% in North America, 18.8% in Asia, and 4.7% in Europe (those figures are on a constant currency basis. When adjusted for currency, sales grew by 8.8%, 19.47%, and 0.72%, respectively). While Europe may have been the slowest growing segment this quarter, it still grew. Though growth has slowed from the blistering 22% pace set in the prior-year period, sales in Asia and North America will carry the company. European sales grew this quarter, yet the percentage of sales from Europe dropped. We anticipate this trend to continue in the quarters to come.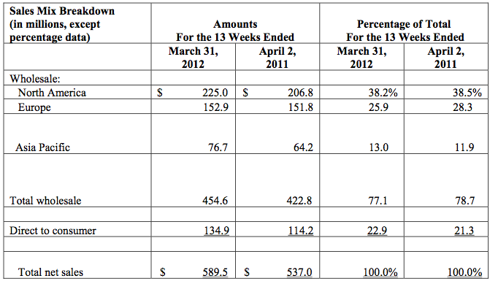 Fossil's guidance for the second quarter calls for EPS of 77 to 79 cents, on sales that are expected to grow about 16% over prior year levels. Why then, did Fossil shares collapse after it reported earnings? In a word, the answer is Europe. Fossil said something on the conference call that unnerved a lot of investors. Specifically, CEO Kosta Kartsotis stated that
As we anticipate economic softness to continue in Europe, we are reducing our previous scoped growth expectations of mid-teens for the year down to low to middle single digits. We will continue to be very active in the market and expect to gain market share through our many initiatives in the region.
Fossil's second quarter guidance trailed the 94 cents analysts had been modeling. As a result of Europe, Fossil cut its 2012 EPS guidance to somewhere between $5.30 and $5.40, down from its prior view of $5.40 to $5.50. Analysts were modeling 2012 EPS of $5.56. It is here where our bullish thesis begins to form. Fossil shaved 10 cents off of its 2012 guidance, and at the midpoint of its guidance, trailed analyst estimates by 21 cents, and the stock plunges over 35%.
To us, that is a gross overreaction. On the earnings call, Fossil had good things to say about certain countries in Europe. It is important to remember that generalizing the European economy would be a mistake, and we believe that investors are acting rashly when they think that Fossil's entire European business is crashing.
The Conference Call: Highlighting the Positives
It is refreshing to see, for once, Europe being the main issue on a conference call when it actually deserves to be discussed. We have seen too many conference calls where analysts obsess over Europe, even if the macroeconomic issues Europe is dealing with have no bearing on that company's business.
Fossil is still guiding for a global sales increase of 16%, and for constant dollar sales set to rise by 18%. Fossil's new forecast of $5.30-$5.40 in EPS includes 22 cents related to Skagen's operations (the acquisition of which closed on April 2), and a 15 cent charge related to integration costs. In addition, the company has stated that a stronger dollar will have a 7 cent negative impact on full year 2012 earnings.
Analyst after analyst interrogated the company about its macroeconomic expectations, and there was little attention paid to specific products in Fossil's portfolio. Almost the entire call was devoted to the company's outlook and what it sees on the ground. And frankly, we do not believe that things are as bad as the stock price suggests.
Analysts Ike Burochow of JPMorgan asked the company to comment on Europe on a country by country basis. CEO Kosta Kartsotis said that the company is seeing strong growth in both the United Kingdom (a country that recently double-dipped) and France (which many suspect of as being next in line as the epicenter of the debt crisis). Germany posted flat comparisons year-over-year, and Italy and Spain were down due to the economic issues there.
In Germany, sales were impacted more by product issues in the jewelry segment. Given that Germany is Fossil's most penetrated European market, a miss in that country will have an outsized impact on European results as a whole. In addition, Fossil is bullish on its ability to continue growing in Northern Europe, where the Skagen brand has particular strength. It is also important to note that overall, Fossil will still grow its European business in 2012, with the company guiding for mid-single digit sales growth in the region. And that is for the core Fossil business only. Those estimates do not include sales from the Skagen acquisition, which closed on April 2.
When Citigroup analyst Oliver Chen asked the company to elaborate on its growth and decline rates in Europe, Fossil replied that France and the United Kingdom grew by double digits, Spain and Italy declined by double digits, and that Scandinavia is still growing "nicely." It is important to note that in April, Fossil has seen a partial rebound in its European business. CFO Mike Kovar, on the call, stated that German sales are improving from Q1 levels, and other European countries are recovering as well, although Italy and Spain are still seen as weak spots.
Long-term, Fossil's positioning in Europe is healthy, and even with all this uncertainty, the company is still seeing overall growth in Europe, to say nothing of its performance in Asia and North America. When and if the European situation improves, Fossil will likely revise guidance higher to reflect a more certain outlook. We turn now to inventories.
Inventories: Decoding the Increase
In its first quarter earnings release, Fossil reported that inventories rose by 27.18% ($109.445 million) to $512.087. For a merchandising company such as Fossil rising inventories mean little in a vacuum. They could be a sign that the company expects higher sales in the future, and is therefore stocking up on product to meet increasing demand. Or, it could mean that the company is unable to sell its product, thus forcing it to hold more and more of its own goods. So what is behind rising inventories in this case?
Randal Konik of Jefferies posed this question to Fossil's management, and CFO Mike Kovar took to answering it. He stated that some of the rise in inventory is due to the company missing sales estimates "by approximately $25 million and in our margin, that represents somewhere between a $10 million and $12 million inventory cost that we carry at the end of the quarter." Another $5-$6 million of the increase in inventory is due to higher component inventories that Fossil is holding in its factories.
These inventories were increased for products that have longer lead times so that Fossil can manage its supply chain more efficiently. CFO Kovar then stated that based on what he is seeing in the business, this rise in inventory should not cause meaningful negative impacts on gross margin for the remainder of 2012. Furthermore, Fossil still expects the inventory rise to be worked through in the second quarter. The company is opening 70-75 new stores globally this year, and it is highly plausible that a good deal of the inventory build up that took place this quarter was to meet the product needs of those stores.
Regarding North America and Asia
It is crucial to note that Europe is not the only point of interest in this release. Fossil is growing rapidly in Asia, and that market should not be ignored in an analysis of the company. In South Korea, concession sales rose 28.8%, and "comp" sales dropped by 1.1%, reflecting what the company sees as a softening Korean economy. On the conference call, management noted that its comparisons in the previous quarter were quite tough.
CEO Kosta Kartsotis stated that
Korea, last year, I think we had a 117% increase or something like that in the first quarter, so we're up against some pretty strong comps just overall and in the comps and the concessions, we're plus 29%.
He further added that sales in China grew 17.3% this quarter, representing a strong source of future growth for the company. Fossil reiterated on its conference call that it sees a huge long-term opportunity in Asia, as hundreds of millions of people in the region are set to join the ranks of the middle class, which is Fossil's core market
Sales in the Americas are steady, with most of the company's business in the United States being tied into department stores, including Macy's (NYSE:M) and JCPenney (NYSE:JCP). Sales in the United States are growing at high single digit rates, according to CFO Mike Kovar, and Canada and Mexico are outperforming the U.S., with sales growth of 20% and 30% respectively. We believe that there is a good deal of long-term growth potential in the Americas for Fossil, especially in South America. Sales to distributors in that continent are advancing rapidly, according to the company. In future quarters, investors should look for more color on sales in South America.
Financials & Valuation: Positive Factors Going Forward
If Fossil has run into trouble, that is not showing up in its finances. The company has a strong balance sheet (taken from the company's 10-Q filing for the first quarter of 2012). The company has $239.886 million in net cash on the balance sheet ($3.84 per share). Although that amount is a decrease from the $272.253 million in net cash Fossil had in the previous year, Fossil has bought back 2.4 million shares of its stock in the past year, for a total cost of $235.6 million (the average price per share works out to $98.17). The buybacks were a smart move on the company's part until the post-earnings plunge sent the shares below that $98.17 mark.
The company's operating cash flow did drop from the levels seen in the previous year, to $35.499 million (taken from the 10-Q filing). The decrease is due to Fossil's reductions in accounts payable and its accrued expenses (specifically royalties and compensation). We do not think that this decrease in operating cash flow presents cause for concern, at least not at the moment. However, we will watch cash flows in the current quarter, to see if there is a continued decline.
Fossil's valuation, which was not unreasonable before the plunge, is now even more attractive. Fossil's trailing P/E ratio (calculated by adding Fossil's Q1 2012 earnings to its 2011 earnings and then subtracting Q1 2011 earnings) currently stands at 16.81 (based on trailing earnings of $4.68). As the chart below, shows, Fossil's current P/E ratio is below its historical average (YChart's calculations yield a P/E ratio just above ours), and we think that this discrepancy will eventually fade, as investors see that 2012 will be a record year for Fossil.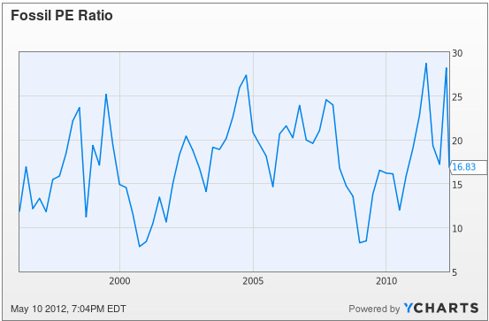 At the current midpoint of the company's 2012 guidance, Fossil now trades at 14.71 times earnings. Even with the uncertainty in Europe, we think that a company that is set to grow earnings by 16.05% from 2011 levels should be trading at a higher multiple. Based on the analysts that have adjusted their forecasts for 2013 earnings, the average of those estimates is $6.34 (we will delve into analyst revisions below). At that level, Fossil is trading at just 12.41 times 2013 earnings. Were Fossil to earn $6.34 in EPS in 2013, that would represent an acceleration in growth, to 18.5% from the 16.05% growth set for 2012.
Analyst Revisions: In Defense of Fossil?
Several firms have come out with revised opinions of Fossil, and we must admit that here, there is something for both bulls and bears to appreciate. We break down analyst revisions below.
JPMorgan: The firm downgraded Fossil to neutral. However, the bank reiterated its belief that the long-term story is intact, and that now is an ideal time for value-oriented investors to buy the stock, if they can accept an elevated level of uncertainty regarding the situation in Europe.
Benchmark: The firm upgraded shares of Fossil to a buy, arguing that when Skagen is included in guidance, and integration costs are included, guidance actually beat estimates by 5 cents. Benchmark cut its price target from $130 to $100 (upside of 27.06% as of this writing) and lowered 2012/2013 earnings estimates to $5.30/$6.45 from $5.68/$6.58. Benchmark stated that it views the company as having a strong management team, a solid balance sheet, estimated free cash flow of $100 million, and that emerging markets present a long-term growth opportunity for the company.
S&P: S&P is more bearish on Fossil, and its revised price target reflects the firm's uncertainty. S&P cut its price target on Fossil to $83, from $140 (representing upside of 5.46%). The firm trimmed its 2012 earnings estimates from $5.75 to $5.55 and noted that it still sees strength in the company's global growth strategies.
Merrill Lynch: The firm cut its price target on Fossil to $90, from $138, citing its belief that uncertainty in Europe warrants a lower multiple. Merrill Lynch's $90 price target reflects a 14.5 target multiple. The firm trimmed its 2012/2013 earnings estimates to $5.33/$6.24 from a previous level of $5.45/$6.65. Merrill Lynch says that it will be closely watching inventory levels throughout the remainder of 2012, and that it still views Asia as having solid long-term opportunities for Fossil.
Credit Agricole: The firm upgraded shares of Fossil from outperform to buy, but trimmed its price target from $155 to $145.
S&P and Merrill Lynch both trimmed their earnings estimates slightly, but slashed their price targets, citing "uncertainty" over Europe. We think that for patient, long-term investors, this presents an opportunity, one that JPMorgan, Benchmark, and Credit Agricole believe that investors should take advantage of. We agree with these 3 firms. From a long-term perspective, there is little in this earnings release to shake the long-term trajectory of the company. The average of Benchmark's and Merrill Lynch's new earnings estimates for 2013 is $6.34. For long-term investors, we think now is an ideal time to buy
Conclusions
The selloff that has occurred in shares of Fossil is overdone, and we recommend that investors add to or initiate positions in the company at this time. The company has a solid balance sheet, fully intact long-term fundamentals, and a solid management team (CEO Kosta Kartsotis owns over 6 million shares, representing a stake of over 9.6%). We will likely be initiating a position in Fossil over the next several days, for we believe that the stock presents a great value proposition.
The uncertainty surrounding the company will fade, in time, as investors realize that the problems in Europe have been overstated. Even now, the company is set to grow its business in Europe. We believe that investors who buy in at these levels will be rewarded for their conviction in a company that is growing across all of its geographies, and has multiple catalysts in 2012 and beyond.
Disclosure: I have no positions in any stocks mentioned, but may initiate a long position in FOSL over the next 72 hours.