At the end of 2011 Coca-Coca Co. (NYSE:KO) retained the coveted title as the world's most valuable brand coming in at an estimate of 72.5 billion dollars over companies like International Business Machines (NYSE:IBM), Microsoft (NASDAQ:MSFT) and Google (NASDAQ:GOOG).
A brand includes all the elements of a product or service from its design, ingredients and manufacture to its marketing, advertising and logo. Think of the golden arch from McDonald's (NYSE:MCD).
This revelation probably came as a surprise to no one, but to me this is nothing short of Disney (NYSE:DIS) magic. I mean, c'mon, it's carbonated water, sugar and syrup. The bottling costs more than the product.
What distinguishes them, a simple beverage company, from some of the other great companies in the world, or even its closest sector competitor PepsiCo (NYSE:PEP)?
The products are undeniably similar from a taste standpoint. I would take a prop bet that a majority of people, excluding die-hards, would probably find it hard to discern the subtle difference. Honestly, I prefer Dr. Pepper more than either one.
So, what is the difference maker that allows Coke to retain such a global pinnacle? The difference is successful branding through advertising.
Advertising has long been on the razor's edge of pop culture. Through quality and quantity advertising over the years, Coke has built and sustained this iconic brand to become known throughout every corner of the globe. Their brand is arguably the most stable business asset that Coke has.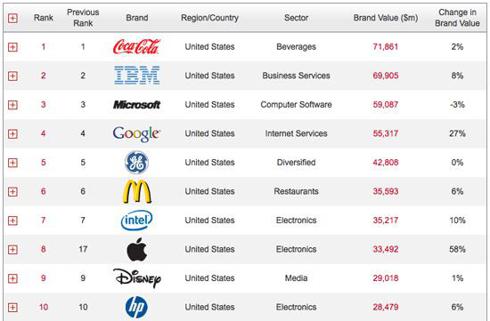 The top five global brands showing increases year over year:
1. Apple (NASDAQ:AAPL) (up 58% y/y)
2. Amazon (NASDAQ:AMZN) (up 32% y/y)
3. Google (up 27% y/y)
4. Samsung (OTC:SSNLF) (up 20% y/y)
5. Burberry (OTCPK:BBRYF) (up 20% y/y)
The top five global brands in total $$ increases year over year:
1. Apple (up $12.35 B y/y)
2. Google (up $11.76 B y/y)
3. IBM (up $5.18 B y/y)
4. Samsung (up $3.94 B y/y)
5. Amazon (up $3.09 B y/y)
I was initially surprised to find Apple all the way at number eight. I had figured Apple would have at least cracked the top 5 by now. Perhaps this is a bit of a lagging indicator as technology companies seem to be slowly but surely creeping up the list. Apple did, however, have the most significant move of the group from 17 to 8.
Closing
Global brands are still the main creators of wealth and will continue to drive wealth creation in the foreseeable future. A perfected brand, like Coke, triggers in consumers a type of emotion and a promise of what it will deliver without the consumer having to do much thinking. Expect to see this iconic brand plastered on every possible advertising avenue as the summer Olympic games approaches.