With housing and fuel costs taking a toll on the stock market, many industrial stocks are feeling "the negative impact of these macro headwinds," Morningstar's John Kearney said last week. The Dow Jones Industrial Average fell more than 4% in the week ended Dec. 17, to more than 7% below its October record highs.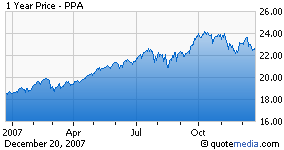 PowerShares Aerospace & Defense Portfolio ETF (NYSEARCA:PPA) also fell, nearly 3% from its own October highs. PPA remained up more than 21% year to date [YTD], compared with about 6% for the DJIA. And despite the short-term losses and concerns, many analysts remain bullish on the aerospace and defense sector.
Kearney, for example, said that industrials "could be reaching a tipping point as we head into 2008" but called aerospace and defense a "pocket of strength" that "appear[s] to have staying power." The reason? "Strong commercial aerospace demand and increased defense spending show no signs of waning."
That outlook underlines PPA's insulation from the U.S. economy, especially housing and credit markets. Instead, the ETF's performance is tied to U.S. government spending, geopolitical events and global growth.
PPA, which has been part of our Powershares Momentum Tracker Portfolio since mid-February— compiling a NAV return of 13.4% through Monday— ranked sixth (of 42) on the Sector Momentum Table in each of the last three weeks.
The fund stood in the top 1% of large-growth ETFs tracked by Morningstar over the last two years, on the strength of a 20.0% market return in 2006 and a 24.7% jump through the first 11 months of 2007. PPA beat the category average by nearly 10 percentage points last year and by almost 15 percentage points in 2007.
PPA tracks the SPADE Defense Index, with stakes in the key players of the sector: the fund's top 10 holdings (49.7% of assets) include the five largest defense contractors. Top holdings Lockheed Martin (NYSE:LMT), Boeing (NYSE:BA), Northrop Grumman (NYSE:NOC), General Dynamics (NYSE:GD) and Raytheon (NYSE:RTN) have an average year-to-date return of 13.3%, on a mostly impressive, continuing upswing in earnings.
The portfolio, characterized as 73% industrials, also emphasizes tech and consumer firms specializing in related products and services. More than 20% of assets are in IT stocks that do a lot of government business, led by SAIC (SAI) (up 12.9% YTD) and Harris (NYSE:HRS) (up 33.1% YTD).
The fund's top performers haven't been the big five, but suppliers to commercial-jet makers, who've enjoyed steady, high demand. Shares of No. 7 holding Precision Castparts (NYSE:PCP), which makes engine parts and fasteners for planes, are up 77% YTD. No. 2 Honeywell (NYSE:HON), the world's largest maker of cockpit electronics, has seen shares rise 33.8% YTD. And shares of No. 9 Goodrich (NYSE:GR), which supplies wheels, brakes and other parts to Boeing and Airbus, are up 55.7%.
In fact, the big boys led the fall over the last week, as General Dynamics and Raytheon fell more than 3.5%.
Despite that, the defense industry looks solid. The 2008 spending bill passed by the House last week stood at $696 billion— compared with $636 billion in 2007—with the Senate expected to finish its work this week. U.S. defense spending has been on the rise for 10 years, and while a pullout from Iraq would likely have a flattening effect on "emergency" spending, the military is expected to spend heavily to replace equipment. Beyond that, Fitch Ratings said last week that the 2008 election should not affect core spending until fiscal 2011.
Last month, Goldman Sachs raised its defense sector outlook: "We believe defense stocks are an attractive place for investors to go when economic growth is slowing or turning negative." The report projected a slowdown in real GDP growth in 2008 and said defense stocks have outperformed the S&P 500 by an annual average of 30% when GDP growth is below 1%.
Commercial aerospace, which suffered in the wake of 9/11, has extended a multi-year rally, with sales expected to grow 5.9% in 2008, to $210.6 billion, on the heels of an estimated 8.5% gain in 2007, to $198.8 billion according to the Aerospace Industries Association. Global markets are driving the sector, with at least three-quarters of large commercial aircraft orders from outside North America, according to Fitch Ratings.
Fitch's report said that only a global recession would change its positive outlook on commercial aerospace.
That's something to keep in mind, as the cyclical nature of PPA has been on display recently. The fund fell 1.9% over the last month, more than the S&P or the Dow. And yet, S&P analyst Richard Tororiello answered concerns about a potential slowdown or overvalued stocks in the sector very simply, saying he expects those issues will be offset by the "long term nature of the positive trends affecting these industries."