On April 19th, natural gas (NYSEARCA:UNG) reached a 10-year low at $1.907/mmBtu. This week, natural gas traded to a two-month high, the largest and longest-lasting move higher in a very, long time. Dow Jones Newswire explained the rise by pointing to an Energy Industry Administration (EIA) forecast that utility demand for natural gas will jump 21% this year. Utilities with natural gas capacity will make the switch from much pricier coal (see "US GAS: Rally On Utility Demand Boosts Price To 2-Month High"). However, I also think recent news about exports of liquified natural gas ((NYSEMKT:LNG)) are helping to provide a firmer floor here.
On May 6, The Financial Times reported that Japan has boosted imports of LNG to replace lost nuclear power. This switch has enticed exporters to send LNG to Asia rather than Europe, thus putting upward pressure on gas prices in the United Kingdom (see "Higher bills likely as LNG heads to Asia"). This article was a great reminder of a growing source of demand for LNG exports, but it did not involve U.S. markets. THAT news came the next day.
On May 7, Cheniere Energy Inc. (LNG) sold nearly $500M in stock to finance a natural-gas export terminal in Louisiana (see "Cheniere to sell $470 mln in stock at discount"). I interpret this move as a signal that more cheap U.S. natural gas will get exported, providing a conduit of increasing demand that should help provide a price floor. The news from the U.K. simply confirmed that the export market is healthy.
In January, I pointed out that Railroad company CSX Corporation (NYSE:CSX) was anticipating an imminent bottom in natural gas prices. CSX pointed out that low natural gas prices are making domestic chemical production much more competitive on a worldwide basis. Repatriation of production adds to domestic demand for natural gas. Also in January, I recommended against buying UNG to play natural gas prices and instead pointed to San Juan Basin Royalty Trust Co (NYSE:SJT) and Guggenheim Canadian Energy Inc (NYSEARCA:ENY). I have since purchased two tranches of SJT, and, last month, I made the plunge into Encana (NYSE:ECA) instead of ENY.
Thanks to the recent sharp bounce in SJT from April's lows, I am almost even on that position. EnCana has been a big winner as it now trades at 2012 highs. On April 25th, the company reported earnings that were well-received by the market. I am sure statements like the following helped fire up some enthusiasm:
"Once natural gas prices return to a more sustainable level, we believe that Encana's shareholders will benefit more from the impact of higher natural gas prices on our base level of production than from increasing natural gas production at an aggressive pace. We see significant opportunities for oil and natural gas liquids developments in our current portfolio of assets." (from Seeking Alpha transcripts)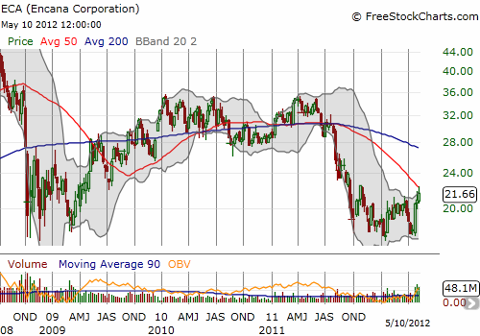 EnCana bounces sharply from 2008/2009 lows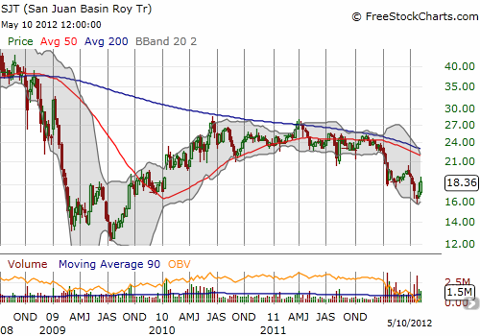 San Juan Royalty Trust is bouncing but still trapped in a primary downtrend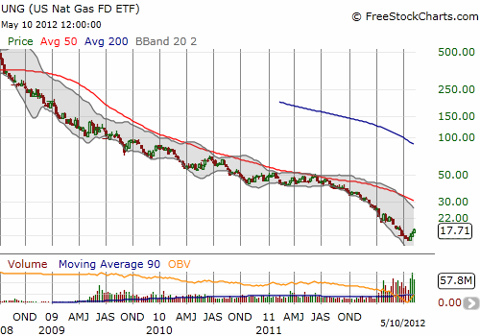 UNG's long decline has provided little relief
Source for charts: FreeStockCharts.com
ECA is up 17% for the year and up 24% from its recent bottom. SJT is down 19% for the year, but up 17% from its recent bottom. UNG is down a whopping 46% for the year. Traders who keep playing UNG's bottoms may have finally found some relief as the ETF is up 24% from its recent bottom.
Although the yield on SJT has decline considerably, now 5.7%, I continue to recommend it (and other similar natural gas trusts and limited partnerships). I also still like ECA at current levels although buying on the dips probably makes more sense than chasing it.
Be careful out there!