This article will detail the troubles ahead for Activision/Blizzard (NASDAQ:ATVI) and Electronic Arts (NASDAQ:EA). This article will also touch on Perfect World Co (NASDAQ:PWRD).
It is near impossible to have a durable competitive advantage in the gaming industry. There are too many product choices in the market for consumers, and dozens more games are released every month all vying for the precious and scare consumer dollar. The gaming market is worse off than the uber-competitive Smartphone market in this regard.
As an investor in any game company, you are praying that the next game will be the next big hit, and this is pure speculation at its finest. ATVI didn't soar on record breaking sales of Call of Duty Black Ops, nor Starcraft 2, so why do analysts think Diablo 3 will be any different?
ATVI has lost 10% of its subscribers in its World of Warcraft WOW franchise since December 2011. Some analysts will point out that the subs have remained steady, but the issue with that statement is those numbers are artificially inflated. The artificial inflation is due to a result of the prepay scheme. Mainly the scheme consisted of WOW players prepaying for a 1 year of WOW sub, then ATVI gave away the Diablo 3 game for free. (a promotion that was valid up until May 1,2012). In the further examination of ATVI's balance sheet, roughly $1.5 Billion is noted in prepaid liabilities. The prepaid liabilities is mostly due to accepting the prepayment of these subscriptions. Furthermore investors must face the reality that the WOW game is 7 years old, and there are dozens of free to play (F2P) games on the market, and more coming down the production pipe everyday.
On a gamer (customer) demographics perspective, WOW is not adding any new gamers period. Moreover its original gamer base has aged as well. Consider that the original WOW gamer base began to play WOW at its launch 7 years ago. As a result they are now 7 years older as well just as the game is. This is an important consideration. If the average WOW player started to play WOW at age 23, he/or she will now be age 30. With this supposition in mind, as people age, they tend to go through different stages in their lives. As a result their hobbies and interests change. Therefore if WOW is not adding any new gamers, it will lose paying customers, just based on age attrition alone. There are older gamers, but this is not the main, nor the largest chunk of the customer age demographic.
Most gamers that play WOW, play an average of 21 hours per week. This is considered a part-time job, or a full-time job in some euro countries. Once life in general and financial obligations get in the way of a 20 hour plus per week gaming commitment, it can create pressure on the gamer to leave such a game. Furthermore WOW was first to market for the next generation MMORPG after Everquest, a novelty which will eventually wear off. This has happened in the past, and there is a good chance history will repeat itself here. There doesn't have to be a WOW gamer killer made, WOW will slowly die just due to age. As well each new game release chips away at the WOW subs. A gamers time is a scare resource, and gamers can only allocate a set amount of time to a set number of games.
The majority of gamers are now casual players, and because of this fact the F2P model caters more towards the casual market segment. As of 2007 WOW subs were 9 Million worldwide. 5 years later the subs are only 10.2 million clearly a plateau showing no growth. ATVI is not very forthcoming with how many of those 10.2 million subs are the higher paying North American/ European players, versus the lower paying Chinese players. At one point in time there was a thriving virtual WOW gold business based in China. These gold farmers would resell virtual game gold to the North American players at a profit. If the North America subscriber base leaves, this in turn will cause these gold farmers to lose their customer base. This could result in a compounding drop in the WOW subscriber base.
Many analysts watch the WOW subscriptions numbers for guidance and for signs of bleeding. If investors are basing their long positions solely on the sustainability of WOW subscription numbers this can be risky. Because it looks as though there is only one way for those sub numbers to go, and that is down.
Other speculators have pointed out that Diablo 3 will be a big hit and game changer (no pun intended). I don't disagree with this statement, but this is already priced into the ATVI stock price. Call of Duty, and Starcraft 2 games, were also hits and they did not move the stock upwards. Furthermore the online item purchase system proposed in Diablo 3, may not produce as much revenue and profits as investors are speculating. The reason for this is D3 gamers are speculated to have 10 free auction listings per week to sell game items, and ATVI is speculated to take a $1 flat fee per some transactions, and 15% for commodities (here). There is also the psychological worry, that if current WOW subs leave to play Diablo 3, they may not return to WOW after they have been cut off cold turkey.
As mentioned earlier this industry is not without aggressive competition. Consider that PWRD is releasing Torchlight 2, which is essentially a Diablo 3 clone, that sells for half the price. There is also nothing stopping PWRD from developing an online item auction for Torchlight 2. Regardless of how well Torchlight 2 does, it still eats into the market share of ATVI's Diablo 3. ATVI has a new MMO in development codenamed Titan, however there is no certainty that this will be as big of a hit as WOW. It may have your typical launch hype, then exodus pattern as seen in many past examples. ATVI does not generate much if any residual revenue off of its Call of Duty franchises, nor its Starcraft franchises. This is not to say that revenue will not be generated based off of these game expansions and sequels, but at the same time it may be less than expectations and is pure speculation.
The only positive metrics I see at ATVI are no debt, and lots of cash ($3 Billion). However, this is mainly due to the longevity of WOW. Even though as mentioned there is Call of Duty, and Starcraft. There is no guarantee that past numbers are repeatable in expansions, and COD Elite is barely considered a residual revenue generator. It furthermore takes cash to develop the next big game. Consider that EA spent $500 Million developing Starwars The Old Republic game. Which was designed to be a WOW alternative, or killer. ATVI's numbers could look a lot more like EA's as both companies have had their hits. If it wasn't for WOW this would most likely be the case for ATVI. The risk here is the WOW product is showing signs that it is not sustainable.
Considering the ATVI share price, it has been a dog plain and simple. The 3 year chart presented here below as an example.
ATVI 3 Year Chart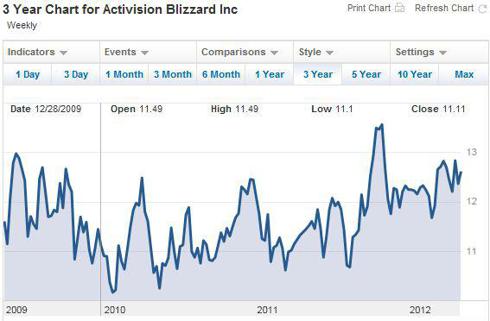 Approximate ATVI Metrics: P/E 15, EPS 0.84, P/B 1.3, ROE 9.2
The chart clearly shows that ATVI has resistance at or below $13, and no matter how positive the news, ATVI tends to not hold above $13 for very long.
Other considerations with ATVI is the Skylander franchise, where it is speculated that this franchise will be a billion dollar business. However there have been logistical issues with getting enough product to market to meet demand. While this can be considered a good problem to have, the current kids that play Skylanders will also grow up, and Skylanders could become the next POG, or children's toy fad nobody knows for certain. This is a wild card for ATVI.
Lastly for ATVI there is clear growth in the mobile game segment, which ATVI has recognized. However, there will be no WOW players playing WOW on their smartphones. So investors are left purely speculating release after release waiting for success in this infant market.
As for EA they have fared even worse, by not even attracting as many Starwars fans and gamers as thought to with the Old Republic. The Old Republic is a newly released game that was suppose to kill WOW. In fact EA lost 400,000 subscribers already, and the game just came out. Gamer only have a limited amount of time that they can allocate to play games. Because of this scarcity, gamers will realize if they are not getting value for their subscription money and unsubscribe where applicable.
EA 3 Year Chart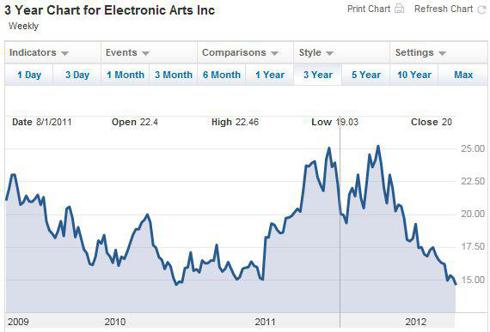 Approximate EA Metrics: P/E 65, EPS 0.24, P/B 1.9, ROE 3.0
With a P/E of 65, and loss of subs in the Old Republic, investors should shy away from EA.
PWRD 3 Year Chart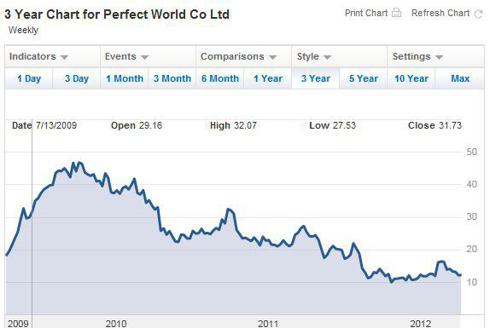 Approximate PWRD Metrics: P/E 3.9, EPS 3.19, P/B 0.9, ROE 27.3
PWRD is a gaming company out of China. If anything by examining all three companies' metrics, PWRD has more upside potential than both ATVI and EA. The metrics and valuation for PWRD are stellar compared to ATVI and EA. Furthermore the fact that PWRD offers clones of pretty much every product ATVI has, and in every game genre category (space/fantasy/ect) make it worth a look. However investors need to use caution with any investment in the video game industry, as many companies lack the ability to create a large moat.
PWRD makes money based on the newer microtransaction model which has shown to be a success. Moreover there is less risk for gamers to try and play many of these F2P games. This is mainly because there is no upfront cost to do so. PWRD maintains very popular intellectual property and gaming franchise models as well, so the choice is not limited to just a few games. There is also Guild Wars 2 that is due to release soon, and this deserves mention. Guild Wars 2 (AreaNet) is not subscription based and competes against WOW.
Having free products saturating the market, will make it very difficult for ATVI and EA to compete on a go forward basis. ATVI and EA may have to move to this F2P model as well. If ATVI is forced to move to F2P, this transition could potentially cause a selloff in ATVI. This will mainly be due to the collapse of the subscription revenue stream. A similar fate may be shared for EA. At last report, ATVI is already allowing gamers to play WOW until level 20 for free. This may mean that a transition to full F2P for ATVI and WOW might be in the not so distant future.
Charts: Courtesy of RBC Direct Investing.
Disclosure: I have no positions in any stocks mentioned, and no plans to initiate any positions within the next 72 hours.