The current share price for Syntax-Brillian (BRLC) of $2.52 reflects investor panic and not the economic value of its growing worldwide brand (Olevia).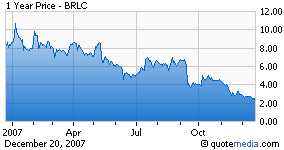 For growing businesses, valuations like these (see below- .28X revenue-5X earnings) arise when investors have given up on the company. Observe the large discount to relative fair value (see below - $5.77 per share). This is a classic bottom scenario. Heavy tax loss selling, and crowded short positions in a stock under $5, make good candidates for a January bounce.
The current environment actually favors BRLC (Olevia) over other TV manufacturers. BRLC has increased prices 3 times in the last 90 days, and has excellent relationships with panel manufacturers to ensure a steady price-protected supply of panels. Additionally, they have numerous consumer report best in class accolades. These are not insignificant awards. They compete with the likes of Sony (NYSE:SNE) and Samsung.
Rounding BRLC's capitalization to 100 million shares (presently 93,350,000), my calendar year 2008 model would look something like this:
Total revenue: $850,000,000
Royalties (3% of $500,000,000): 15,000,000
Gross profit (15% of $850,000,000): 142,500,000
SG&A: 42,500,000
R&D: 4,200,000
Non-cash (added back): 4,000,000
EBITA: 99,800,000
Operating profit (subtract non-cash): 95,800,000
Interest:18,000,000
Taxes: 29,300,000
EPS: .48
We arrived at a $7.20 target price based on 15 times earnings. This revenue estimate does not include Europe, Latin America, or any other licensing opportunity for the Olevia brand.
The original investment thesis put forth on BRLC was a momentum based revenue model. With hindsight, this model could not finance its growth due to the fact that Chinese receivables were not collectable for 120 days. Shareholders were not willing to live with the negative cash flow, so a model change was inevitable. If there is any question about why BRLC did not factor their receivables, the answer is that they tried and failed. Chinese banks require a 5 year operating history, and $100 million trailing EBITA. Domestic and European banks would only lend against accounts receivable. They would not purchase them. The royalty model was the best alternative.
BRLC's new model eliminates Chinese revenue and its 6 1/2% net margins, and replaces those profits with a 3% royalty. This trade off is beneficial because it eliminates the South China House of Technology's [SCHOT] 120 days sales outstanding [DSO]. Going forward with normalized DSO's in the 45-50 day range, we should see positive cash flow by June.
In our opinion, the main reason BRLC stock price has underperformed is because of the 120 day SCHOT DSOs. With the balance sheet being stressed and concerns about SCHOT not performing, doubt and fear in the minds of investors was the result. Financing its growth by issuing more stock delayed the inevitable, hence the new model. Now BRLC gets paid first rather than last. The China DSOs go to zero.
SCHOT receivables were approximately $92 million at the end of September. Recent insider buying by management and current board members is evidence that these receivables are money good. Currently Chinese retailers like Broadway and Gome hold yuan currency longer due to the depreciation of the US dollar. By keeping their currency longer they earn more. This does not mean that these receivables are noncollectable. Last spring SCHOT's receivables were higher than today's and longer than 120 days. All were collected. BRLC's auditors have given no indication that these would result in noncollectable accounts receivable.
Many on Wall Street complain about the loss of revenue and profit margin on the Chinese sales. This is short-sighted. The Olevia brand continues to gain traction worldwide with the dual revenue strategies. No one gives them any credit for brand value creation. If you sell 500,000 units under the new model in China with the royalty method versus the revenue method, you are still creating value for the brand. Even with a reduced margin this should not be discounted. Consumer product companies place a premium value on brand awareness. This is a significant milestone for BRLC because the Olevia brand has meaningful value. If the public marketplace does not award BRLC an appropriate value then private equity investors maybe the answer. The BRLC board could also explore other alternatives by hiring an investment bank. Remember management and the board hold large equity stakes, over 20% and growing. Recent rumors about Vizio and others make evident that this company has a fair market value much higher than today's $2.52 price.
Given BRLC's history of sustained plus growth (over 200% in 2007), we have concluded that the market has irrationally focused on accounting rather than economics and brand creation. This has led us to an outstanding franchise at a very attractive price.
According to Collins Stewart, BRLC has a book value as of September 30, 2007 of $5.57. Thus with the stock at $2.52 investors are buying BRLC at 45% of book value, and getting the ongoing franchise for free.
We continue to estimate BRLC's normal earning power between $0.45-$0.55 per share for CY2008 and $0.60-$0.70 for CY2009. This assumes 50% growth in North American sales YOY. Royalty income from Olevia China and other branded Olevia products (DVRs) should contribute $20-$25 million annually. European and Latin American sales are the wild cards which could easily cause our numbers to be low.
Look for the new year to bring in a fresh perspective regarding BRLC. It is trading at 5X earnings, .28X revenues, and 45% of book. With a new business model that should deliver accounting transparency and positive cash flow, it should be obvious to investors that the last days of 2007 was a classic bottom.
Disclosure: The author has a long position in BRLC.