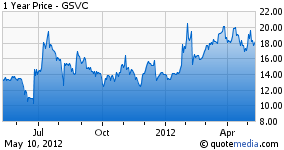 The price of GSV Capital (NASDAQ:GSVC), in the high teens, should leave believers in the efficient market hypothesis confused. This hypothesis asserts that the wisdom of markets prices in all available information, making market prices rational. I would assume the stock action of GSVC must represent a lack of information, and the wisdom of participants is lacking. The following may offer some edification.
Investors should understand that GSV Capital is essentially set up like a public venture capital fund or hedge fund, with commensurate fees and costs. Management of GSV's portfolio of companies receive an annual 2% management fee on gross assets, and approximately a 20% incentive fee (including a hurdle rate and catch-up rate) on portfolio profits.
However, the structure of GSV is generally more disadvantageous to investors than a traditional hedge fund structure. There are two ways for GSV to raise money, the first is debt. In this case, GSV would pay interest on the debt in addition to a 2% management fee, making the capital costly. The second is through direct stock sales to the public via secondary offerings. Two issues here: The first is that the company has been paying underwriters about 7% to raise capital, causing an immediate effect on the company's net asset value. Secondly, the company gains a huge advantage from raising money above its net asset value, currently at $13.47. The current price in the high teens portends continued secondary offerings. In short, the goal on Wall Street is to manage more money, for additional fees and influence. While there is clearly nothing wrong with GSV raising more capital, savvy investors ought to be prepared.
An analysis of GSV's holding of Facebook (NASDAQ:FB) shows that they own 350,000 shares, which they purchased for about $30/share, for a total of a $10.5 million investment. These shares are also subject to a 181 day lock-up restriction from the final prospectus date. Were Facebook to trade at $60/share, GSV's restricted stock would be worth an additional 85 cents per GSVC share, allocated to NAV prior to the 20% incentive fee deduction. Add that to their current $13.47 NAV, and this should give pause to investors buying above $15.
The 181 day lock-up restriction for Facebook shares may also be a negative. Another lock-up restricted GSV holding, GRPN, has been more than halved since its Nasdaq debut. Also, GSV's stake in ZNGA, obtained through a complex debt investment linked to the equity, would lose money if the stock is below approximately $8/share at the August 2012 maturity.
Many investors will argue that GSV's stake in Twitter will be boosted by the Facebook IPO. Perhaps the theory is correct and GSV's recently acquired stake will increase their NAV; GSV has a $30 million stake in Twitter, most of which was recently acquired in April. There is definitely some validity to the theory. However, I would note that Twitter has given no indication that they are taking steps to go public, and in recent days Twitter has traded, in private transactions, at about $18/share, which is not appreciably higher than GSV's average cost for the shares. Also, its Twitter stake would need to appreciate in value by more than 40% to increase GSV's NAV by one dollar, not including the 20% incentive fee.
Lastly, traders may argue about market psychology surrounding the Facebook IPO, and that the frenzy will sweep up ancillary stocks, like GSVC. I could only recommend against having the greater fool theory as a primary investment thesis. More importantly, investors who buy into a hedge fund or venture capital fund always buy in at the current NAV. At its current price GSV Capital shares trade at about 140% of NAV.
Disclosure: Short GSVC at time of writing, and may buy or sell the stock within three days of publication.