Currently, there are about 1,460 exchanged-traded products trading in the U.S. Year-to-date, less than 200 of them are sporting loss of 5% or more. Strip out the leveraged and inverse funds, and the number falls dramatically. In other words, a plain vanilla country or sector ETF that finds itself down by more than 5% is in some pretty infamous company.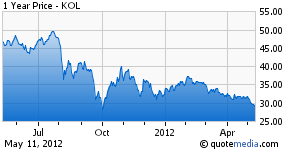 One of the more popular ETFs to be in that ugly club is the Market Vectors Coal ETF (NYSEARCA:KOL). It should be said that with KOL's recent woes has come a major loss in popularity. Today, the ETF has just $180.4 million in assets under management. That's less than half the total it had in November 2011 and that significant drop in AUM is indicative of the weakness that has permeated the coal sector going back to last year.
Amid a natural gas glut and falling prices for that commodity, electric utilities have moved away from coal and toward cleaner-burning natural gas. That situation is seen as one negative catalyst that has hammered KOL and its 33 constituents.
Another bad card that has been dealt to KOL has been the slowing economies of China and India, two of the world's largest coal consumers. Sure, these are still two of the fastest-growing economies in the world, but as their growth has slowed in the past 12-16 months, so has their appetite for coal.
These factors have sent KOL tumbling 38.5% in the past year and the ETF is now less than $2 above its 52-week low. There's no compelling technical reason to be long KOL at the moment as any stock or ETF can remain oversold for months and months. KOL has proven that.
Still, some have found a bull case for coal stocks. From Barclays analyst David Gagliano:
"One glance at the charts lately and it's pretty clear that investor focus is elsewhere for now, given: 1) the broader macro demand concerns, and 2) the "sell in May, go away" view that permeates discussions we have with investors. While hard to predict when these broader issues will ease, in our view the underlying fundamentals suggest there is more reward than risk in the U.S. coals at this stage of the cycle."
According to Barron's, Gagliano's preferred picks are Alpha Natural Resources (ANR), Consol Energy (NYSE:CNX) and Peabody Energy (BTU). That's almost 22% of KOL's weight right there, but if KOL has shown investors anything recently it is this: Owning coal stocks, as a group can be hazardous to a portfolio's health. Those looking to play coal stocks, should own one or two names. Anything else is just unnecessary risk.
Disclosure: I have no positions in any stocks mentioned, and no plans to initiate any positions within the next 72 hours.