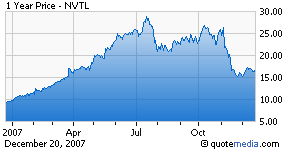 Novatel (NVTL) and Sierra Wireless (NASDAQ:SWIR) produce wireless datacards, usb modems, and embedded wireless modules in PCs to connect to carrier networks. They have enjoyed favorable pricing and strong margins as their stocks have run up over the last year. The bear case had always been that larger competitors would enter the market and price them out.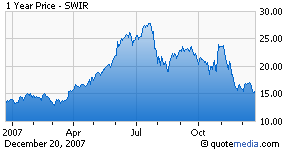 Well, it seems that the bear case is playing out now as Qualcomm (NASDAQ:QCOM) has introduced their Gobi wireless solution and sources indicate that FoxConn will be producing an embedded module which should help to crush Novatel and Sierra Wireless' margins. The price point is rumored to be around $80 compared to the current $120 - $150 that NVTL/SWIR charge. Simple math tells you that two things will happen: 1) these two will face severe pricing pressure and, 2) they will lose business to the larger competitors (Huawei, etc). Compound this further with the fact that these companies are one trick ponies for the most part and you could find them trading in the single digits very soon.
UPDATE: Deutsche Bank recently published a report stating that Ericcson (NASDAQ:ERIC) Mobile Platforms is offering an embedded module in the $40 range for 2008. This is a significantly worse (better) pricing situation for NVTL and SWIR. Consider this - currently, their bill of materials is around $80-100 to produce these modules.
I continue to be short these names.
Disclosure: Author has a short position in SWIR and NVTL