Expect some significant changes at Talisman Energy Inc. (NYSE:TLM) next year.
That's the opinion of Andrew Potter at UBS, who recently met with the company's new CEO John Manzoni. The analyst has grown more optimistic about Talisman's long-term direction, but emphasized that 2008 will likely be a transition year. So don't be surprised if the stock experiences a near-term lag as the new strategy is implemented, Mr. Potter told clients in a note.
"We believe TLM's strategy is shifting away from growth to a more balanced approach of growth, returns and free cash flow generation," he said.
The analyst continues rate Talisman a "buy," but reduced his price target by C$2 to C$23 per share along with production estimate cuts of 5% and 4% in 2008 and 2009, respectively. Mr. Potter expects lower capital expenditures than previously forecasted. He has also become more conservative on timing for additional production.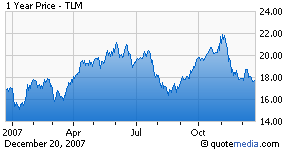 So what should investors expect from Talisman in 2008? Mr. Potter thinks a break-up is unlikely, but wouldn't be surprised to see some trimming of non-core assets and acquisitions to either bolster existing assets or enter into new areas. Among the possible moves cited was the sale of operations in Australia, Trinidad or Algeria, where Talisman likely wants to build mass relatively soon. In terms of purchases, the analyst said Talisman could bulk up in Southeast Asia (Vietnam) or Algeria.
Mr. Potter also noted that the company could consider potentially controversial unconventional gas and oil sands opportunities, highlighting names like SOCO International, Premier Oil PLC (OTCPK:PMOIY), and First Calgary Petroleums Ltd.[PCP/TO].
"However, it is clear to us that Manzoni brings a fresh perspective and is not likely to be overly influenced by historical decisions," Mr. Potter said.
He also noted that any such moves would likely still leave Talisman shares at a large discount to its peers.