Ever wondered what Nexen Inc. (NXY) might be worth if it was broken up? Here's a clue: It's a lot more than its current share price.
That's the conclusion of RBC Capital Markets analyst Gordon Gee after he recently reviewed a sum of the parts analysis for the oil and gas producer. In fact, according to Mr. Gee, Nexen shares are trading at an approximately 21% discount to his C$36.38 per share "blowdown" net asset value, representing the deepest discount to "blowdown" NAV of any other company in his coverage universe.
In a note he told clients that:
Nexen shares have underperformed the group this year, with a year-to-date decline of approximately 10.5%, despite significantly higher commodity prices and comparatively being one of the most leveraged producers to crude oil.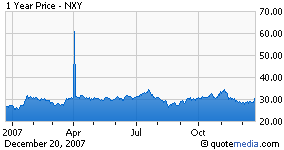 He said Nexen's deeply discounted shares reflect myriad difficulties the company has experienced over the past twelve months including operational challenges at Buzzard, delays and cost overruns at Long Lake and lower-than-expected Gulf of Mexico production.
Mr. Gee added that higher decline rates than forecasted, partner issues on coalbed methane development, and the royalty review also didn't help matters much.
The analyst concluded that should Nexen shares remain at current levels, the valuation gap may attract a potential acquirer or result in a company restructuring in order to unlock value.
Mr. Gee reiterated his "outperform" rating, and left his C$35 price target unchanged.