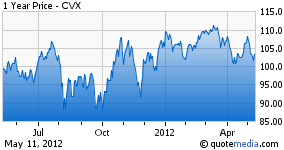 Although Chevron (NYSE:CVX) has been involved in several lawsuits recently, the news is not all bad for the company and its stock.
Recently, a judge threw out a civil lawsuit relating to the company. The details of the case involved an attempt to ban Chevron and Transocean (NYSE:RIG) from continuing operations in Brazil, because of an oil spill that took place there late last year. This was thrown out essentially because it was considered to be too similar to an existing lawsuit against the company. The country's largest oil workers union, FUP, was behind the allegations, but its main aims were ruled as already being part of a larger case. So, although Chevron has successfully avoided an additional lawsuit there is still a much larger case pending. In addition, the judge claimed that his rejection of the case had no bearing on its merit. As things stand, Chevron, as well as Transocean, remains the subject of a $10.5 billion lawsuit regarding the spill. The two companies are also the subject of a criminal case related to the spill that could result in up to 31 years in prison.
On a more positive note, Chevron has also recently been in the news for the development and use of a first-of-its kind deep-water drillship that will begin operating in the Gulf of Mexico very soon. The main advantage of this drill is that is "adds a measure of safety by closely matching natural pressures". It also has the potential to make this type of drilling far more efficient. In order to achieve this, the drill uses dual-gradient technology whereby the drilling system is filled with mud and fluid of two different weights unlike conventional drill where only one weight is used. This may be the smartest move Chevron has made to date, in that this is a move to make oil drilling in the Gulf safer, which people have demanded following the disaster that took place two years ago. Chevron has been a leader in deepwater drilling and this is just another step further in its innovations.
It must be noted that initially this type of oil drill was not developed aggressively because it simply cost too much. Chevron has not yet disclosed how much the drill cost the company. This may cause investors and stockholders to worry. On the other hand, we could look at this development as a sign that Chevron is the only company willing to do what is necessary to avoid a disaster like BP's (NYSE:BP) Gulf of Mexico oil spill, by making drilling safer. Overall, I feel that this is a positive move for Chevron stocks moving forward.
BP, the company generally considered to be responsible for the oil spill in the Gulf of Mexico, is still facing backlash from the disaster which took place two years ago. Most recently, new photographs came to light which indicate that the consequences of the spill on marine life may have been far worse than the media originally allowed us to know. BP may be able to redeem itself, however, with its new project which provides more effective systems for capping the oil flow from damaged deep-water wells and which can be flown to where it is needed when it is needed. The long-term damages that the Gulf Spill will enact on BP remain to be seen, still.
Marathon Oil (NYSE:MRO) remains an interesting prospect for investors. The company decided to spin off its midstream refining, transport and retail assets into Marathon Petroleum (NYSE:MPC). That spin-off company has faired better than Marathon Oil, which was also due to Marathon's Oil production suspension on Libya due to the political unrest. Now, Marathon Oil looks to continue production in the US and the industry will wait to see if it can rebound.
Chevron competitor, Anadarko Petroleum (NYSE:APC) is all set to get the go-ahead to begin drilling operations in the Greater Natural Buttes area in Utah. The project, which has suffered a number of setbacks since 2006, will most likely soon be underway. The oil company will not drill on certain wilderness-quality lands, but even with that concession it will have access to huge untapped reserves of liquid petroleum, a substance that is now more valuable than natural gas. With this project the company will stand a chance of becoming a leader in the production of petroleum.
Exxon Mobil (NYSE:XOM) is on the top of its game at present. In most recent news, the company rose to the top spot of Fortune 500 companies. This means that Exxon Mobil is now the top revenue-generating company in the US market and consequently one of the leaders in oil and gas at present. The company's rise to the top spot is directly attributed to the rising oil process that we have seen, due again to the unrest in Libya and the increased demand worldwide. Wal-Mart (NYSE:WMT) is next on the Fortune 500 list followed by Chevron and ConocoPhillips (NYSE:COP).
And last but not least, competitor Statoil ASA (NYSE:STO) recently came to an agreement with Rosneft regarding jointly exploring "offshore frontier areas of Russia and Norway" and conducting "joint technical studies on two onshore Russian assets". This is an important milestone for Statoil which will now be able to go forward secure in the knowledge that it will broaden its reach in Russia. The two companies combined should be able to make a huge difference in terms of development in the area. Statoil will hold 33.33% in the combined venture.
With BP and Marathon slipping, now would be a great time for Chevron to coup some more market share. Exxon will be doing its part, we know that, but Chevron has perhaps the biggest question mark in the industry. That question mark, the new deep-sea drill, could one day be the biggest weapon, or it could be a gigantic dud. Keep a close eye on that specific development and you will see Chevron stock act accordingly.
Disclosure: I have no positions in any stocks mentioned, and no plans to initiate any positions within the next 72 hours.