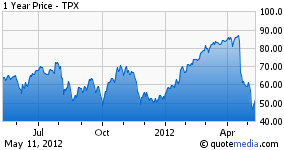 Tempur-Pedic International Inc. (NYSE:TPX) has been on a tear, rocketing from under $5 a share back in 2009 to a high of $87.43, before dipping back down on concerns over margins. It is down over 15% since Monday, May 7th due to concerns that a promotion on the top-selling Cloud Supreme mattresses indicated signs of weakening sales and increased competition. Ironically, the analyst over at Piper Jaffray who thought that a Memorial Day promotion was signs of weakening sales, reversed his views, upgrading Tempur-Pedic from a hold to an Overweight rating today after a phone call with management. Supposedly, the promotion was mentioned in 2012 guidance made a few weeks ago.
According to management, the promotion is included in its 2012 EPS guidance of $3.80-$3.95, which is a little under 13 times the current stock price. Even with the more than usual discounting, EPS growth is expected to be over 20% for 2012 and 2013. With a FCF yield over 9% and continued strength in its own brands, Tempur-Pedic will easily reach my target of $70/share once the market realizes that the 40% drop in the past month was unwarranted.
Tempur-Pedic fell back in April after disappointing forecasts during its Q1 conference call. FY 2012 sales were projected to be $1.6 bil. - $1.65 bil. vs the estimate of $1.66 bil. while their EPS range of $3.85-$3.95 was below the estimate of $3.97. Management's commentary regarding new entrants into the specialty mattress category spooked investors, as the stock opened down 11% after the results. Serta, a private competitor, has been successful with its competing product, iComfort. The promotion rumors on Cloud Supreme mattresses only made it worse.
However, first quarter results did beat estimates, and earnings have not missed in the last three years. Even with a realistically bear scenario for 2012, the stock is too cheap at these levels. Piper Jaffray has a price target of $95, which is 20x their 2013 EPS estimate of $4.75 per share. Oppenheimer has an Outperform rating with a price target of $75/stock. Standpoint Research and Hilliard Lyons also upgraded the stock to Buys after Q1 results. Many analysts have said that after speaking with management, they realized that this was not as big of an event as the stock indicated. Kudos to management in successfully convincing investors to stay put.
Just in case, let's look at what a bear case scenario might look like. The company guidance shows growth of 13-16%, a deceleration from the 18% growth during 1Q sales and 28% growth during 2011. Guidance also projects gross margin expansions of 2%, compared to 2.2% during 2011.Even if you take 5% growth, and .5% margin improvements, EPS would be around $3.50, which is 14.2x the current stock price. Even with this worst-case scenario, there is not much downside left in the stock.
Look for this stock to rebound by the time Q2 numbers are released and investors learn that their fears were over-exaggerated.
Disclosure: I have no positions in any stocks mentioned, and no plans to initiate any positions within the next 72 hours.