Mobile Apps have become the New Websites
In the mid-to-late 1990s a new website ecosystem began to emerge on the Internet, with new rules for revenue and commerce. Companies like AOL (NYSE:AOL), Netscape, Amazon (NASDAQ:AMZN), Ebay (NASDAQ:EBAY) and Google (NASDAQ:GOOG) paved the way in proving these new avenues of commerce and creation. Consumers were given more choices with new ways of finding relevant information and with new ways of communicating with one another online - on the web - Internet: Think message boards, AOL and Geocities.
Search and Discovery in the Old Website Ecosystem
This ecosystem of websites kept growing from a few thousand to a few hundred million. This presented a problem, the same problem that exists today related to finding and discovering mobile apps, as the universe of websites grew, it became increasingly difficult for consumers to find web sites relevant to their daily needs. It was the start of the search engine wars and companies like HotBot, WebCrawler, Excite, Yahoo (NASDAQ:YHOO), Lycos and AllTheWeb using directories, top 100 lists and generic search indices began to offer half-baked approaches to helping people find relevant web sites. Interestingly, companies like Microsoft were nowhere to be found on this battlefield, and were promptly left in the dust.
Enter Google, a company that gave consumers the confidence to know that they were more likely to find what they were looking for using Google than any other search engine in the world. Due to this, the consumer default for finding something on the web-based Internet became Google. Google took an advanced algorithmic approach which essentially enabled consumers to then grow in their consumption of web sites along with the exponentially growing web site ecosystem. One more important thing happened, a new explosive revenue model revealed itself, the sponsored search result, which now generates close to $40 billion in annual revenue for Google alone.
Social Networking and Media on the Old Website Ecosystem
As consumers grew with this new ecosystem of websites, companies like Friendster and MySpace paved the way for a new leap in the way humans communicated with one another via social networks and social media. The technology approach was simple although scaling and revenue had its own set of hurdles. Unlike the advanced algorithmic technology of search engine companies, the social networking approach was easy to duplicate from a technical standpoint. Enter Facebook (NASDAQ:FB), a cleaner, more powerful approach in social networking, which today has widened the path humans can take in connecting and reconnecting with one another. Revenue models, compared to search, continue to be a struggle while patenting a fickle user base, the main value of a social network, remains impossible.
A New Transition to Mobile Apps Begins
Apple (NASDAQ:AAPL), a company that had struggled in the past, now decided to leverage the power of music, just as MySpace would do, to lay the foundation for a new more efficient way of communicating. First came iTunes and the iPod, then came the iPhone along with what were called "web apps." In 2007 Apple developed a directory of web apps. Realizing that the iPhone, with its innovative sensory inputs and outputs, could be leveraged by application developers, Apple opened up a way for developers to develop a new kind of website, the mobile app.
With access to the iPhone's inputs and outputs such as the touchpad, accelerometer, camera, video and audio, developers began to create mobile apps that provided experiences that web sites could not. Consumers began to experience things they have never experienced before while being provided with greater mobile freedom in accessing information, self expression, connecting and sharing. Other companies in the smartphone device making space began to follow, with some, such as Google, with its Android mobile app strategy, immediately realizing the value of this new mobile app phenomenon.
The New Mobile App Ecosystem
Today, a new ecosystem made up of mobile apps is capturing the attention and commerce of individuals and companies around the world. Just as companies and individuals were scrambling to have a presence on the Internet via web sites in the mid-to-late 1990s, they are now scrambling to have a presence on the mobile Internet via mobile apps. This has resulted in a monumental shift in the way consumers access mobile apps versus websites, as the chart below shows:
Click to enlarge.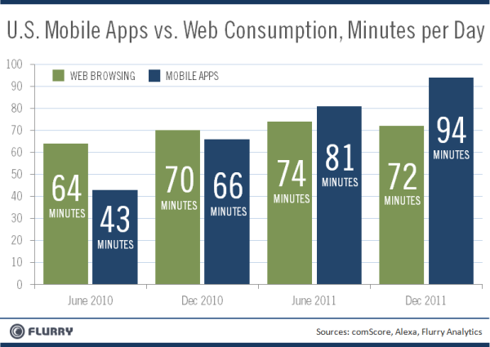 Mobile apps are driving the sales of smartphones and tablets. Consumers are choosing mobile devices based on the rich selection of mobile apps available on them. Companies like Microsoft (NASDAQ:MSFT) are paying mobile app developers up to $600,000 just to make sure they land within their mobile app store and platforms.
Mobile App Developers, Like Yesterday's Website Developers
Although a popular mobile app on the new mobile internet, Facebook has begun to realize their consumer and revenue models are based on yesterday's web-based Internet. In fact, Facebook is essentially just one mobile app in a new mobile app ecosystem, a universe of millions of mobile apps on the new mobile Internet. This is key. With mobile apps like Instagram commanding a new kind of consumer attention, Facebook knew it had to quickly create a larger footprint on the mobile Internet and it did so by acquiring Instagram for $1 billion dollars.
Mobile app development companies like Rovio, responsible for the popular mobile app game Angry Birds, commands a $9 billion valuation, which now rivals the very valuation of smartphone makers like Nokia (NYSE:NOK). Rovio plans to IPO in 2013. Mobile app game maker, Glu Mobile (NASDAQ:GLUU), remains as a contender in this area, with a focus on providing high quality mobile app games for the iPhone, iPad, Android and other mobile devices. Other interesting companies remaining in the area of mobile app development include Vringo (VRNG), which is tied up in a patent claim related to Google and its search technology.
Search and Discovery in the New Mobile App Ecosystem
Although mobile app development companies can command significant valuations, history has shown us what eventually happened to website development companies of the '90s and early 2000s. Website development companies once commanded very high valuations, many as public companies. Eventually the market realized that there was extreme value with companies that would help consumers find web sites as opposed to build websites. The best examples of this happened with Yahoo, and then, of course, Google.
Just as Google succeeded in becoming the gateway or starting point for consumers on the web-based Internet by controlling access to websites, which resulted in becoming the most valuable property on the web-based Internet, other companies have made it their aim to control access to mobile apps with the goal of controlling access to the mobile Internet. New emerging growth companies such as Quixey (a company that former Google CEO Eric Schmidt invested in), Chomp.com and their competitor Mimvi (MIMV.OB), considered the "Google" for app search and discovery, have entered the scene to provide consumers with search and discovery of mobile apps with the opportunity of becoming the single gateway or starting point for consumers on the mobile Internet.
Interestingly, Google's financial controller recently joined Mimvi. Mimvi has expanded its approach by including apps found in social networks including Facebook apps. Apple recently acknowledged its less-than-perfect search and discovery ability for mobile apps by quickly acquiring Chomp for a very cheap $50 million to shore up its search technology within its app store. In a recent move to reposition, Facebook has also decided to enter the battle for mobile app search and discovery by attempting to become the gateway to the mobile Internet by introducing their own search and discovery engine for mobile apps. Microsoft's search engine, Bing, has been a little quiet on this new search front so far.
Revenue Opportunities
Thanks to companies like Google, the revenue model for search engines, based on AdWords or "the sponsored search result" and AdSense, have proven to be quite effective. A search and discovery engine for mobile apps has the same, if not greater opportunity, as the revenue model can be extended to combine in-app transactions and mobile payments. Companies like Augme Technologies (AUGT.OB) and Velti (VELT) are positioned to lay the foundation for augmenting these revenue models in addition to others associated to the entire mobile app ecosystem.
The battle for the mobile Internet starts and ends with search and discovery surrounding mobile apps. As mobile apps continue to drive the growth and adoption of smartphones, it is clear that the strategies of device makers such as Apple, Samsung, Nokia, RIM (RIMM) and others, are highly dependent on the ability for consumers to search, find and discover these new kinds of websites that we now call mobile apps.
Disclosure: I have no positions in any stocks mentioned, and no plans to initiate any positions within the next 72 hours.