This week we have a bounce with just over 80% of my list showing a gain: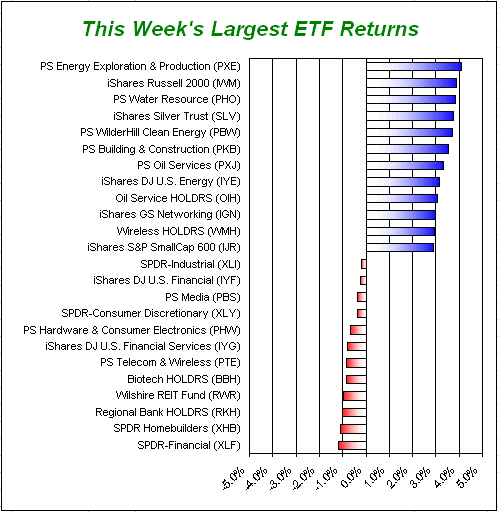 The PowerShares Energy Exploration & Production Fund (NYSEARCA:PXE) "officially" tops the list but there really wasn't much in the way of standout action as the gains were tightly clustered. In broad strokes we had leadership from energy, commodities, small caps and select technology. The iShares Silver Trust (NYSEARCA:SLV) and PowerShares Water Resource (NASDAQ:PHO) joined the iShares DJ U.S. Energy (NYSEARCA:IYE) and various oil service funds on the top of the list.
Last's column noted the PowerShares WilderHill Clean Energy (NYSEARCA:PBW) had ticked to a new high today and I said I continued to believe this is an interesting group to watch. The PBW added to those new highs this week and my thoughts remain the same.
A look to the bottom of the list shows a number of small losses, but I believe some of those are actually the result of dividends. For example, I show the SPDR-Financial (NYSEARCA:XLF) as going ex-div Friday.
Perhaps the most interesting fund on my list is the iShares Russell 2000 Index Fund (NYSEARCA:IWM). This ETF tracks the Russell 2000 (RUT), a measure of small-cap stocks. We usually don't find the IWM at either end of the chart above so it would suggest the group was especially strong.
Index performance this week: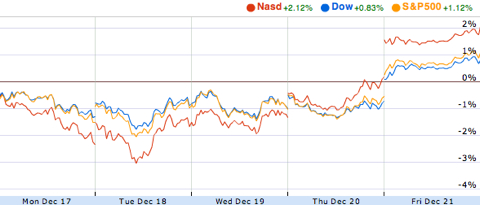 Index performance year to date: