Friedman, Billings, Ramsey (NYSE:FBR) is trying a new approach to boost its sagging share price. The Company announced Friday that it is doubling its share repurchase authorization while suspending its common dividend. It's a logical move, given that shares are trading at less than 60% of book value. Furthermore, although FBR doesn't disclose estimated taxable income, the realized losses from the sale of certain of its subprime loans will likely drive a taxable loss for the fourth quarter, eliminating any dividend obligation.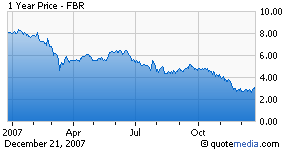 FBR is also selling its $3.1 billion on-balance sheet residual interests, which represents about 60% of the balance sheet. The sale will insulate FBR from recognizing mark-to-market losses on the residual interests (since the liabilities cannot currently be marked down simultaneously until FAS 159 is adopted), but it does raise the question of how FBR will satisfy the REIT qualification tests going forward. Selling the on-balance sheet residuals and other nonconforming loans will reduce qualified REIT assets precariously close to the 75% threshold.
I suspect that FBR may be considering a conversion transaction to a partnership (similar to what KKR Financial did earlier this year) to allow it to diversify its business activities outside of the sagging real estate market. Given that the capital markets segment (a TRS) is the only profitable segment for FBR right now, the REIT structure isn't providing its maximum benefit to the Company.
Disclosure: none