The Economic Cycle Research Institute (ECRI), a New York-based independent forecasting group, released its latest readings for its proprietary Weekly Leading Index (WLI). For the week, WLI was up while its growth rate fell for the third straight week after peaking at 1.7% on April 6.
For the week ending May 4, 2012:
WLI increased to 125.4, up 0.8 from the prior week's reading of 124.6.
The lowest reading for WLI on record was 105.3 for the week ending March 6, 2009.
WLI growth was flat at negative 0.1%, flat from last week's revised lower reading of negative 0.1%.
The lowest reading for WLI growth on record was -29.9% on Dec. 5, 2008. It turned higher months before the stock market [S&P 500 (NYSEARCA:SPY)] bottomed on March 6, 2009, at 666.79.
Occasionally the WLI level and growth rate can move in different directions, because the latter is derived from a four-week moving average.
(Click images to enlarge)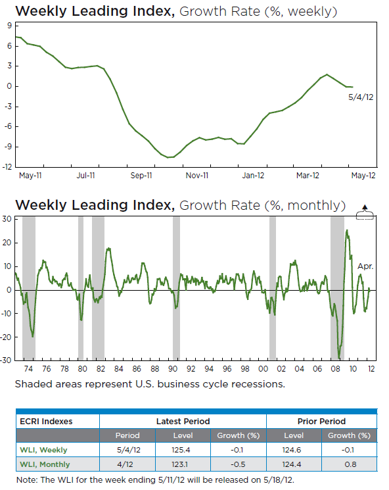 Annual WLI growth: A year ago, on May 6, 2011, WLI stood at 130.3, so its growth rate is negative 3.8% on an annualized basis.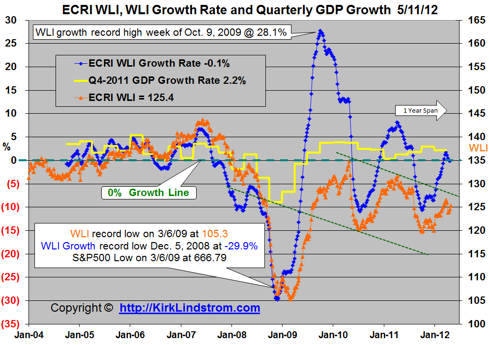 This chart shows ECRI's reported WLI Growth rate that is derived from a four-week moving average.
On March 15 in an article "Why ECRI Stands By Their Recession Call," ECRI explained why it remains bearish on the U.S. economy and continues to predict a recession. On Friday May 4, Lakshman Achuthan, ECRI's co-founder and chief operating officer said:
The median recognition lag after a recession begins is about half a year. After the last recession began, it actually took nine months before the consensus view accepted the reality, especially since we had clearly positive real-time GDP readings for the first half of 2008 that were later revised downward.

When we review the year-over-year growth rate of the US Coincident Indicator Index, which includes broad measures of output, employment, income and sales, we find it to be in a clear, cyclical downturn. That is an authoritative indication that overall US economic growth is actually worsening, not reviving.
On May 11, 2012 ECRI, in "Rising GDP doesn't rule out recession" wrote
One reason we believe the economy is heading for recession now is weak job growth. Since February, job growth has turned down, as have other key indicators.

Ominously, in the past 60 years we haven't seen a slowdown where year-over-year job growth has dropped this low without recession.

Separately, for the past three months, year-over-year growth in real personal income has stayed lower than it was at the start of each of the past ten recessions. These are facts, not forecasts -- so the popular story that more jobs will lead to more consumption is missing a key link, which is income growth.
Does SPY lead WLI or does WLI lead SPY?
Since ECRI releases WLI numbers for the prior week, and the stock market is known in real time, you can sometimes get a clue for next week's WLI from the weekly change in the S&P 500 or its exchange traded fund, SPY. But this is not always the case. Specifically, in the lead-up to the last two recessions, the WLI turned down months before the stock market did. Is WLI predicting lower prices for SPY in the weeks ahead?
Chart Of S&P 500 Vs. ECRI's WLI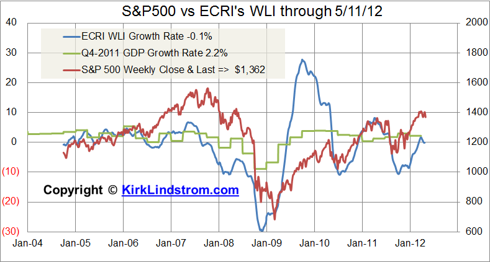 Despite a slowing economy, I like equities including SPY and the more diverse Total Stock Market Index exchange traded fund, VTI. Over the next 10 years, I expect the S&P500 will keep up with inflation and the dividend it pays should grow with or even exceed inflation. An added benefit to owning equities is their dividends and capital gains currently get favorable tax treatment. Finally, treasury rates are artificially low giving ALL bond funds significant interest rate risk.
Notes:
Occasionally the WLI level and growth rate can move in different directions because the latter is derived from a four-week moving average.
ECRI uses the WLI level and WLI growth rate to help predict turns in the business cycle and growth rate cycle, respectively. Those target cycles are not the same as GDP level or growth, but rather a set of coincident indicators (including production, employment income and sales) that make up the coincident index. Based on two additional decades of data not available to the general public, there are a couple of occasions (in 1951 and 1966) when WLI growth fell well below negative 10, but no recessions resulted (although there were clear growth slowdowns).
For a better understanding of ECRI's indicators, read its book, "Beating the Business Cycle."
SPY (Charts and more info) is the exchange traded fund for the S&P 500 Index.
VTI (Charts and more info) is Vanguard's "Total Stock Market" exchange traded fund.
VOO (Charts and more info) is Vanguard's NEW exchange traded fund that tracks the "S&P500 Index." It is a lower cost alternative to SPY. I own and write about SPY as I have many years of data for it but VOO could do SLIGHTLY better than SPY over time due to having a lower expense ratio.
Disclosure: I own SPY and the traditional index fund versions of VTI and VOO bought long ago in various taxable and tax deferred accounts.