As we get ready to close the books on 2007, management at IntercontinentalExchange (NYSE:ICE) has to be feeling pretty satisfied with their performance this year. The company started the year as an exchange primarily for energy based contracts with hopes to participate in a larger array of trading vehicles. Over the last 12 months, the company has begun to integrate its purchase of the New York Board of Trade [NYBOT] which it has now dubbed Ice Futures US; it has expanded operations in Europe to become a leading futures exchange, It acquired a Canadian trading exchange (Winnepeg or WCE), and signed an agreement with Russell to eventually take over exclusive rights to offer futures contracts on the Russell Indices.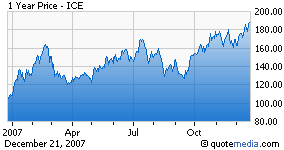 While the company started with only one major asset class traded, 2007 saw an increase of four additional asset classes which are Soft Commodities and Agricultural Products,
Foreign Exchange, Equity Indices, and Chemicals. At the end of the year, the suite of trading vehicles now includes 60 more contracts than were present at the beginning of the year. And yet while new businesses are driving some of the growth, organic increases in the products already offered are a significant part of the company's increasing revenue stream.
One of the key character qualities that has enabled ICE's success is a dedication to cost cutting and reducing expenses. As management embraces new technologies and commits significant capital to beefing up their electronic trading platforms, expenses are being cut wherever possible and management has found some very big expense items to cut back on. The most recent announcement from the company is that they will be shutting down the futures trading pits that were part of the NYBOT acquisitions. During the year, management had been able to convert 85% of the volume to electronic trading which is usually more efficient for traders and exchanges alike. After much deliberation, the company has finally agreed to completely shut down the trading floor which will conservatively save 13-14m in expenses and will likely drive top line growth as all of the volume will now be on one exchange medium which will be attractive to more algorithmic traders.
Another significant strategic decision for the year is to move the data center from the current Atlanta headquarters to the Chicago trading center. In a world where milliseconds can cost millions, this move will knock out most any latency issues with technology and attract super-short-term algo traders to participate more on ICE's platforms.
While a major portion of the company's revenue comes from execution, the clearance function of trading is another big money maker. In the beginning, ICE sub-contracted a good bit of its clearing services to a third party. While this was likely a good policy for management who needed to concentrate on getting the execution technology in order, the service is now one that needs to be a core area for the company. As of mid 2008, management has announced that they will no longer use the third party clearance group and will clear all transactions in house. This should drive margins higher and allow for growth even with the same amount of transactions. The company should soon have its European clearance facility operational and is on track to meeting their goal.
Management continues to pursue agreements that drive revenue growth, and the contract with Russell should be a very exciting move. With more and more financial institutions benchmarking their portfolios to the Russell 2,000 or Russell 1,000 indices, exclusive rights to these contracts will be a major driver of 2008 revenue and beyond. While the order flow will have associated costs including royalties paid to Russell, the benefit should be very significant.
While the stock has had a great run in 2007 and has been one of my core positions for years now, I continue to look for good things from this excellent management team and am excited about their prospects in the new year.
Disclosure: Author has a long position in ICE