By Brendan Gilmartin
Home Depot (NYSE:HD) is expected to report 1Q 2012 earnings before the opening bell on Tuesday, May 15. The home improvement giant is expected to report earnings at approximately 6:00 a.m. EST and follow with a conference call at 9:00 a.m. Home Depot is a member of the Dow Jones Industrial Average and is widely seen as a play on the index futures. Coming into the earnings, Home Depot appears to be the preferred name in the home improvement space among Wall Street analysts, but fetches a slightly lower premium relative to Lowe's (NYSE:LOW).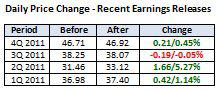 Outliers and Strategy
The consensus for Earnings Per Share is $0.65 (Source: Yahoo Finance). Look for a figure toward the high end of the consensus range ($0.69) to support further gains.
Revenues are seen coming in at $17.9 billion, up 6.4% from the year ago period.
Earnings Per Share Guidance (FY2012): The current consensus is $2.91, above the recent company guidance of $2.79.
Home Depot is now trading at 20.4x trailing earnings, a slight discount to rival Lowe's (21.4x), but well above the five-year average of 16.4x after touching a new 52-week high of $52.88 on May 3.
Recent News
05/08: Barclay's sees Home Depot posting EPS of at least $0.64, according to a report on StreetInsider.com. The firm reportedly believes 1Q 2012 earnings will benefit from more favorable weather conditions and stabilization in the housing market. Barclay's also raised the price target from $53 to $57.
04/20: Goldman Sachs raised its price target on Home Depot from $52 to $54, according to a post on Benzinga.com. The firm noted 11% - 12% EBIT margins appear feasible. Goldman Sachs has an Outperform rating on the shares.
04/16: Piper Jaffray upgraded Home Depot from Neutral to Overweight and raised the price target from $47 to $62, according to a post on Benzinga.com. The firm based its positive stance on its home improvement survey that showed home remodeling trends are improving. As a result, Piper Jaffray sees a solid spring selling season.
02/23: Home Depot announced that its board of directors declared a 4Q dividend of $0.29. The shares are note yielding 2.29%.
Technical Review
Home Depot shares have been on an impressive run, climbing more than 40% off the November 2011 lows and topping out at a recent 52-week high of $52.88 on May 3. Since then, however, the momentum has faded and the shares are struggling to hold the 50-Day SMA near $50.50. In recent weeks, Home Depot broke the five-month up-trend dating back to late December, with the downward sloping Relative Strength Index (RSI) and MACD reflecting the downward momentum. Should earnings surprise to the upside, look for resistance in the $52.50/$53.00 area. Below the 50-Day SMA, look for support at $49.00, with downside risk to $48.00. (Chart courtesy of StockCharts.com).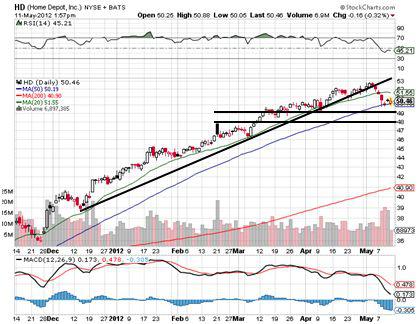 Summary
Home Depot shares are trading at multi-year highs, thanks to evidence of a recovery in the U.S. economy, favorable weather conditions and a refresh cycle in the home remodeling space - all of which are contributing to the bottom line. Recent private and government statistics have also shown the housing market appears to have bottomed with sales around many parts of the country back on the rise. Following the recent advance, Home Depot still trades at a manageable 20.4x trailing earnings and pays a 2.3% dividend yield. With that being said, the bar is set pretty high headed into earnings, leaving the shares vulnerable to any missteps. Home Depot is also locked in a competitive battle with Lowe's to deliver an improved shopping experience, potentially impacting both margins and bottom-line earnings.
Disclaimer: By using this report, you acknowledge that Selerity, Inc. is in no way liable for losses or gains arising out of commentary, analysis and or data in this report. Your investment decisions and recommendations are made entirely at your discretion. Selerity does not own securities in companies that they write about, is not an investment adviser, and the content contained herein is not an endorsement to buy or sell any securities. No content published as part of this report constitutes a recommendation that any particular investment, security, portfolio of securities, transaction or investment strategy is suitable for any specific person.
Disclosure: I have no positions in any stocks mentioned, and no plans to initiate any positions within the next 72 hours.