Trex (TWP), the leading maker of recycled decking, railing and fencing products could be a turnaround stock this year, says Barron's. Precipitous growth and environmental trends after its 1999 IPO helped the stock reach $50 by late 2004. Yet through overproduction and declining demand, along with quality issues and higher commodity prices, shares are now worth $8.32 (after a 15.88% gain Friday). Year-to-date as of Sept. 30th, profits excluding writedowns were miniscule at $0.09. With writedowns there's a loss of $2.35/share, that's compared to a $1.08 profit in 2006. Trex also had to renegotiate some loan covenants it violated.
But even with a housing slump, still-high commodities and higher recycling and materials costs, Trex has managed to cut inventory and production costs and significantly improve its product quality. Two of its rivals have folded in the slump, but Trex's October-November sales picked up and CEO Andrew U. Ferrari raised 2007 revenue guidance from $315 million- $335M to $335M-$345M. It's a risky stock, so analyst forecasts range from $0.03 to $1.05/share. Barron's says if Trex can survive the winter building doldrums, investors could see a $25-or-more share again, or as much as a 400% return.
Additional Reading: 11th Hour Panic and Using More Lumber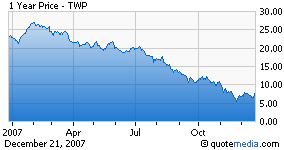 Seeking Alpha's news briefs are combined into a pre-market summary called Wall Street Breakfast. Get Wall Street Breakfast by email -- it's free and takes only seconds to sign up.