My title "JPMorgan - The Worst Most Popular Stock" may sound confusing but I want to point out that on this one the herd was wrong on BIG TIME! Everyone was expecting better earnings - which they did have. The herd got spooked when they realized although earnings were up 6%, revenue was also up 15%. I guess they finally did the math and decided that wasn't a good trend.
Although the stock was already in a downward trend look what happened when earnings were announced on this hourly trading graph provided by Barchart:
If that graph isn't alarming enough look at how the stock has performed over the last 2 1/2 months compared to the market as measured by the Value Line Index. JPM soared at first but then ended up no better than the market at the end: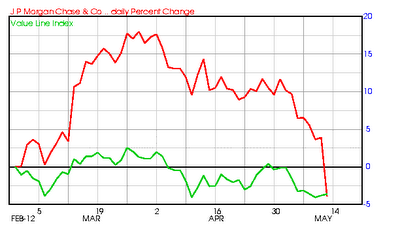 JPMorgan Chase & Co. (NYSE:JPM), a financial holding company, provides various financial services worldwide. Its Investment Bank segment offers various investment banking products and services, including advising on corporate strategy and structure, capital-raising in equity and debt markets, risk management, market-making in cash securities and derivative instruments, prime brokerage, and research services for corporations, financial institutions, governments, and institutional investors. The company's Commercial Banking segment provides lending, treasury, investment banking, and asset management services to corporations, municipalities, financial institutions, and not-for-profit entities.

Its Treasury and Securities Services segment offers cash management, trade, wholesale card, and liquidity products and services to small and mid-sized companies, multinational corporations, financial institutions, and government entities. This segment also holds, values, clears, and services securities, cash, and alternative investments for investors and broker-dealers; and manages depositary receipt programs.

The company''s Asset Management segment provides investment and wealth management services to institutions, retail investors, and high-net-worth individuals. This segment offers investment management in equities, fixed income, real estate, hedge funds, private equity, and liquidity products, as well as trust and estate, banking, and brokerage services to high-net-worth clients; and retirement services for corporations and individuals.

Its Retail Financial Services segment offers consumer and business, and mortgage banking products and services that include checking and savings accounts, mortgages, home equity and business loans, and investments. The company's Card Services and Auto segment provides payment processing and merchant acquiring services. JPMorgan Chase & Co. was founded in 1823 and is headquartered in New York, New York.(Yahoo Finance profile)
Factors to consider:
Barchart technical indicators:
72% Barchart technical sell signal
Trend Spotter sell signal
Below its 20, 50 and 100 day moving averages
16.17% off its high for the last month
19.40% off its high for the past year
Relative Strength Index 23.11%
Broke through its support level of 40.03 and is now down at 37.49
Recently traded at 47.49 below its 50 day moving average of 43.25
Fundamental factors:
Widely followed by Wall Street where 30 firms assigned 34 brokers to follow the stock
Analysts predicted sales would rise .40% this year and another 2.00% next year - they have a lot of revising to do
Earnings were estimated to rise by 10.90% this year, another 12.70% next year and continue to rise annually by 7.61% for the next 5 years
The consensus projections resulted in firms issuing 12 strong buy, 17 buy, 5 hold and no under perform or sell recommendation to their clients
I guess the brokers forgot to explain the concept of stop losses to their customers
The new P/E ration of 9.03 is way below the market P/E
With the drop in price the dividend rate is now a respectable 2.95%
General investor interest:
The 4,236 readers of Motley Fool that followed this stock had this one pegged wrong
86% thought the stock would beat the market
85% of the more experienced All Stars also voted 85% for the same result
Fool noted that all of the recent reports were favorable
Some of those that were high on this issue were Jim Cramer, David Tepper, Bob Olstein and even Jim Jubak
The market has the final say and here is how the market ranked the banking peers over the last 2 1/2 months. While JPM was down 4%, Citigroup (NYSE:C) was down 12% and Bank of America (NYSE:BAC) was down 7%. The market considered the best play to be Wells Fargo (NYSE:WFC) which has climbed 6%:
Summary: JPMorgan Chase has suffered a big drop. Many thought it was a bargain at a much higher price. You bottom feeders should have a feeding frenzy on this one. Don't jump in just yet. Keep your powder dry and watch the 20 day moving average and the top 14 day turtle channel to signal when to jump in.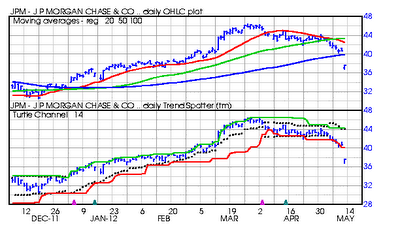 Disclosure: I am long WFC.