By Johnny Duncan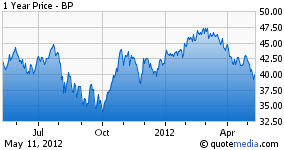 Once considered the darling of oil and gas stocks, BP (NYSE:BP) has had its ups and downs--- more downs that it wanted to. From the Deepwater Horizon disaster, to water and shoreline cleanups and reputation damage control, this company has been through the wringer.
Although BP has "seen the elephant," it is coming back stronger than ever with five rigs drilling in the Gulf of Mexico, making it one of the most active drillers there with plans to have three more rigs drilling in the Gulf by the end of 2012. The company is the third largest oil company in the world, behind Exxon Mobil (NYSE:XOM) and Royal Dutch Shell (NYSE:RDS.A), (NYSE:RDS.B), but quickly climbing out of a hole. I believe BP to be a great investment because of its tenacity to come back strong and its great price. This company is making all the right moves at the right time, but is not quite where it wants to be yet, which makes it a business on sale right now.
The company has taken a licking, but keeps on… drilling. The cleanup of it all is nearing completion and BP is back in the profit-making groove once more. In addition to the $18 billon BP paid in penalties and violations associated with the Clean Water Act, the company paid and an additional $8 billion for lawsuits related to property loses, economic damages, and medical costs.
The company also reached settlements with other companies that worked on the Macondo well leak. The most recent was Cameron International (NYSE:CAM), agreeing to pay $250 million, Weatherford International (NYSE:WFT) which agreed to pay $75 million, and Anadarko Petroleum (NYSE:APC), which paid $4 billion. Working in favor of BP is earth's natural cleansing system. It seems that the Deepwater Horizon disaster has not messed up the environment as much as was expected. According to James Morris, a professor of biology at the University of South Carolina, "The natural recovery is far greater than what anybody hoped when it happened. The fears of most people -- that there would be a catastrophic collapse of the ecosystem in the Gulf -- never materialized."
One of the benefits of the stoppage of fishing in some areas was that it caused the bait fish to come back quickly which naturally caused larger fish to thrive. The company is and has been extremely aggressive in the restoring of its reputation. From colorful commercials and brochures, to testimonies from restaurant owners, fishermen, and government officials, the company is performing a blitz of a marketing campaign. In yet another attempt to restore its name, BP became a sponsor of the 2012 Olympics in London using the opportunity to roll out biofuels made from sugar cane and grasses to fuel to more than 5,000 vehicles.
BP is exiting areas where once seemed profitable in order to focus on where oil (read: profits) can be found. In February, BP withdrew from a venture using Australian government funds to build a solar-power project in the state of New South Wales. The company decided against being a part of a new bidding process after missing a December 2011 financing deadline. BP said that it will exit the global solar business after 40 years because it has become unprofitable.
Interests other than oil still attract the attention of the company though. BP is committed to biofuel in a big way. The company announced in 2006 that it would invest $500 million over a 10 year period in the Energy Biosciences Institute, which is run by the University of California Berkeley and the University of Illinois. The Institute is dedicated to researching advanced biofuels, as well as converting hydrocarbons into cleaner fuels, an area where BP sees future products that can bring be very profitable. Additionally, the company is investing $8 billion between 2006 and 2015 in US onshore wind power, biofuels research and development, and carbon capture and storage.
Selling off assets to pay for previous disasters has helped BP. Since the selling began in 2010, the company now has divestments totaling approximately $23 billion. In March, the company completed the $1.2 billion sale of gas assets in Kansas, the $1.7 billion sale of its Canadian natural gas liquids business in April, and will soon be selling its Southern North Sea gas assets to Perenco for $400 million. The company is marketing for sale the Marlin, Horn Mountain, Holstein, Ram Powell and Diana Hoover fields, its interests in certain non-strategic assets in the Gulf of Mexico.
The future is beginning to look brighter for the company. In a BP first quarter 2012 results statement, CEO Bob Dudley said, "We have made a good start against our strategic priorities for 2012. During the quarter we gained access to significant new deepwater and US shale exploration acreage, our ongoing divestment program has reached $23 billion, and we have five deepwater rigs at work in the Gulf of Mexico.
This operational progress will underpin the financial momentum we expect to come through as we move into 2013 and 2014." The company reported for this first quarter earnings of 0.317 per share. It also reported revenues of $94.04 billion, 0.64% above the prior year's first quarter results, and operating cash flow for the quarter was $3.4 billion, compared to $2.4 billion in the first quarter of 2011.
BP is definitely still in business to stay and not just because it is selling assets and accumulating cash. The company is indeed focusing on exploration and has increased its resources and interests in the South Atlantic equatorial margin plays, venturing into four exploration concessions with Petrobras (NYSE:PBR) in Brazil.
The company also gained access to the potentially liquids-rich Utica shale formations in Ohio, and is placing more interests offshore Namibia, being awarded three new blocks offshore Uruguay, so the company is not licking its wounds but strongly going after resources. A company like this tends to meet all the criteria of a good, solid long-term investment.
Disclosure: I have no positions in any stocks mentioned, and no plans to initiate any positions within the next 72 hours.