The following are my top 5 emerging healthcare stock picks for 2008, based on expected positive catalysts, current valuations, and market caps of less than $500 million at the time of publication. Links to my full stock research reports and other useful links for these stocks can be found here; also check out my previously published Seeking Alpha articles on these companies.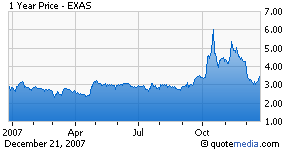 EXACT Sciences (NASDAQ:EXAS): My top pick for 2008 with exponential upside potential based upon expected American Cancer Society colorectal cancer guidelines inclusion for its stool DNA-based screening test, FDA approval for PreGen-Plus, and NCD approval for Medicare reimbursement of PreGen-Plus with all three catalysts likely to occur during 1H08.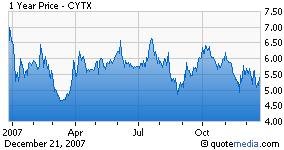 Cytori Therapeutics (NASDAQ:CYTX): On the verge of commercialization for its adipose-derived stem/regenerative cell therapy and banking applications in Europe & Japan, respectively, in early 2008. Also, continued progress on FDA approval on a device-based, 510(k) filing strategy in the USA for the individual components of its Celution System.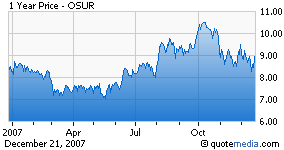 OraSure (NASDAQ:OSUR): Working on approval (2H08) for an over-the-counter, rapid (20-minute) diagnostic test for HIV/AIDS (OraQuick HIV OTC) using non-invasive oral fluid samples. Also working with Schering (SGP) on a similar rapid, oral fluid test for hepatitis C (OraQuick HCV) designed for use by healthcare professionals with a FDA filing expected during early 2008. The Company is also working on an oral fluid substance abuse testing for laboratory system use.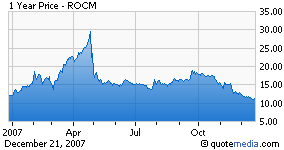 Rochester Medical (NASDAQ:ROCM): Expected cash award/settlement from Covidien (COV) during 1H08 based on previous legal settlements surrounding unfair urinary catheter marketing practices. The Company should also benefit from increased sales and use of its anti-infective catheter, Release-NF, as hospitals focus on preventing catheter-related infections due to legislative and Medicare reimbursement initiatives.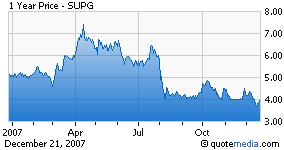 SuperGen (SUPG): Key survival data for Dacogen will be reported during 1H08, which will also support the filing/approval process for European partner Johnson & Johnson (NYSE:JNJ). The US partner for Dacogen, MGI Pharma (MOGN), was recently acquired by Japan-based Eisai who expects peak US sales for Dacogen of $500 million from 2007 expected domestic sales of over $115 million. SuperGen also has an early stage cancer drug pipeline, a rapid discovery technology platform, and a solid balance sheet.
Disclosure: Author holds positions in the above-mentioned securities