Update on GA: Giant Interactive Soars on $200M Repurchase
The secret is out. Online gaming is the most lucrative IT industry in China. That is why new players are keeping on emerging every year. More are set to come into existence and get publicly listed, in mainland, Hong Kong, or U.S., in the next couple of years.
To achieve investment success in this highly competitive industry, investors need to be very selective. Besides financial performance, one needs to pay close attention to the invested company's competitive advantages and leading positions.
Some investors will want to stick with current industry leaders like Shanda (NASDAQ:SNDA) and NetEase (NASDAQ:NTES). For those who are looking for emerging industry leaders, however, Giant Interactive (NYSE:GA) is one that cannot be ignored. I have published my overall analysis for this company previously. Here I'm going to concentrate on its industrial leadership and competitive advantages.
Simply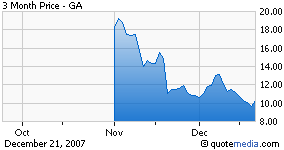 put, Giant is reshaping the Chinese online gaming industry. It is rewriting the rules, from business model to the way MMORPGs are played.
It used to be gaming companies follow well-accepted practices to build online games which are then marketed largely through the internet itself. Mr. Shi (Chairman and CEO of Giant Interactive) changed all that.
CEO As Game Changer

Mr. Shi himself is an experienced game player. He spends long hours every day playing online games offered by different operators. In building his ZT Online, Mr. Shi interacted with hundreds of game players to collect their ideas and feedbacks. The outcome is a game that combines the best of existing MMORPGs with new features most craved by players.
Players of any taste can expect to find something he/she likes in ZT Online. Mr. Shi has designed his game to be an "encyclopedic" MMORPG. Literally, it includes test questions for different disciplines. It has grandiose wars between nations. It also has peaceful games and races like biking, boating, and even hot spring.
And it is certainly full of creative capabilities like automatic location/navigation, automatic medication/healing, automatic attacking/monster killing, programmatic experience level promotion, instantaneous shard migration, virtual asset insurance, in-game lottery, in-game contests, in-game player wage payout (that's right, some players earn wages), red envelopes, cash awards, special events, and many more.
Some of these "odd" game options have attracted players seeking easy alternatives to play MMORPGs, although they have also been center of criticism from opponents and the media. But to Mr. Shi, game players are the ultimate judges.
'Officially Assisted Cheating'
Fundamental to Mr. Shi's gaming success is his deep insight into this industry, even before he started his gaming company. Back then, he observed that there was a huge black market rampant with illicit dealers of game-cheating applications and businesses that sell experience levels and virtual products. These black market dealers, who are now more generally known as "gold farmers", combined made far more money than game developers and operators.
To Mr. Shi, where there is a black market there is a customer demand. And his answer to this black market is to meet all these player demands in his own game. You can call it "officially assisted cheating," that is, when the player is willing to pay. Whatever you call it, all the black market revenue is now rerouted back to Mr. Shi's business, the game developer and operator.
Sounds odd, doesn't it? Indeed, Mr. Shi's "officially assisted cheating" did receive certain industrial criticism. Critics have argued that this practice essentially defeated the meaning and fun of game playing because skills or experience levels no longer need to be built through effort. They can now be paid for. To these critics though, I want to tell them that they have missed the big picture totally. Mr. Shi has taught us to pay attention to player needs and demands. Even if the critics cannot see the big picture themselves, can't they just learn to follow Mr. Shi's direction?
In MMORPG, the game is the player's virtual world. Players have vanity deep inside them. They want admiration and envy from fellow players. They want to be heroes, bosses, and kings. Fast, particularly when they cannot afford to spend time to get to their desired virtual status. That is why deep-pocketed players do not blink much when paying for the status.
Mr. Shi grouped players into two, those who have time but not money and those who have money but not time. The first group of players can afford to spend a lot of time practicing and building their skills without spending a penny. The second group, on the other hand, will pay handsomely for higher skill levels. (Inevitably, there will be those who fall in between.)
Mr. Shi positioned his ZT Online to target the second group, the rich players. But rich players alone would not be playing the game without the participation of the first group. So the "non RMB players" (non-paying) players are needed to create and maintain a playable and exciting environment for the "RMB players" (paying). ZT Online turns out to consist of 15% "RMB players" and 85% "non-RMB players".
Remarkably, the 15% RMB players in this single game (so far virtually the company's only revenue source) accounted for 13.8% of the Chinese online gaming market as of Q3 in terms of revenue, making Giant Interactive the top 3rd player in the industry. Even more amazingly, they have put the company on the top spot in terms of net earnings generated in Q3 of 2007. The top three Chinese online game companies in terms of net income for Q3 2007 were ranked as Giant Interactive 290.2M, followed by NetEase 260.2M and Shanda 238.9M.
Not surprisingly, this single game's heroic deed has also become the reason for many investors to sniff at and dodge the company. I have to agree on the risk that comes with reliance on a single game, for now, that is. But I would also urge you to think, deeply, about why a single game can make the wonder of beating some opponent's dozen plus games.
Obviously, half of the answer lies in Mr. Shi's successful business model of "making money from the rich", recapturing of the black market revenue, and unique ability to include game features desired by his customers, the game players.
The other half of the answer lies in Mr. Shi's famous and unparalleled marketing talent. Besides marketing through the internet portals, Mr. Shi also leveraged a nationwide marketing network he had built for his previous business. This network has marketed his health product Naobaijin (melatonin) with immense success before.
His national marketing network filled internet cafes with ad posts of ZT Online on every prominent corner, from the wall, the door handle, to the restroom. They even offered a ZT-Online-exclusive incentive to the internet cafes. Those that signed up for this incentive would only operate ZT Online exclusively in the cafés.
This marketing campaign has led to immense success nationwide. But the success is particularly remarkable in tier-II and III cities. These middle and smaller cities were the much-ignored market in this industry before Mr. Shi, who discovered them and made them the focus of his products.
When Mr. Shi first entered the online gaming industry, he found it to be one that was full of rigid rules and one that paid the least attention to marketing efforts and end-user (player) voices. And he has succeeded by addressing all these drawbacks. Some industry observers and analysts believe Mr. Shi has set new rules for the industry and is irreversibly reshaping it into a marketing-oriented and consumer-centered industry.
Mr. Shi's single-product success is thus clearly not an accident. It is not so by way of his efforts and by way of his design. He believes in focus and argued that enterprises need to have clear focus in terms of both products offered and marketing regions.
His belief in focus has enabled him to re-rise in just a few short years from his now famous fall in 1997. Following his fall, he started with only one product, Naobaijin, after talking to hundreds of consumers in suburban and rural areas. And his marketing initiative started with just one small city (Jiangyin) in Jiangsu Province. Only after his effort turned out to be successful would he begin to duplicate his success in other similar cities, then larger cities like Nanjing and Shanghai, and eventually nationwide.
His focused approach turned out to be so successful that he was able to voluntarily repay in 2001 essentially all the RMB 200M+ debt he owed the "victims" of his failed real estate venture. That was just four years after his fall.
So yes, ZT Online's success is largely a duplicate of Mr. Shi's Naobaijin business success. Mr. Shi intentionally focused his company on this single game as a start. His strategy is to strike the market with one missile rather than ten cannons. And not surprisingly, one missile has indeed turned out to be more powerful than ten cannons.
However, a person as ambitious as Mr. Shi is not satisfied with one single missile. That is why he has rolled out ZT Online PTP and is rolling out Giant Online and King of Kings III in 2008.
Capturing the Low End
Although Mr. Shi does not have much expectation for ZT Online PTP, it is a venue for him to capture the lower-end market. As NetEase is set to adopt the free-to-play business model, Mr. Shi felt that would leave pay-to-play a blank area in the industry. ZT Online PTP then will serve to capture that blank market area.
Giant Online is a 2.5D, free-to-play MMORPG. This game is completing its double-version beta testing and will begin closed beta testing before the end of this month. Double-version beta testing is Mr. Shi's yet another invention in which two versions of the same game compete to gain customer acceptance. Eventually the version that wins customer acceptance will be merged with the best features identified from the "lost" version, thus combining the best of both versions.
Mr. Shi has imposed a weekly spending limit on Giant Online players and is promoting it as the least-expensive, free-to-play online game in China. There likely are at least three major reasons why Mr. Shi is positioning Giant Online this way. First, ZT Online was criticized as the most expensive online game in China (although Mr. Shi rejected the criticism citing much higher ARPU from some opponents). Mr. Shi wanted to build a different corporate and brand image. Second, by offering a less-expensive game Mr. Shi is preventing existing high-end ZT Online players from switching to Giant Online, thus minimizing the "self-competition" among his own products. Third, his three games (ZT Online, ZT Online PTP, and Giant Online) together will serve to capture the low, middle, and high ends of the MMORPG market.
Another likely factor is that Mr. Shi has looked beyond ARPU and total revenue to the player base. By this measure, Giant Interactive still has work to do to be in a dominant position.
Mr. Shi believes Giant Online will become the hottest online game in 2008. He also believes that it can generate similar level of revenue as ZT Online, even though it has been imposed a weekly spending cap. According to him, this is because Giant Online will be able to increase the proportion of RMB players well beyond the level seen in ZT Online.
Mr. Shi will also be rolling out King of Kings III, a 3D MMORPG he purchased outright from Taiwan Lager Network, in 2008. It appears Mr. Shi is not into licensing games from other than the top online game producers in the world. He wants full control of the game he is operating, thus avoiding unresponsive support and disputes like the ordeals Shanda has gone through with its South Korean partner.
Mr. Shi places a lot of emphasis on R&D. He is willing to pay RMB 10M of salary to hire a top R&D chief. He sees his R&D team to double its size by the end of 2008. He also invests heavily on superior server technologies. That enables Giant Online to support 1 million players in a single shard, compared to only thousands in other MMORPGs.
Giant Interactive's marketing network currently consists of about 3,000 personnel. Mr. Shi has a plan to expand it to 20,000 in three years so that he can maintain his superior market share in tier II and III cities.
With an industry leading position, complementary product portfolio that is set to grow in the next few years, and competitive advantages in terms of superior R&D and marketing muscles, Giant Interactive promises to be a company that will win over the long term!
Disclosure: the author owns GA as of this writing. This post represents only the author's personal opinion. It should not be interpreted as a recommendation to buy or sell GA stock.