Shares of Computer security software vendor McAfee (MFE) are dropping Monday morning after the company filed delayed financial statements with the Securities & Exchange Commission that suggest a buyback of its shares will be delayed a couple months. But with $1.1 billion in cash, investors might want to hold onto the shares, writes Lehman Brothers analyst Israel Hernandez in a note this morning. He suggests there may be 20% upside to the stock.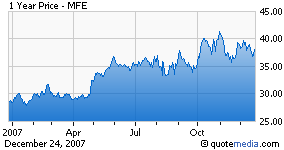 Hernandez opines the buyback, which the company's indicated it's interested in, likely would come after the current quarter's results are announced on
February 7. With $6.2 billion in market cap, Mcafee's cash could let it buy back
more than 10% of its shares, I would note. Hernandez says simply that
he thinks the amount could be larger than the $250 million buyback
authorization that expired in October.
While McAfee needs to maintain cash for acquisitions and working capital, Hernandez believes the company has room to maneuver because it is generating about $400 million in cash flow. (I assume that's annually.)
Hernandez has an Outperform rating on shares of McAfee and a $45 price target.
McAfee shares are down 1.39% at $37.59.