With the current credit crunch being so bad and the retailers trying to lure customers into buying their stuff at bargains, I don't see a pleasant year for most retailers after they announce earnings.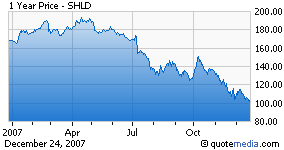 Sears Holding (SHLD), which caters mostly to residential needs and competes with the likes of Home Depot (HD) and Lowes (LOW), reported a 99% profit tumble for their last quarter earnings. Sears has also bid for the failing Restoration Hardware (RSTO), which makes me believe they will have an excuse for restructuring charges in the coming quarter.
Cramer has been pumping this baby for about a year, since Sears was trading at the $180+ level, citing the intelligence and sensibility of Sear's infamous Edward Lampert. Cramer was dumbfounded by the real estate value of the buildings owned by Sears Holdings.
Now that real estate is in turmoil and the light of recovery is nowhere near the horizon, I see the value of this stock going down below $50 then to the $20s...
I am thinking of shorting this stock, but I am waiting for the new year and for the price to drop a little under 100... so it loses $100 support... and then it will be easy to ride this down by at least 25 points if not by a huge 50 point drop over 1 year.
Good luck to shorts and longs...
Disclosure: none