Energy meter reading hardware and software has been the lifeblood of Itron (NASDAQ:ITRI) since its inception. The initial products included hand-held computers and the associated software that made paperless meter-reading operations a reality. In 1990, the company introduced Automated Meter Reading [AMR] technology based products that enabled utilities to collect data remotely through a wireless device. The earlier part of the 90's saw a growth spurt as it focused on gas and electric meters. By 1995, they had expanded on to water meters as well. Its foray into software was initiated with the acquisition of MV-90 in 1996, an application for the collection and analysis of advanced meter data. The targeted audience primarily was commercial and industrial (C&I) customers and energy users. Soon focus shifted to the software application side of the business and gained acceleration in 2002 when they started an acquisition spree. Silicon Energy along with several other smaller companies was acquired and by 2004 they were the leader in the metering software market.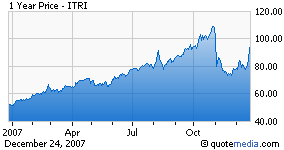 In 2004, Itron acquired Schlumberger Electricity Metering, a solid-state electric meter manufacturer and started building an integrated platform for the creation, collection, and analysis of meter data. By 2005, it had 3000 utility customers worldwide and 30 million meters used its technology. The Actaris acquisition in early 2007 was Itron's biggest acquisition to date. It gained the upper hand in the gas and water metering area and solidified global coverage through this acquisition.
Business Issues
Itron was able to accommodate almost all of the various acquisitions by combining cash generated from the business and an accumulated debt of $1.6B. For the LineSoft acquisition the company paid half in stock and for funding the Actaris acquisition 4.1 million additional shares were issued.
Actaris was bigger than Itron when comparing revenue numbers prior to acquisition. Blending the unique identity of the two companies will require time and could, in the meantime portray haphazard coordination at the helm. Eventually, the products and geographical diversification Actaris provides should enable Itron to navigate markets that were previously a challenge to charter. This is Itron's gamble at putting resources for gaining resources.
The market sector that Itron is trying to tap into is sprawled out. To uniquely address the various categories requires a breadth of products, which can be arduous to develop or assemble. Majority of the upstream products have good exposure across electric, gas, and water utility areas while most of the downstream products are specific to just the electric area. The company runs the risk of spreading themselves too thin in some of these areas. Continuing the aggressive acquisition strategy along with organic growth by developing a culture of strong R&D internally is the right strategy going forward. In the last few years, Itron has proved they can do the former successfully but for the latter part, the jury is still out.
Outlook
Itron is currently riding the smart metering wave. The business is directly affected as the government regulation on alternative energy shifts. To exemplify, in the US, should a senate bill that boosts big oil more than alternative energy companies be approved, Itron will be negatively impacted.
Below is a summary of Itron's financials for the last 5 years:

* Comparables show negative growth for 2007 without Actaris contribution largely due to a one-time contract from Progress Energy, which accounted for $60M of revenue in the first 6 months of 2006.
** First 9 months of 2007 only. Include contribution from Actaris. Numbers are negative as acquisition related expensing of in-process R&D ($35.8M) and amortization of intangible assets ($58.1M) offset by a tax benefit (13.2M) are factored in.
The stock trades at 24 times next years earnings estimate. Though this is a fairly rich valuation, the price is justified given the PEG ratio is below 1 - the expectation is for the company to have earnings growth of about 27% in the next 5 years.
Advanced Metering Infrastructure [AMI] is a segment expecting rapid growth in the near future. Itron's response to this is the OpenWay, a new meter utilizing CENTRON technology with integrated Zigbee radio-chip for in-home communication. Competition from companies like Echelon (NASDAQ:ELON) with products for machine and device automation for commercial, industrial, and residential customers (LonWorks product suite) is a threat. Itron's product is in an early deployment phase and has the potential to be bringing in good returns in the coming years.
Another untapped area for Itron is the opportunities to cross introduce products among Itron's and Actaris' customers. Executing well in the areas of sales training and implementing both minor and major changes as necessary to their respective products promptly are paramount to realizing the benefits.
Given its expansion opportunity along with its proven track record of successful execution of growth strategy, Itron can definitely be a good core holding in the mid-cap growth portion of diversified stock portfolios.
Disclosure: We have a long position in Itron (ITRI).