AAR Corp. (NYSE:AIR) reported second quarter fiscal 2008 earnings after the market's close on Tuesday, December 18th.
Although you might be angry with the kid kicking your seat when you travel over the next week or so, you won't be at all disappointed with AAR's earnings.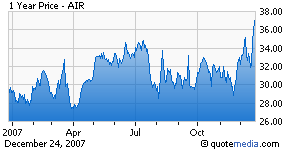 I'll give a more detailed breakdown of AAR Corp.'s earnings as well as detail the conference call highlights in a later post, but I wanted to provide some quick numbers (growth from previous year's 2Q/analysts estimates where applicable):
Record quarterly sales of $310.6 million (up 27% from prior year/vs. $307.3 million projected)
Record quarterly income from continuing operations of $17.9 million (up 28% from prior year)
Gross margin improves to 19.4% (up from 18.8% in prior year)
Operating margin improves to 10.1% (up from 9.1% prior year)
$0.42 earnings per share (up 27% from prior year/ vs. $.40 projected)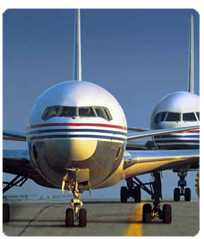 There were also some interesting highlights in the quarter:
AAR is getting more and more Maintenance, Repair and Overhaul [MRO] business from airlines.
AAR saves airlines money because maintenance and repair is part of its core business and its employees work faster and more efficiently.In addition, airlines have been outsourcing their maintenance and repair to aviation service providers like AAR, which are able to provide the same services at lower costs by using non-union employees and lowering overhead costs.
"The principal markets we serve - commercial, aviation and defense - continued to expand, despite the turbulence in the global credit markets, uncertainty in the U.S. economy and continued pressure from high fuel prices. The demand from airlines for outsourced technical services and additional aircraft lift is strong, as are the opportunities to support the U.S. Department of Defense and its allies," said David P. Storch, Chairman and Chief Executive Officer of AAR CORP. "During the quarter the AAR team made excellent progress penetrating and growing our presence in these markets. We experienced significant sales growth and margin improvement in our MRO business; continued strength in Aviation Supply Chain; steady progress in our Structures and Systems business; and solid growth in our Aircraft Sales and Leasing business."
Sales to commercial customers increased 29%, and sales to defense customers grew 24%, year-over-year. This is a great balance for AAR.
In addition, AAR purchased 272,000 shares of its stock on the open market through the first six months of fiscal 2008 at an average acquisition price of $29.98.
This is right around where my initial buy recommendation and re-recommendation prices were set. It looks like AAR also thinks their stock is cheap at these levels!
On December 3, 2007, the AAR completed the acquisition of Summa Technology, Inc., a leading provider of high-end sub-systems and precision machining, fabrication, welding and engineering services located in Huntsville, Alabama.
"We are very excited to add the extensive capabilities of Summa and its management team to our company," said Storch. "Summa has great momentum and is performing well, and we look forward to creating even more opportunities as we integrate it with our other businesses."
AIR still a buy
While no longer "cheap", AAR Corp. is still a great company to own for long term investors. While the stock price has risen considerably since my initial recommendations, it is still a good value at these levels and I would still recommend a small purchase of shares here while looking to add more on weakness.
In a future post, I will detail the company's earnings as well as their investor conference call, and update the company outlook in my research AAR research report.
Disclosure: Author has a long position in AIR