We all know the story. On October 24th, WellCare Health Plans (NYSE:WCG) was raided by every state and federal agency. Investors and mutual funds heard the word "fraud" and ran for the exits.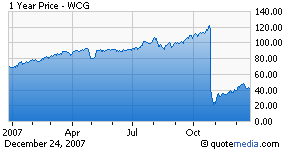 On December 10th, Bruce Berkowitz of Fairholme Capital Management filed a SC 13G showing ownership of 17,465,200 (43% of the outstanding shares). As of his 3rd quarter 13F-HR, Berkowitz didn't show any holdings in WCG. If this guy is willing to put around $700 million into WCG then I think I can risk a few thousand on it. (See here.)
Notable Calls mentioned upgrades by CIBC & Piper Jaffray, which never actually mean anything because they are only giving it price targets of $60 and $66. The stock had its 52 week low of $55.56 going into the October 25th crash!
The reason WCG doesn't get the same volatility as, say, LDK Solar (NYSE:LDK) is because LDK gave a timeframe of when the investigation would be over. With WCG, neither the company nor the state has given us a time frame. In the past month the only excitement was a rumor that they were nearing a settlement, and then, on December 17, a specialist pushed the wrong button and unloaded 250,000 shares down to $37.50 which brought the day traders back in for a day.
Meanwhile, the only thing known to the public is that a former employee has filed a whistle blower lawsuit. I recall reading somewhere that the lawsuit is sealed and the company has no idea what they are investigating. The Wall Street Journal states that the raid was because of $35 million in fraud over a period of 5 years. Based on 40 million shares outstanding, that comes to about one dollar per share.
Disclosure: Author is currently long WCG Call Options