JPMorgan (NYSE:JPM) really threw a monkey wrench into the capital markets Thursday afternoon with the shocking revelation of a $2 billion dollar trading loss racked up within six weeks. Worse, there is a potential for an additional $1 billion in trading losses.
I've been a long-time admirer of Jamie Dimon, Morgan's bold CEO. It was he, if you recall, who basically did the Fed and Treasury a favor by taking over the now defunct WaMu. While some would argue that he got a sweetheart deal, Dimon was the only banker in town (at that time) with any cash. Yet, then Treasury Secretary Hank Paulson and Fed chief Bernanke had a gun to Dimon's head ... and at a time when JPM was trying to digest a belly-full of Bear Stearns.
But, some four years later and it was hoped that "too big to fail" attitudes would have settled down a bit. I own small positions in JPM and was actually looking for an opportunity to add, until yesterday.
However, a bombshell of this magnitude puts Dimon and his risk management team deep in the dog-house for sure. $2 billion in derivative losses in less than two months shouts, or rather screams, loud in the ear of a still fragile macro environment.
Balance sheets of banks and financial companies bear no resemblance to non-financial balance sheets as they are capitalized quite differently. Derivative exposure is common practice for hedging credit risks, foreign exchange fluctuations, commodities, inflation, etc. For a historical perspective and chronology of credit derivatives over the years look here.
Herein lays the problem. Of the large US banks, JPMorgan has by far the largest exposure to credit derivatives. Given that a substantial portion of derivative losses incurred by JPM may have resulted from the actions of one or several persons, it is reasonable to assume a breakdown in the organizational chain stretches from the CIO to the top floor.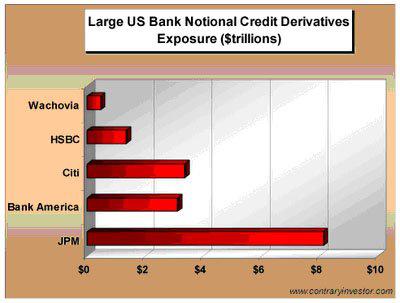 It is one thing to call an "unusual" press conference and report the problem, but investors deserve to know who, how and why internal risk management controls failed at JP Morgan.
Ironically, JP Morgan put out an interesting presentation way back in 2000 titled The JP Morgan Guide to Credit Derivatives. It took me a while to find the file in my dusty archives, but it makes for an interesting read straight from the horses mouth.
Bear in mind that structured products and synthetic securitizations have evolved with more complexity over the years, a function of design to satisfy the appetites of global credit and capital market clients. Below is a quote from chapter 7 in the presentation (Synthetic Securitization):
"Since 1997, credit derivatives have entered the mainstream of global structured finance as tools in a number of large, high profile securitizations of assets that cannot as easily be managed using more traditional techniques. By combining credit derivatives with traditional securitization tools in collateralized loan obligations (CLOs) or mortgage backed securitizations (MBSs), for example, structures can be tailored to meet specific balance sheet management goals with much greater efficiency. Specifically, credit derivatives have assisted banks in reducing economic and/or regulatory capital, preserving a low funding-cost advantage, and maintaining borrower and market confidentiality."
In short, derivatives are more than just a hedge against risk. They are also a capital productivity tool to manage overall business performance. In the case of JPM, there are concerns that its Chief Investment Office (CIO) was really an oversized proprietary trading desk.
Mr. Dimon, ever candid, didn't beat around the bush in disclosing the internal flaws, errors, sloppiness and bad judgment. But, hearing Dimon admit that his company screwed-up so badly, we have egg in our face, we deserve criticism, etc. doesn't leave a warm and fuzzy feeling.
It's not that a potential estimated $ 0.30 hit to earnings (suggested in a tweet by Doug Kass) is a big deal. JPM is still expected to be profitable. CEO Dimon even stated that the issues would not be a problem by the end of the year. But, how the hell did this happen and is there more pain to come? In banker-speak, "it could get worse" might mean "catastrophe".
While details of the losses are still emerging, most fingers point to JPM's London office. According to an article published at Business Spectator, it may have involved bullish bets on corporate debt early in 2012, which backfired as it attracted interest from hedge funds betting against the credit protection JPM had in place.
Because the London office reportedly had such a significant exposure to this risk, the adverse effect would be sufficient to disrupt the markets and deepen mark-to-market losses. Perhaps JPMorgan realized that their model for valuing risk was flawed and reverted to its original one.
The greater problem in our view is that it reveals a breakdown of humongous proportion to the internal oversight and reputation of a global financial powerhouse which had, until now, prided itself for its risk-management reputation.
Political Grandstanding Is an Accomplice Too: More important, the JPM debacle will likely intensify political and regulatory scrutiny. I don't think anyone will dispute the need for financial reforms following the 2008 melt-down.
Yet, it does raise concerns as to whether the complicated spider-web of regulatory oversight put in place by Dodd-Frank is worth the 2,300 pages it was printed on? Note: Volcker Rule is almost 300 pages.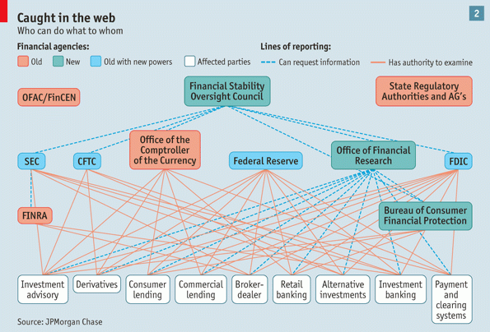 Ghosts of hearings past: Memories of watching Phil Angelides (he ran the Financial Crisis Inquiry Commission) play God before the cameras haunt me still. To assume that blame for the financial mess lay entirely upon the shoulders of the industry is ludicrous.
After all, it was Congressional and Senate lawmakers who relaxed lending standards in the first place. Angelides' supposed bi-partisan commission failed miserably in accomplishing anything except to provide Mr. Angelides too much air time.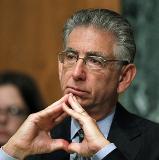 This kind of stuff belongs on the Comedy Channel, not C-Span. The circus isn't coming to town; it hasn't left yet!
Comments from a June 30, 2011 editorial published at Investor.com express the frustration and waste of time the FCIC hearings were:
The historical record is clear. Yet instead of documenting it for the public, which lost $14 trillion in the crisis, the Angelides Commission rewrites it. Phil Angelides ran a sham investigation that blamed the wrong groups for the financial crisis. His report ignores the government's prominent role in causing the problem.
As for JPMorgan, the buck stops with CEO Jamie Dimon. He will have to live with this blemish on his reputation. But, it also puts a spotlight on the responsibility of regulators and the politicians whose legislation is supposed to provide the tools for our regulatory process to work efficiently.
It's not whom you trust, but what you trust, and as Pimco chief Bill Gross recently said:
"What Pimco trusts is capital - the more capital the better and the less risk."
At the end of the day, I still consider JPMorgan to be one of the best run banks out there. It's got $120 billion of Tier-1 capital, higher than the average of its US peers. I will give Mr. Dimon the benefit of doubt for now, but many more questions need to be answered before I am comfortable stepping in to buy more shares.
Perspective is also important and Mr. Gross sums up the obvious with a pearl of pragmatic insight: "I think we should ask the question - should banks in general should be doing these types of trades?"
On the other hand, if a bank is "too big too fail", maybe it's just too big!
Disclosure: I am long JPM.