Coca-Cola Enterprises, Inc. (CCE) is currently in the midst of a restructuring program that emphasizes a movement toward developing markets in bottled waters, juices and teas. On December 12, the company increased its 2007 guidance due to stronger than expected growth in the European region.
Coca-Cola Enterprises engages in the manufacture, distribution, marketing, and sale of nonalcoholic beverages. The company sells its products through wholesalers and retailers primarily in North America, the Great Britain, continental France, Belgium, the Netherlands, Luxembourg, and Monaco. Coca-Cola Enterprises was incorporated in 1944 and is based in Atlanta, Georgia.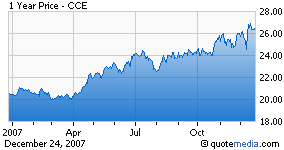 On December 12 Coca-Cola raised its 2007 earnings outlook based upon tax savings and strong growth from European markets. The company now expects earnings of $1.36 and $1.39 per share, compared with previous guidance of $1.31 to $1.36.
The company is currently implementing a restructuring program to improve profit as it and other bottlers face higher costs for aluminum and other commodities and a shift in consumer taste away from carbonated soft drinks toward water, juices and teas. 2008 will mark the first full year the company will offer its newly acquired water franchise Glaceau.
In 2008 the Coca-Cola said it expects revenue will increase in the high single digit percentage range on higher volume and growth in new products. Within the last 30 days two covering analysts have increased their next-year projections, moving the consensus estimate higher to its current reading of $1.47 per share.
On Oct 24, the company reported a slightly soft quarter that still met analyst expectations. Net income for the quarter was $213 million, which produced earnings of 44 cents per share. Coca-Cola does have a strong history of beatings analyst projections, over the last four quarters having done so by an average of four cents, or 36.82%.
Coca-Cola's stock price has had an excellent year, gaining close to 30% in value. The move higher has been very smooth with no major turbulence or pull-backs.
On Dec 13, the day after the company increased its guidance, shares broke through an area of resistance just above $26. A few days later the 52-week high was established just above $27. The $26 dollar level should provide a nice base of support as this stock looks to once again move higher and tack on more gains.
In addition, the stochastic is providing an excellent signal that shares are not over-extended, indicating that their is room for this stock to progress higher. Look for the trend to stay in tact and continue to apply upward pressure to prices.