First Solar, Inc. (NASDAQ:FSLR) has had an amazing year. During its most recent quarterly report it announced that income had grown more than 10-fold from last year, jumping to $46 million from $4.3 million. The company also reported that it has booked over $6 billion in contracts over the next five years, providing a very rosy long-term revenue picture.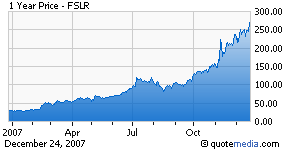 First Solar, Inc. and its subsidiaries engage in the design, manufacture, and sale of solar electric power modules. The solar module is a polycrystalline thin film structure that employs cadmium telluride semiconductor material to convert sunlight into electricity. The company sells its products to solar project developers and system integrators primarily in Germany. The company is headquartered in Phoenix, Arizona.
On Nov 7 First Solar reported an awesome third quarter with soaring profits. Net income grew to $46 million from $4.3 million last year. Revenue rose to $159 million from $40.8 million in the year-ago period.
The company has now surprised and beaten estimates for the last four quarters by an average of 17 cents, or an eye-popping 253%.
The company also raised its guidance full-year guidance for both 2007 and 2008. It lifted its 2007 revenue forecast range to $480 million to $485 million from an earlier outlook of $400 million to $415 million. It also provided a 2008 revenue forecast of $760 million to $800 million. These numbers are considered conservative by some estimates. In addition, First Solar has locked in over $6 billion in contracts over the next five years.
First Solar appears to be a step ahead of its competition because its product are not dependent on silicon wafers, which, because of the short supply and steep prices of silicon, is creating a serious bottleneck for the rest of the industry. This enables the company to aggressively move forward with its production capabilities and feed a market that is under-supplied. While not rated as efficient as the more common silicon-based solar cells, thin film has taken off in the last year because of soaring demand for alternative energy and a world-wide silicon shortage. It is also cheaper to make than silicon cells.
The company has also taken aim at the US utility market, where there is incredibly strong demand to have solar arrays installed on commercial and residential rooftops. In order to accomplish this objective, First Solar purchased Turner Renewable Energy LLC. Turner sells solar systems to utilities.
Estimates for the company have been growing by leaps and bounds, with almost every single covering analyst increasing projections for all periods of time within the last 30 days. Both current-year and next-year earnings estimates have exploded, with the next-year estimate jumping 62 cents to $2.05 per share.
Not surprisingly, the company's stock price has been on fire. Share prices are approaching the mind-bending return level of 1000%, beginning the year at less than $27 per share and accelerating to its current price of over $250.
This stock is definitely a high-flyer, but its trajectory higher has been fairly smooth. It is currently locked into a very nice upward trend that begins from the low of Nov 5 and appears to be applying significant pressure to the 52-week and all-time with a classic wedge formation.
In addition, the stochastic is signaling that the stock is not currently trading in overbought territory, which means it should have the strength and breathing room needed to eclipse the high and explore higher territory.