In the New York Times' DealBook Monday, Andrew Ross Sorkin reported that Och-Ziff Capital Management (NYSE:OZM), the newly-listed hedge fund, had won only a "hold" rating from Citigroup (NYSE:C) analyst Prashant Bhatia: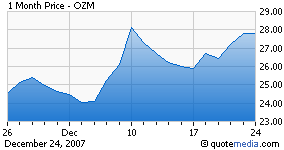 For Mr. Bhatia — who acknowledges that his firm helped underwrite the fund's IPO — Och-Ziff's problems may actually stem from the fund's own success.

...

Over the past four years, the fund's assets under management have grown four-fold, to $33 billion. That seems to have weighed down on earnings by Och-Ziff's three funds. "We estimate that the 3 largest funds (95% of AUM) have underperformed a comparable benchmark over the last 2-4 years," [Bhatia] writes, noting that the small number of funds also poses a concentration risk.
While noting that Och-Ziff is the second-highest-ranked pure-play hedge fund, Sorkin added that Citi had placed OZM 12th out of 18 in a survey of pension fund managers.
Meanwhile Doug Kass of TheStreet's RealMoney announced that he was shorting Och-Ziff:
I anticipate that Wall Street's perfunctory optimism (especially from those brokers who underwrote the issue) will wax enthusiastically this week about the company's prospects and culture -- they usually do! -- and initiate buy ratings on Och-Ziff's shares... The company's shares should respond well to this optimism in the short term, and I plan to use that strength to expand my short position in the company's equity.
Och-Ziff closed at $27.80 before the Christmas break, not far off Mr. Bhatia's target price of $29.