According to Techweb news channel, Baidu (NASDAQ:BIDU) has partnered with Foxconn to launch a Rmb 1,000, or $160, handset targeted for China's entry-level smartphone market. Aside from Foxconn, Baidu is also in talk with 20 other handset OEMs for the mass production of this device.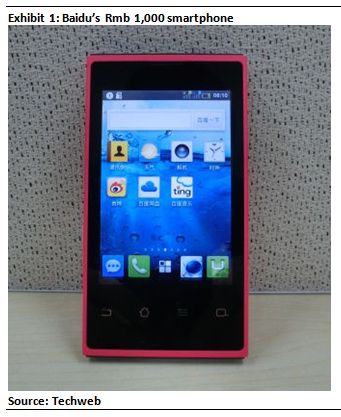 The handset will run on Baidu's mobile OS, Baidu Yi, and feature Baidu's core applications such as Baidu Map, eBook reader Baidu Yue, MP3 service Baidu "Ting" and Baidu Cloud Storage.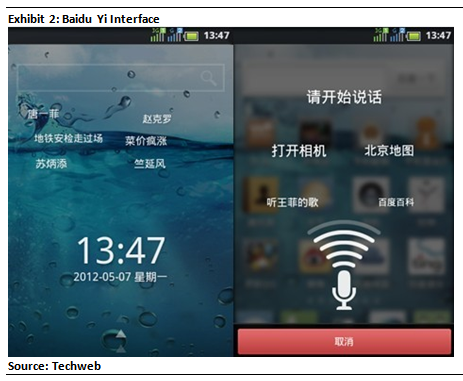 In my view, this low-end handset allows Baidu to:
Penetrate China's fast growing entry-level smartphone market
Establish brand recognition and pave way for future push into the high-end segment
Solidify industry leadership in mobile search.
Rmb 1,000 Smartphone Hitting "The Sweet Spot"
The Rmb 1,000 price point is considered "the sweet spot" among smartphones in that it is affordable by entry-level smartphone users who are trading up from feature phones to enjoy the basic smartphone experiences such as web browsing, gaming, video, music and applications.
The competition in the Rmb 1,000 smartphone market is fierce as companies such as ZTE, Huawei, Xiaomi, Lenovo (OTCPK:LNVGY), Motorola and HTC are all battling for first-time smartphone users. Many of these devices run on low-end version of Google (NASDAQ:GOOG) Android and feature the Google Search Bar as their default search engine.
Despite Google's technological advancement, I believe that some of the handset makers could incorporate Baidu Yi in their products to expand their offerings since Baidu Yi features functionalities that are directly relevant to certain Chinese users. The Baidu search bar, map, "Ting" and cloud storage will likely gain traction among first-time entry-level smartphone users who look for an inexpensive device that meets their daily communication needs and features an operating platform that's comparable to a mid to high-end smartphone OS.
Building The Brand From The Ground Up
Baidu's first entry into the mobile handset market was through its partnership with Dell (NASDAQ:DELL) with the introduction of Dell Streak Pro D43. While I lauded its potential in my March 12th note titled "A Closer Look At Baidu's Mobile OS Strategy," I also pointed out the flaw behind its strategy in my April 4th note titled "Baidu's Mobile Push: Not As Easy As It Seems" in that Dell's brand recognition in China's handset space is almost nonexistent and that the device is unlikely to gain any traction among high-end mobile phone users who prefer phones made by Apple (NASDAQ:AAPL) or Samsung.
In my view, Baidu's entry-level handset could have a chance to compete with its peers and allow the company to gradually build its brand among first-time smartphone users.
China's smartphone market is gaining momentum due to feature phone users trading up to entry-level smartphones. According to research firm IDC, China is expected to overtake the US with 20.7% of global smartphone share while the US is expected to fall below 20.6% by year end.
When entry-level handsets are all priced at Rmb 1,000 each, consumers ultimately turn to functionalities and utilities to distinguish among the competing OS. Aside from media, web browsing and social networking, search is a critical component of consumers' mobile web browsing experience. Baidu's superior search functionality is a key selling point that could appeal to China's entry-level smartphone users and result in incremental network effect.
In the wake of introducing its entry-level handset, Baidu can pursue two strategies that could lay the foundation for transitioning into the high-end segment. The company can:
Pursue a marketing campaign to establish Baidu's brand in the mobile OS space by educating first-time smartphone users the features of Baidu Yi
Gradually work with developers and build Baidu's application ecosystem that hopefully can be as successful as that of competing app stores
I note that poor execution of the above strategies will likely result a fate similar to that of RIM (RIMM), which failed to connect with smartphone users in the consumer segment, and built an app ecosystem that lagged far behind rivals.
However, sound execution in the low-end segment will allow Baidu Yi to create a high-tech mobile OS that could attract OEMs to incorporate in their high-end devices, such as Samsung Galaxy, HTC One or the MotoLUXE.
Solidify Industry Leadership In Mobile Search
While Baidu accounts for 78% market share in China's desktop search market, the company does not have a decisive lead over its competitors in the mobile space due to:
Baidu's late entry into the mobile search market
Lack of platform that allows consumers to effectively carry out mobile search (eg. Mobile search done through third-party browser)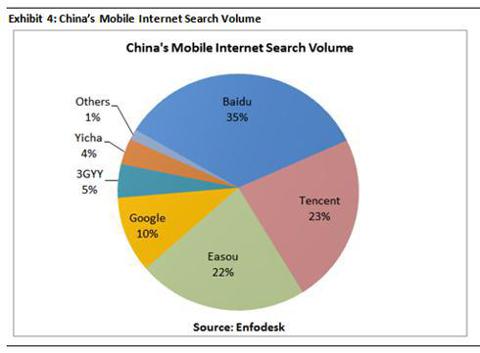 Despite its partnership with Apple in which the Baidu Search Bar is incorporated into Apple's iOS browser, Baidu's mobile search feature is ultimately at the mercy of Apple. In order truly establish a meaningful presence in the mobile search space, Baidu needs a standalone OS, such as Baidu Yi, and hardware that is affordable to the masses. Baidu's entry-level handset is an ideal platform for the company to leverage in expanding its mobile search presence because it does not rely on a third party software or browser (eg. Android, iOS, Windows) to deliver mobile search to the consumers and generate traffic.
Don't Get Too Excited Yet ... Sound Execution Will Be Key
In my view, attracting developers, creating an ecosystem of applications and educating Chinese users will pose greater challenge to Baidu than simply reverse-engineering Android to create Baidu Yi. Without a large developer base, a library of relevant applications and user awareness, Baidu Yi will unlikely gain much traction within the crowded smartphone market in China.
Baidu should give developers a strong incentive for building apps for Baidu's app store. While the current Google Android apps are compatible with Baidu Yi, I do not believe that this trend will continue in the future as Google attempts to prevent rivals from taking advantage of its products and services. Eventually, Baidu needs to talk with both foreign app developers such as Rovio and Zygna (NASDAQ:ZNGA), and domestic developers such as The9 (NASDAQ:NCTY) or Shanda Games (NASDAQ:GAME) to build its app portfolio. Developers are willing to create apps that are used by the most number of users. In order to have a selling point, Baidu needs to promote the Yi and attract China's entry-level mobile phone users through well-planned marketing campaign.
Educating consumers on the value behind Baidu Yi via advertisements, knowledgeable sales force and promotional events will be costly for Baidu but it is an unavoidable process as Baidu looks to expand in the mobile frontier. Entry-level users who are not aware of Baidu Yi will unlikely adopt it, and would end up using an entry-level smartphone provided by the carrier or recommended by friends who use competing Android or Windows-based phones. Unless the consumers are made aware of Baidu Yi and its features compared to competing mobile OS, they are unlikely to "stand out" among the crowd and adopt it, but rather "go with the crowd" and adopt an Android or Windows-based device.
Baidu's entry into mobile OS and handset space brings the company into an unfamiliar territory where it does not have a distinct competitive advantage nor the experience. Creating a sound strategy for Baidu Yi will be a challenge for the management that lack experience in the mobile OS marketing and sales. I note that both Guang Zhu and Zhan Wang who oversee sales and marketing at Baidu do not have prior experience in telecommunication marketing and sales, while their counterpart at Google, Nikesh Arora, had prior experience as chief marketing officer at T-Mobile Europe and found a mobile multimedia firm, T-Motion PLC, while at Deutsche Telekom (OTCQX:DTEGY).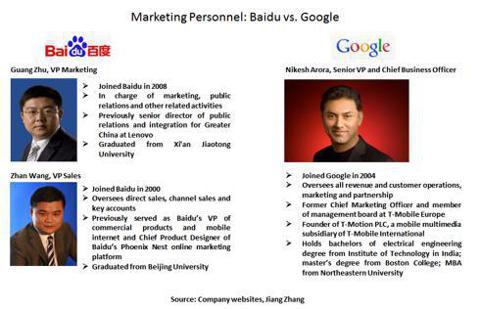 That said, in the future Baidu might need to hire someone who has extensive experience in mobile handset and marketing in the push for Baidu Yi so the OS will not be marginalized by the consumers and jeopardize Baidu's mobile ambition.
Disclosure: I have no positions in any stocks mentioned, and no plans to initiate any positions within the next 72 hours.