Arable land is simply not that big a deal. Over the past few years, both companies and investors have made a lot of noise about the limited availability of new arable land -- implying that we need more farmland to meet future food demand. In my previous article "Protein Bomb: The Case for Long-Term Investment in Arable Farmlands", I discussed the fundamental outlook of this asset class for the long-term. But if arable land were really the main issue, we'd all be starving already. Arable land isn't the issue -- agricultural productivity is the issue.
Grain and Cereal Production vs. Agricultural Area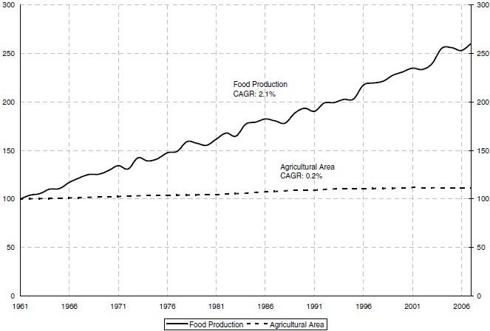 Source: FAO (indexed: 1961 = 100)
From 1961 to 2005, agricultural land mass increased at an annual rate of about two-tenths of a percent, while food production grew by more than 2% annually -- food production grew ten times faster than land usage did (population grew at just under 1.5%). Improvements in agricultural practices, better seeds and more effective pesticides, along with improved harvest and storage methods, drove most of that massive increase in ag productivity.
As demand for food rises, and countries (including China and India) seek greater food self-sufficiency, public and private efforts are under way across the world to drive agricultural productivity higher, and those moves will dramatically alter the patterns and rates of growth for nearly all agricultural inputs.Tackling food inflation has been the top priority for many of the emerging countries and the impact dovetails with greater farm productivity. I have discussed some of policy initiatives in my article "Agricultural Productivity To Combat Rising Inflation Pressures"
Stocks with prospects to improve agricultural productivity would offer the highest growth potential as they would benefit from increased profitability of farmers and would collectively offer the best long term solution to potential supply/demand imbalance.
CF Industries (NYSE:CF): Strong upside driven by the tight nitrogen supply/demand fundamentals, the company's low-cost natural gas advantage and prudent deployment of cash. There is a share buyback program and company is estimated to generate US$1.5bn of free cash in each of the next two years.
Agrium (NYSE:AGU): The wholesale outlook remains solid due to strengthening fertilizer prices and the company's natural gas cost advantage. The retail business also looks set to perform well on the back of strong farmer sentiment.
Deere (NYSE:DE) and United Tractors (OTC:PUTKF): Given their greater relative exposure to the industrial (rather than the agricultural) cycle, they are arguably more susceptible to the downturn in the broader global economy. Nevertheless, agricultural equipment sales still account for a meaningful percentage of revenues and the structural backdrop for these divisions remains very strong.
Bunge (NYSE:BG): Earnings momentum remains positive. The Company's new platform in Brazilian sugar is a key driver of that earnings growth, while pricing power in the distribution business adds resilience to the story.
Yara (OTCPK:YARIY): Of the major fertilizer companies Yara has the highest leverage to strong nitrogen prices. Strong farm economics with a focus on maximizing yields translates to stronger demand and robust price premiums for the most efficient fertilizer products, favoring Yara's value added nitrate and complex NPK offerings (>60% of volumes sold).
Acron (AKRN): Favored for its exposure to Nitrogen
Potash Corp (NYSE:POT): A high-quality name in the potash industry and best-positioned, in our opinion, to benefit from improving potash fundamentals due to its near-term capacity expansions. POT's exposure to strong nitrogen and phosphate prices is another attractive feature.
PhosAgro (P6SG): Strong cash cost position coupled with vertical integration into a world-class phosphate ore deposit in Russia, significant self-sufficiency in ammonia and domestic supply of gas, sulphur and potash result in cash costs nearly half that of non-integrated producers.
Uralkali (OTC:URALL) - one of the leading global pure potash producers, its trading companies account for 34% global export share of potash (excluding domestic sales and deliveries between US and Canada). Recent results suggest capacity expansion plans are on track and management have signaled that the dividend pay-out will be not less than 50% of IFRS net income (vs 15% previously).
Other companies in the list include
Please refer to my previous article "Food For Thought: China's Protein Story" to get an understanding on the rising demand for food from emerging market consumers; "Why Latin America Can Resolve The World's Protein Imbalance" would explain the supply side situation.
Disclosure: I have no positions in any stocks mentioned, and no plans to initiate any positions within the next 72 hours.