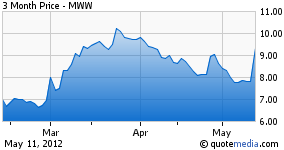 Monster Worldwide (NYSE:MWW) closed up 19% on Friday due to more speculation on a buyout. According to a Reuters report, LinkedIn (NYSE:LNKD) and private equity firm Silver Lake Partners were amongst numerous parties that expressed interest. Investors would be wise to not pay up on such a spike in the stock price.
Monster placed itself on the auction block back at the end of February so such news shouldn't be a big surprise. Over the last three months just about every buyout related spike has led to cheaper buying opportunities within the next few days.
Even more credulous about today's news was the speculation that LinkedIn would be interested in the company. Why in the world would a fast growing stock want to be bogged down by a deal with Monster?
LinkedIn would sink faster than the internet bubble stocks once merged with a slow growing company. The multiple would contract without the pure play focus leaving little for existing shareholders of LinkedIn to gain.
The news began leaking out on Friday afternoon that LinkedIn clearly wasn't interested, though the stock oddly remained sky high for the day. As this news is driven home over the weekend look for a pullback on Monday.
A private equity firm doesn't make as much sense as another recruiting firm. Private equity wouldn't be able to strip out the costs that another recruiting firm could achieve.
As we wrote back in March [Read One Monster Of A Premium In Store?], according to analysts Monster remains an extremely cheap stock. That though isn't likely to change until a deal is actually on the table. Until then, keep looking to buy the stock on dips and not on spikes. While the $9.33 closing price on Friday is very appealing compared to analyst estimates of a $13-15 deal, the recent stock action suggests that lower prices will offer better entry points.
The below chart shows how the stock closed right below the 200ema at $9.35. Ideally the entry point would be around where the 20 and 50 days will meet around $8.50 though history has shown that the last two attempts haven't held. If the stock holds this time, maybe that will be a signal that a deal is actually in the works.
MWW 6 Month Chart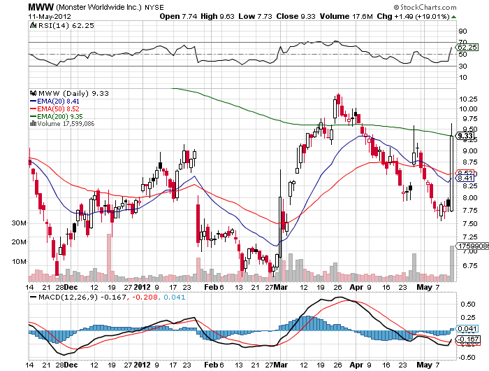 Disclosure: I am long MWW.
Additional disclosure: Please consult your financial advisor before making an investment decision.