Apple (NASDAQ:AAPL) has been an incredible performer these past 18 months, but the best may be yet to come. I have moved my price target to $300 by year end 2008. For the record, I have moved my price target several times these past 12 months, starting at $85 and most recently at $225. So why $300?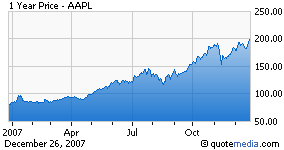 The product cycles that Apple is enjoying are all in the early stages, from the iPod to the iPhone. The early adopter stage is still in play for the iPhone, while the iPod will have sold its 130 millionth unit this past Christmas season. The great aspect of the iPod is that it has been around since late 2002, and yet the customer base is still at about 40 million users. The global market size is one billion so its penetration rate is only at 4-5%.
The iPhone will sell at least 20 million units by year end 2008 and capture ongoing revenues as it participates in the AT&T (NYSE:T) monthly charges. Of course, the iPod has the recurring revenue benefit from iTunes, which will soon announce its 3 billionth song sold.
The success of the new Mac is just starting. Apple's Leopard operating system is the talk of tech and Apple will see brilliant sales results over these next 3-4 years. It is taking market share from traditional PC stalwarts Dell Computer (NASDAQ:DELL), IBM (NYSE:IBM) and Hewlett-Packard Compaq (NYSE:HPQ). The Mac sold 2.16 million units in the September quarter, about 400,000 units ahead of expectations. Again, it's just starting.
This takes us to the retail stores. With 197 retail stores globally, Apple has room to double its store base over the next 5 years. 2006 revenues per square foot were at $4400--the best of any American retailer---and this is suppose to be a technology company! 2007 numbers should be even better as the 2006 numbers did not include the iPhone nor the new Mac.
The Apple stores are inviting and user friendly. Tech geeks and non-geeks alike love the environment and friendly service of Apple's personnel.
I estimate Apple will earn $5.25 per share for fiscal year 2008 followed by $6.35 in fiscal 2009. Revenues for 2008 at $31.6 billion and $38.5 billion for 2009. Both of these estimates are bound to go higher as the recent Christmas season will be better than expected when Apple reports in late January 2008 the results of the December quarter.
I would not be surprised to see fiscal 2009 EPS raised to over $7 per share. With sustainable operating margins in the high teens which is amazing for a hardware technology maker, my price target is $300 for year end 2008.
Disclosure: Author has a long position in AAPL