First automobiles changed the world, then came Cabbage Patch Dolls, but rarely has there been a new product that has caught the imagination of a worldwide public and Wall Street alike like the smart phone, or hand-held minicomputer as we probably ought to call it, since it is really much more than a telephone and no longer the kind of thing that can be entrusted to rustic makers of phones and farm implements.
Nokia (NYSE:NOK) launched the first touch screen smart phone and it was successful too, but when computer maker Apple (NASDAQ:AAPL) produced an iPod that could make phone calls and run all kinds of little baby applications called, of course, Apple Apps, the world really went quite crazy for them.
Then along came Android. Android is a Linux-based open source operating system for mobile devices such as smart phones and tablet computers. It is developed by the Open Handset Alliance, led by Google (NASDAQ:GOOG), and a large number of other companies including handset makers and cell phone carriers, none of which are Apple or Nokia.
Both Android and the Apple iOS operating systems run on both smart phones and tablet computers and can run apps, computer programs that help the user perform specific tasks.
Examples include business software, spreadsheet, word processor, photographic software, games, and media players. Many apps just handle documents. Apps may be bundled with the computer , or may be published separately and downloaded later, either for free or for money.
The combination of an operating system and the apps that run on it are sometimes called an ecosystem. The conventional wisdom as expounded by Nokia CEO Stephen Elop in his Burning Platform Speech is as follows:
The battle of devices has now become a war of ecosystems, where ecosystems include not only the hardware and software of the device, but developers, applications, e-commerce, advertising, search, social applications, location-based services, unified communications and many other things.
For this reason Elop controversially announced in early 2011 a partnership with Microsoft Corp (NASDAQ:MSFT) so as to be able to become part of the nascent Windows Phone operating ecosystem. While Nokia would provide support for its current Symbian and Meego phones, it would be full steam ahead with Windows Phone for all future high-end smart phones.
Device battles were over, from now on it was the war of the ecosystems.
Windows Phone features a new user interface called Metro. The "Start screen", is made up of "Live Tiles". Tiles are links to applications, features, and functions. Users can add, rearrange, or remove Tiles. Tiles update in real time - the tile for an email account would display the number of unread messages or a Tile could display a live news feed.
Windows Phone uses multi-touch technology. The default Windows Phone user interface has a dark background that prolongs battery life on OLED screens as fully black pixels don't emit light.
Nokia launched its first Windows Phone in the US on Easter Day, 2012 with AT&T as the carrier, and it was generally well received, with certain colors selling out quickly. But was the Windows Phone ecosystem ready for prime time and how could one find out what was happening out there in the shopping malls of America?
Naturally the answer was to turn to the online Seeking Alpha app.
Within a few weeks of the phone going on sale a Seeking Alpha follower of mine was reporting:

I replied: "No, but can you give me examples of the apps that the people you know are missing, because this might give us an idea of what Nokia needs to do."
No reply. Perhaps they don't know. Perhaps it is a vague, inchoate sense of "applessness" that is making them "un-appy".
Now I have an iPhone and Apple allegedly has half a million apps, but only a handful are of interest to me, or to most people.
For example I use apps like an alarm clock, cooking timer, Kindle, pdf reader, photo viewer, music player, Skype, Economist, Guardian, Internet browser, flashlight, Google stocks, Seeking Alpha, CNBC, my broker's app., but after that my app use quickly falls off the chart.
I imagine most people's usage pattern would be similar to mine, but if not, I would be interested to know more about what other people consider essential. Feel free to comment below if you have an opinion.
If I were a Nokia executive I would use the kind of quality assurance techniques we used in my former life in the US to identify problems and weaknesses opportunities for improvement.
In this case we would draw up a list of possibly desirable apps, do market research to see which ones users found the most useful or necessary, rank them in order of numerical priority, and get them developed as soon as possible so as to retain customers.
Or then again, perhaps my quality assurance team would just go for apps that would make money for the company.
It seems that Nokia is doing something, but what? Currently they are developing "Unique and exclusive app experiences launching across key consumer verticals." I am still waiting for the Google Translate App to add the Bizspeak module, so I am not quite sure what this means, but I think they are saying that they are developing apps that will appeal to people with different tastes.
This week at the CTIA Wireless conference 2012 Nokia announced these initiatives to add to the existing 80,000 apps available in Windows Phone Marketplace and the Nokia Collection:
The PGA Tour app - exclusive to Nokia Lumia for 12 months from launch. My guess is that this would appeal to people who are interested in golf.
ESPN - exclusive to Nokia Lumia until May 2013... including the 2012 Olympics. Additionally, a Windows Phone version of the ESPN Fantasy Football app will launch exclusively on Nokia Lumia smart phones this coming Fall. Should appeal to sporty types.
Rovio - titles starting with Angry Birds Space join the original Angry Birds game in coming to Nokia Lumia and Windows Phone consumers. Should appeal to bird lovers.
EA - bringing leading game titles to Nokia Lumia and Windows Phone consumers including FIFA, Madden NFL, NBA Jam, Tiger Woods PGA TOUR®, Mirror's Edge and Yahtzee. These games join titles such as Need for Speed(NYSE:TM) Undercover, Need for Speed(TM) Hot Pursuit, The Sims(TM) 3, Spider Jack, and MONOPOLY which are already available in Windows Phone Marketplace.
Groupon - Exclusive to Nokia Lumia for 6 months from launch. That's a new one.
Tripdots - Exclusive to Windows Phone customers for 3 months from launch. Tripdots helps vehicle owners optimize their driving behaviors while connecting with other vehicle owners and sharing driving efficiency achievements via social networks. The app lets users monitor the operation of their vehicles to enable cost savings through better understanding fuel economy. Everyone can participate in the MPG Leader Board game, and information is only sent to drivers after their trip is complete. (Do people really want this?)
PayPal app for Windows Phone.
AOL Entertainment Hub - exclusive to Nokia Lumia for 6 months. Whether you want to listen to one of 55,000 radio stations via SHOUTcast, stream free music albums with AOL's Listening Party or view Trailers and Movie listings, the AOL Entertainment Hub delivers everything you need. Sounds like fun.
Time Magazine app for Windows Phone. Should be stimulating.
PhoneNewsweek - The Daily Beast app for Windows.
Are these the kind of apps in the kind of ecosystem that will keep the friends of Deep Value Lover with Nokia and Microsoft Windows Phone, or will they be headed back to the land of Android before the US Open, the Olympic Games, and a flock of Angry Birds apps can make them change their mind. Who knows?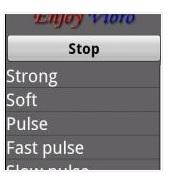 As I leave this topic, I note that Android has a "neck" massager app with a variety of speeds. Is Nokia barking up the wrong tree? Could a really good multi-speed vibrating massage app be the killer app for those who really value their relationship with their phones?
Nokia stock.

To describe the Nokia stock as beaten down at the present time is an understatement, and if Windows 8, expected date of arrival late in 2012 proves to be dead on arrival, then it looks like curtains for the venerable Finnish company's bid to rejoin the smart phone elite and there will be dancing in the streets of Cupertino, CA, home of Apple.
The January 2014 $5 LEAP calls are cheap enough and if you sell 2 January 2013 $2.50 calls for $1.03 and buy 3 January 2014 LEAP calls for 59 cents each, you could be in the ratio backspread for a credit of 29 cents per spread.
The options calculator graphic here shows that no matter where the price goes, you will lose no money by Christmas (385 days from expiration of the January 2014 LEAPS) shown by the blue line on the chart. At this point you can re-evaluate and see how things are going.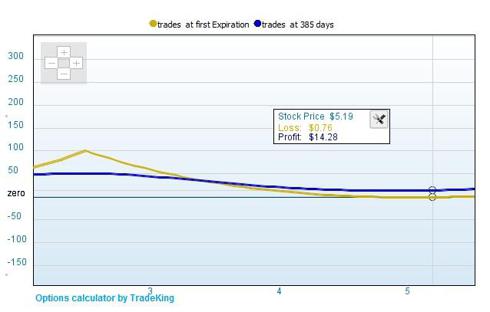 The thinking here is that if the short position goes against you, that must mean good news for the company and you will be well compensated by your long LEAPS increasing in value, however if things go from bad to worse, you still make some profit. Another possibility is that the stock just hovers and goes nowhere, but if there are no signs of life by January 2013, it might be time to cut bait.
On the other hand, if the company claws its way back by late 2012, handsome dividends could be paid in the future.
What I would be inclined to do is to keep an ear to the ground for positive news, and maybe buy back some of the short calls prior to earnings announcements if sentiments seem positive. Should the stock tank further on negative earnings, one then could sell additional calls against the remaining long position at a lower strike.
By Christmas, there should be plenty of positive or negative news on the Windows 8 release and on the initial reception of the Nokia tablet computer and a further decision could be made on how to proceed before the short calls expire.