With a new round of rumors swirling around Retalix (NASDAQ:RTLX), and a possible buyout, could the third time finally be the charm? For a company that every few months gets mentioned as a possible takeover target, you would think that the stock would be doing much better than it is.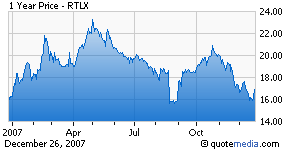 Regardless of any M&A activity, the company, down in the $16.50 range, actually looks attractive. The recent management shakeup appears to be an effort at re-energizing the company by bringing in younger, fresher blood. It is now poised to have record revenues. Commenting on last quarter's numbers, Chairman Barry Shaked concluded:
We are having a record year in sales, and for FY 2007 we expect our total revenues to be above the midpoint of the range of our guidance. We feel that we can still achieve net income at the low end of the range through a few deals that we are working on. The unchanged business fundamentals, the strong demand for our products and our long-term customer relationships support our estimates.
Retalix is beginning to look like an interesting turnaround story.
Disclosure: The author's fund holds a position in RTLX, and is long the stock as of December 26, 2007.