An easy way to determine the future of a company is to listen to the chairman, CEO and largest investor. So why is Sears (NASDAQ:SHLD) surrounded with speculation of liquidations, real estate sales, brand sales or laundry lists of public takeover candidates?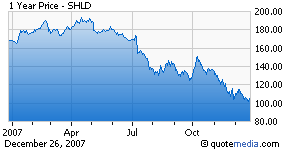 Facts from Eddie Lampert:
The company is not a real estate play.
The company will be run as a retailer
The company will not be selling its most valuable brands
The company is pursuing lower costs of capital and improving debt levels
The company is focused long-term and is not competing with WalMart (NYSE:WMT)
Combine these facts and a business plan for a quality, higher-end retail outfit begins to emerge.
Step 1: Identify the best markets for Sears/KMart store locations. If Sears hopes to capitalize on its strong brands it needs to focus on higher-end customers. This means selling real estate in low end markets and keeping the proceeds on balance.
Step 2: Continue to acquire quality brand names. This winter, SHLD began its purchase of Restoration Hardware (RSTO) - a high quality furniture and home product retailer. Instead of building a portfolio of businesses like Berkshire (NYSE:BRK.A), Sears can buy its own durable competitive advantages by owning strong brands. Add Restoration to Kenmore, Craftsmen, Land's End, Martha Stewart, and DieHard brands. These high-end brands support the plan of appealing to wealthier customers and command higher margins.
Step 3: Improve the cost of capital. SHLD caught a set back after the most recent quarter when S&P lowered its credit rating from B to BB. To turn this ship around management has three main tasks, continue to erase debt, hold more cash on balance, and improve cash flows (this is the most difficult task for a retailer). Lampert still believes Sears deserves an investment grade on debt. With more cash, lower cost of capital, and improved brands Sears can afford its final and most important step.
Step 4: Nationwide overhaul of stores. In an effort to create a high quality retailer, Sears needs to drop the KMart brand name and renovate its stores to reflect the quality shopping experience that Sears hopes to create. Coupled with some good publicity and well managed renovations, Sears can return to its nationwide presence and quality reputation.
Is this the definite plan for Sears? No. But I have more evidence to support this long-term turnaround than Barron's real estate play or Stockpickr's "Next Berkshire" theories. Just ask the boss.
Disclosure: Author has a long position in SHLD