Financials play an incredible role in our day to day economy. Bank of America (NYSE:BAC), Wells Fargo (NYSE:WFC), and JPMorgan (NYSE:JPM) have been designated as too big to fail entities. I recommend retired investors recognize the U.S. Government has identified the to big too fail designation on certain financial institutions. The dividends or potential capital appreciation can or will be significant.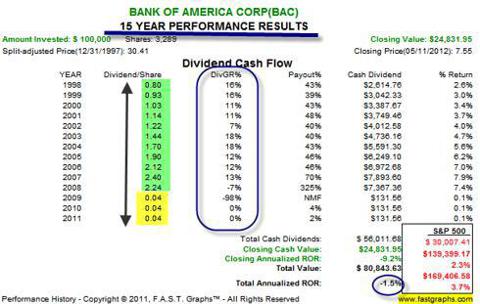 Click to enlarge
History
Bank of America is a quintessential American merger story. In 1960, the merger of two North Carolina banks - Security National Bank of Greensboro and American Commercial Bank of Charlotte - resulted in the formation of North Carolina National Bank (OTCPK:NCNB).
In 1981, NCNB acquired the First National Bank of Lake City, Florida and expanded beyond North Carolina. This M&A fueled expansion continued in the 1980s and 1990s and included the 1998 acquisition of BankAmerica Corp. and a name change of the merged entity to Bank of America.
Acquisitions
Subsequently, the bank grew selectively through additional acquisitions such as the FleetBoston purchase in 2004, the MBNA acquisition in 2006 which made Bank of America the largest credit card issuer in the industry and finally, the 2009 rescue acquisition of Merrill Lynch, one of Wall Street's largest investment banks that could not survive the 2009 meltdown.
Today, Bank of America (BankAm) is a leading full service global bank with retail banking, commercial banking, investment banking, capital markets, asset management, wealth management, risk management and other financial products and services, in over 40 countries. BankAm is also one of the 30 companies in the Dow Jones Industrial Average index.
Business Update: In the first quarter of 2012 (1Q 2012), global economic stability and BankAm's own internal streamlining resulted in better performance in every business unit relative to 4Q 2011. Liquidity is a key measure that determines a bank's financial health and, in the quarter, BankAm increased its liquidity sources to $406 billion and reduced long-term debt by $17 billion to $355 billion. On the banking side, commercial loans increased 3% relative to 4Q 2011 and were up for the fifth consecutive quarter. At its Merrill Lynch investment banking unit, sales and trading revenue showed strong gains and the investment bank was ranked #2 globally in terms of transactions-related fees. Income from its investment and wealth management operations also grew.
More specifically:
BankAm originated about $102 billion in loans - commercial non-real estate, commercial real estate, residential first mortgages, consumer credit and home equity loans
Its investment banking unit raised $159 billion in equity and debt capital
Average deposits at its banking unit were $7 billion higher than 1Q 2011
Adoption of mobile banking was up 39% to 9.7 million customers
And new consumer credit cards were up 19% over 1Q 2011.
These business gains, however, do not necessarily translate into higher revenues or profits because other factors such as the cost of credit, fees, asset devaluations, etc., also impact revenue and profits.
Financials: BankAm's revenue comes from two sources - Net Interest related to its core lending operations as a bank and Non-Interest revenue from everything else.
For financial purposes, BankAm has five reporting segments:
Consumer and Business Banking (CBB)
Consumer Real Estate Services (CRES)
Global Banking
Global Markets, and
Global Wealth and Investment Management (GWIM)
The table below shows results for each segment. Aside from CRES, all segments reported healthy profits and net margins. Compared to 4Q 2011 (q/q), CBB and CRES saw revenue decline 2.4% and 18.4% respectively while the other segments saw gains. Compared to 1Q 2011 (year over year), CRES alone saw revenues increase while the other segments saw declines.

The table below summarizes key revenue and cost drivers in each segment:

As the table below shows, for its first quarter ended March 31, 2012 (1Q 2012) BankAm had total revenue of $22.3 billion of which 48.7% was from interest based and 51.3% was from other banking and finance activities. Revenue was down 10.5% over 4Q 2011 (quarter over quarter) and down 17.1% relative to 1Q 2011 (year over year).

On the expenses front, BankAm set aside $2.4 billion as a provision for credit losses which was 10.9% of 1Q 2012 revenue. This provision was lower quarter over quarter over year over year and reflects the stabilizing of mortgage and credit sectors. Other expenses of $19.1 billion were a substantial 85.9% of revenue. Other expenses were down 2% q/q and down 5.6% y/y. Pre-tax income for 1Q 2012 was $719 million, down significantly over 4Q 2011 (quarter over year) and 1Q2011 (year over year) because of lower revenue in the quarter.

After taxes, net income was $653 million (2.9% of revenue), down substantially q/q and y/y because of lower quarterly revenue. After preferred dividend payments, net income to common shareholders was $325 million and earnings per share dipped to 3 cents from 15 cents in 4Q 2011 and 17 cents in 1Q 2011.
While BankAm eked out a profit, its GAAP results continue to be impacted by various charges and global uncertainty.

At quarter end, BankAm had issued loans and leases worth $913.7 billion, moderately lower q/q and y/y (see table below). Debt securities (held as an asset) totaled $327.8 billion, again moderately down over 2011. Earning assets also declined in the quarter, to $1.8 trillion. At quarter end, deposits (held as a liability) totaled $1 trillion, roughly the same as 4Q 2011 and slightly higher than 1Q 2011. Common shareholders' equity was $214.2 billion and tangible book value per share was $12.9, not significantly different from 2011.

Dividends: BankAm has regularly paid and increased quarterly dividends - from 10 cents in 1993, steadily upward to 64 cents in 2008 and then down to 1 cent from 2009 till-date due to the banking crisis. Dividend payments are intrinsic to BankAm and a return to stability likely will result in a resumption of dividends. The chart below shows BankAm's quarterly dividends through the years and the sharp drop from 64 cents to 32 cents to 1 cent in 2009.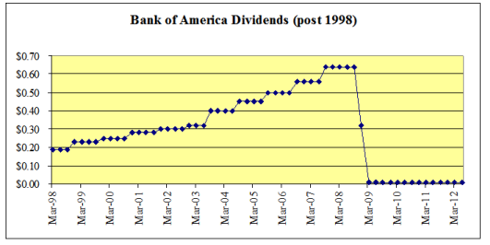 BankAm's dividend payout ratio was 33% due to the low earnings per share number. On a more stable basis, in 2011, BankAm had a payout ratio of roughly 6% to 7%.

With BankAm stock trading at $7.55 (at a discount to tangible book value per share of $12.9) as of May 11, 2012, BankAm shares have a dividend yield of 0.50%, a P/E ratio that is not meaningful and a market capitalization of $84.2 billion (significantly lower than common shareholders' equity of $211.6 billion).

BankAm has sizable global operations and significant diversity of revenue sources. The bank's business fundamentals appears to be strengthening and perhaps it's only a question of time before the bank gets back to healthy profits and stable earnings. That said, these are uncertain economic times, with uncertainty spilling into interest rates, debt valuations and price volatility which all impact the bank's earnings.
Peers and Income Alternatives
Clearly there are better short term alternatives than BankAm. These include mortgage real estate investment trusts (mREITs). mREITs are benefitting by the Federal Chairman's ZIRP and Operation Twist programs.
Annaly Capital Management, Inc. and Apollo Residential Mortgage both yield 15% annual dividend yields.
Wells Fargo & Company (WFC)
Wells Fargo pays a token 2-3% dividend. Wells Fargo is a given winner in the U.S. Federal Government financial winners. I advise purchasers use warrants to maximize their profits as a 2-3% dividend is little incentive to use what should be a bankrupt entity.
Apollo Residential Mortgage, Inc. (NYSE:AMTG)
I believe Apollo Residential Mortgage is the best value in the hybrid mREIT sector. Here is the valuation metrics versus its peers:

Click to enlarge
Apollo Residential Mortgage yields 16% plus and trades at 90% of book value per share. This is the cheapest hybrid mREIT on the board.
Annaly (NYSE:NLY)
Annaly is an agency mREIT. The company invests in implicitly guaranteed agency residential mortgage securities (Agency RMBS) issued mortgage backed securities (MBS). These assets are 100% backed by agencies Ginnie Mae, Freddie Mac, or Fannie Mace.

Click to enlarge
Annaly is the largest, by market cap, agency mREIT. The company has not met the competitor demands - and I have avoided the mREIT due to this rationale. My investing strategy is to not except excuses, but rather demand results. I recommend investors avoid Annaly and invet in.
Annaly's competitors have outperformed the mREIT. The reason is due to the Annaly size, Annaly's decision to keep leverage low, and Mr. Ferrill's cancer situation..
JPMorgan Chase & Co. (JPM)
JP Morgan lost $2 billion in a "whale trade". That's life. Traders make billions and lose billions. The $2 billion simply wasn't hedged correctly. Dimon and JP Morgan are still the king of the financial industry. The "tiny" $2 billion dollar trade will fade from our memories likely before this Friday's Facebook offering.
The truth is nothing has changed. Jamie Dimon can say they lost $2 billion from a rogue trade. This is not acceptable in most circles. In reality, and respected by most free thinking individuals, a $2 billion loss is something to write home about.
Action
I recommend investors accept financials are required for a 2012 economy to succeed. BankAm, JP Morgan, and Wells Fargo are the leaders. Due to the 2008-2009 financial fiasco, there are a few select banks which have only increased in size. The recent JP Morgan $2 billion loss is rare and will be overlooked in the next few years.
As Wayne Gretzky stated, "shoot the puck where the puck is needed" - investors can recognize that a modern society will need modern global banks to thrive. I argue that investors can take advantage of the future bank leaders, and also profit on the recent Bernanke actions to keep rates low.
Disclosure: I am long AMTG.