Yahoo! (NASDAQ:YHOO) is making a bold push into original sports content. According to IHT, via Valleywag, Walt Disney's (NYSE:DIS) ESPN and Yahoo! are upping the ante in a bid to recruit sportswriters.
This is as much of a no-brainer as you can get: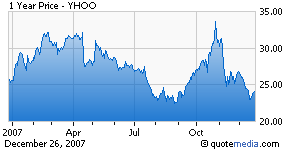 ESPN launched a magazine to compete with SI, small bidding war ensues.
Online sports surge in popularity; advertisers LOVE sports.
Yahoo! historically licenses content for hundreds of thousands of dollars, if not millions… eventually lightbulb goes off: Why not pay to produce, instead of license the content. Content is king, but content is messy. But if you are Yahoo! - in fact the world's #1 sports site with 22M users per month, you should create, not license it.
Full Disclosure: Long Yahoo! stock.