Before I dig into the article, I just wanted to express my thanks to the SA community, as I have been an avid reader for quite some time of many in the healthcare sector. This will be my first of (hopefully) many articles to come, so I look forward to the critique! Now, on to business...
It has been some time since the last all-encompassing update on Amarin (NASDAQ:AMRN). Articles over the past few months have been focusing on the important patent issues as well as some developments in the competitive cardiovascular market (think Omthera's Epanova). I will hit on these as well as look at valuing the company not only on MARINE and ANCHOR indicated data but REDUCE-IT as well - something that I do not think has been done as of yet.
Overview on key terms
As I am trying to make this article understandable to everyone, including those not familiar with cardiovascular drugs, I am going to recap some of the basic terms to understand regarding this lipid science. There will be references to triglycerides, LDL, HDL, and VLDL, as well as Apo B, Lp-PLA2, and hs-CRP. I will quickly outline what these are:
LDL: Low-density lipoprotein cholesterol, otherwise known as "bad" cholesterol, circulates in your body transporting cholesterol. This cholesterol can become attached to arterial walls, leading to plaque buildup and heart disease.
HDL: High-density lipoprotein cholesterol, or "good" cholesterol, packages and takes LDL out of your bloodstream.
VLDL: Very low-density lipoprotein cholesterol is similar to LDL except for that it primarily transports triglycerides vs. cholesterol.
Triglycerides: Excess food that we eat is converted into triglycerides and stored as lipids (fat) throughout the body and is associated with heart disease.
Apo B: Apolipoprotein B is found in fatty proteins originating from the liver. It is found in all types of fat (LDL, VLDL, etc.) and therefore is considered a great indicator for "counting" these types of fat particles; one molecule of ApoB attaches to one fat protein, thus making this "count" possible.
Lp-PLA2: Lipoprotein-associated phospholipase is an enzyme that attaches to LDL cholesterol in the bloodstream. Sometimes these particles containing the Lp-PLA2 adhere to the arterial walls, where it is susceptible to plaque buildup in the arteries. Lp-PLA2 is an inflammatory marker and is generally not associated as a particular risk "factor" for heart disease, but rather a risk "marker."
hs-CRP: C-reactive protein is found in the body and normally is tested to determine if inflammation is found in the body. High sensitivity CRP tests are conducted to determine a person's risk for heart disease, as studies have linked high hs-CRP to occurrences of heart disease (however, it is not clear if hs-CRP causes heart disease or vice versa).
What do we know about Amarin already?
To summarize, Amarin is a late-stage biopharmaceutical company specializing in the treatment of cardiovascular disease. The lead product, AMR101, is a very refined omega-3 fatty acid made of at least 96% ethyl-EPA, an ultra-pure omega-3 fatty acid, comprising not less than 96% icosapent ethyl, or ethyl-EPA. The target treatment population is those with hypertriglyceridemia (elevated triglycerides in the blood).
Amarin filed an NDA in September 2011 for patients with very high triglycerides (> 500mg/dL) - a direct result of their MARINE study. The PDUFA date for this submission is July 26, 2012, and is backed up by a SPA agreement with the FDA.
The company has announced plans to file an sNDA for patients with high triglycerides (200 - 499 mg/dL) who are also on statins for LDL-C - known as mixed dyslipidemia - after both the drug approval in July and their outcomes study, known as REDUCE-IT, is "substantially underway." The study for this indication is known as the ANCHOR study and is too supported by a SPA with the FDA.
According to Amarin's most recent annual report:
The potential efficacy and safety of AMR101 were studied in two Phase 3 clinical trials, the MARINE trial and the ANCHOR trial. These trials showed favorable clinical results in their respective patient populations in reducing triglyceride levels without a statistically significant increase in LDL-C levels and, in the 4 gram AMR101 ANCHOR results, with a statistically significant decrease in LDL-C levels. These trials also showed favorable results, particularly with the 4 gram dose of AMR101, in other important lipid and inflammation biomarkers, including Apo B (apolipoprotein B), non-high-density lipoprotein cholesterol, or non-HDL-C, Total-Cholesterol, very low-density lipoprotein cholesterol, or VLDL-C, Lp-PLA2 (lipoprotein-associated phospholipase), and hs-CRP (high sensitivity C-reactive protein). In each of these trials, AMR101 exhibited a safety profile comparable to placebo.
Trial Results - MARINE and ANCHOR
Per the company's 10-K, in November 2010, they "announced the favorable results of the Phase 3 MARINE trial, and in April 2011 we announced the favorable results of the Phase 3 ANCHOR trial."
While both MARINE and ANCHOR produced very strong data, MARINE's indication is on the slate for the July 26 PDUFA, not ANCHOR. I will be focusing on the 4-gram dosage level throughout the article for the sake of brevity.
For patients with triglyceride levels greater than 750 mg/dL, 4 grams of AMR101 decreased these levels by 45%. For the patient population as a whole, TGs were reduced by 33%. Non-HDL-C was reduced by 18%. All of these results occurred at statistically significant p values of <=.0001 - very strong data. It is worth it to note that 25% of this patient population was also taking statins, but not other therapies. The data that perhaps is worth more to note than any of this is that LDL-C levels were not elevated - the first and only study at the time to show this. Lovaza, GlaxoSmithKline's $1b competitor, is shown to increase LDL levels by a median amount of 44.5% per their own label, with only a marginal increase over reducing TG levels versus AMR101. This is an important fact going forward.
The ANCHOR data also showed pleasing results. In the ANCHOR study, AMR101 was consumed while also taking a statin (think Lipitor). Again, I will focus on the 4 gram dosage of AMR101. For patients with triglycerides between 200 and 499 mg/dL - baseline being 265 mg/dL - TGs were reduced by 21.5%, non-HDL by 13.6%, and reduced LDL-C by 6.2%. The LDL reduction is quite unique to AMR101 and is a major benefit for the drug going forward, as Lovaza's increase in LDL on similar trials was ~1%.
NCE Issues
Before I delve into patent issues, I want to first discuss the probability of AMR101 receiving "new chemical entity" (NCE) status. NCE status is granted to an FDA approved drug "that contains no active moiety [responsible for the physiological or pharmacological action of the drug substance] and that has been approved by FDA in any other application." This designation gives the drug five years of market exclusivity, thereby extending any patent approval decision.
Based on this definition alone, I lean toward AMR101 not being granted NCE status. The active ingredient, icosapent ethyl, has the same chemical structure as that of the Ethyl EPA in GSK's Lovaza.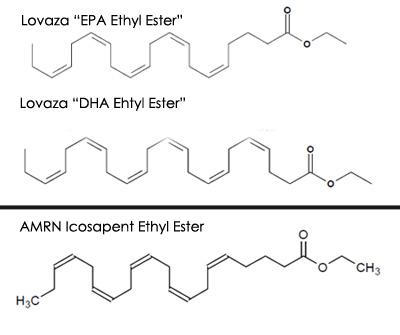 Two good articles point to the contrary - the first being from "bioduediligence." In the article, Andrew Goodwin, Ph.D., agrees that the chemical structures are very similar. However, he points out that a previous drug, Lovenox, was granted NCE status although it contained "low molecular weight heparin" which, as the active ingredient is enoxaparin sodium, he concluded as being similar enough to unfractionated heparin with active ingredient "heparin sodium" to warrant support for AMR101 NCE status. Mr. Goodwin also states that these further refinements are to improve safety and efficacy. Per section 2.1 of the following document: "because LMWHs are prepared by different methods of depolymerization, they differ to some extent in pharmacokinetic properties and anticoagulant profiles, and are not clinically interchangeable." Because the structure of this drug was so large, a new "fragmented" version could be created for entirely different pharmacological action. When compared to Lovaza/AMR101, Ethyl-EPA is identical between the two drugs - Lovaza just also contains DHA.
The second contrarian point comes from Mr. Adam Feuerstein, well-known biotech reporter at The Street. In his article he states, "If the FDA wasn't prepared to provide Amarin with the eight or so years of market exclusivity that comes with NCE status, would the agency really demand the conduct of an 8,000-patient cardiovascular outcomes study that will cost $120 million?". This is a valid point, and one that I do not fully understand myself besides the fact that Amarin went directly to phase III trials and the FDA would like further testing. Amarin CEO Joe Zakrzewski believes that AMR101's purity is what will have it granted NCE status. The problem with this statement is that just because AMR101 is pure, does not mean the EPA in Lovaza was not pure; it just had lower overall concentration in the capsule. EPA is suspended independently of the DHA in the pill - they are not chemically bonded in any way. Amarin would have to argue - and this is where they have a shot in my opinion - that the EPA and DHA act together in unison (almost as one) and affect one another (negatively) - an assumption that can be drawn from Amarin's trial data of not elevating LDL. This is a long shot though, so the NCE status is, in my opinion, the most uncertain aspect of AMR101's approval.
Patent Issues
Next on the docket is Amarin's critical 12/702889 patent application. The '889 application looks to extend AMR101's exclusivity to 2030 and governs the application of highly purified EPA to lower triglycerides in the range from 500 to 2000 mg/dL. The company has been back and forth with the USPTO, receiving rejections, filing appeals, etc. The issue lies with the application of "obviousness." The current USPTO examiner states that previous studies using highly purified EPA showed effectiveness from the 50 - 533 mg/dL so it is "obvious" that the higher levels Amarin is attempting to patent would have the same effect. Amarin looks to be giving some leeway by attempting to target a higher TG range (750+ mg/dL). They are using statistics to explain how the USPTO cannot extrapolate previous study results to TG levels that high. The current USPTO examiner seems to be firmly set in his ways, however on May 1, 2012 it was disclosed that Amarin had met with the supervisor of the current examiner at the USPTO.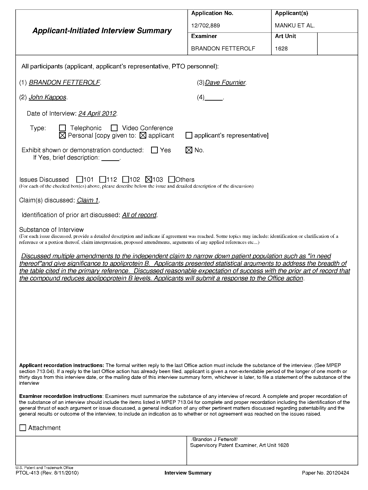 This can be inferred in several ways, but I believe that because there is no previously published data for the use of 96%+ pure EPA to treat very high triglyceride levels (750+), the PTO will eventually approve this narrowed form of the original patent. According to Amarin executives, there are 16 patent applications in various stages of the patent process. Not all of these applications are public yet, so investors are unsure how much IP will apply to AMR101.
Competitor Issues
I am going touch on what has been thrown out as market competitors for Amarin, but I do not feel like there is any immediate threat to company sales for at least the next ten years based on upcoming patent protection.
- Epadel
First, I would like to clear up chatter that I have seen spread around via blogs and some news sources. Some have claimed that Epadel is different from AMR101 in some way. Epadel, the high-purity EPA drug that has been sold in Japan for over a decade, is the same drug as AMR101. Per Amarin's most recent 10-K,
ethyl-EPA of not less than 96% purity with no DHA, has been approved by regulatory authorities in Japan and marketed by Mochida Pharmaceutical Co. for over a decade. In Japan, ethyl-EPA is marketed under the product name of Epadel and is indicated for hyperlipidemia and peripheral vascular disease and which we understand had 2009 revenues in Japan that exceed $500 million per year.
This being said, Epadel is not marketed nor approved for use by the FDA in the United States. If it ever had been, the patent issues as well as market potential would be very different for AMR101.
- Neptune
Neptune Technologies (NASDAQ:NEPT) currently markets OTC Krill Oil products and has pharmaceutical grade Krill Oil in Phase II development under its majority owned subsidiary, Acasti Pharma. This, in my opinion, poses the most significant risk to Amarin going forward. While it is at least five years from realizing any market opportunity, assuming it passes all phases demonstrating safety and efficacy, preliminary data suggests it could be a major competitor as it claims to not only lower triglycerides, but lower LDL and raise HDL as well -> the "holy grail" of a cardiovascular supplements. Not only are these results significant, but possibly game changing. Per research done by Doctors Bunea, Farrah, and Deutsch, krill oil at a 3g dose increased HDL by nearly 60%, decreased LDL by nearly 40%, and decreased TGs by 26% - astounding results by today's standards.
The problem with Krill Oil supplements as they stand today are the costs associated with harvest and processing. The costs as of today are, in my opinion, somewhat prohibitive for Krill Oil to compete in the pharma grade market when someone in the future could simply take a generic statin with AMR101. That far in the future, however, more efficient means of harvest and processing are sure to come about, so this has yet to be seen. While the above results, released in 2004, are quite stunning - they need to stand up to more critical testing - testing that I personally will be paying very close attention to. Until that point, I will not factor this drug into my market estimates.
- Pronova
Pronova BioPharma (OTC:PVNAF) is the current manufacturer for Lovaza - a drug generating worldwide sales of over $1 billion. Lovaza will become generic in 2015. One of the biggest arguments currently is whether AMR101 will be prescribed over Lovaza. Lovaza, while a blockbuster drug that does significantly reduce patient triglycerides, is shown to significantly increase LDL-C in patients. As mentioned before, this is a 30%+ LDL-C increase, with only a marginal benefit in TG reductions (anywhere from 26-47%. while MARINE indicates 33% and 45% with TG>=750mg/dL). The risk vs. reward here goes to AMR101, and as such, I believe AMR101 will significantly affect Lovaza sales, and the market for generic Lovaza will be quite small come 2015.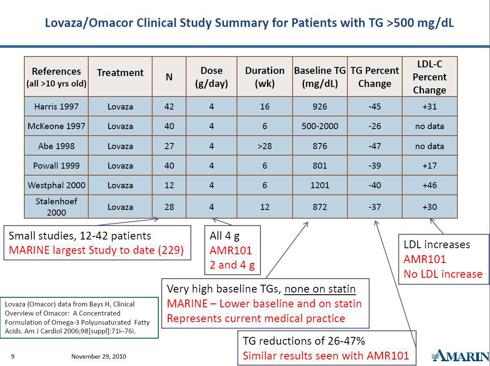 Not sitting on their laurels, Pronova is currently in development of another cardiovascular drug known as PRC-4016. Much like Neptune, PRC-4016 lowers both TGs and LDL, while increasing HDL. The details of this drug are very rare, but Phase I top line data is to be announced Q2 2012. The company claims IP rights are already secured, so similar patent issues currently afflicting AMR101 could very well be avoided. It is hard to say how this drug could pan out for the cardiovascular market, but the drug is still in Phase I testing and has many years before being publicly available.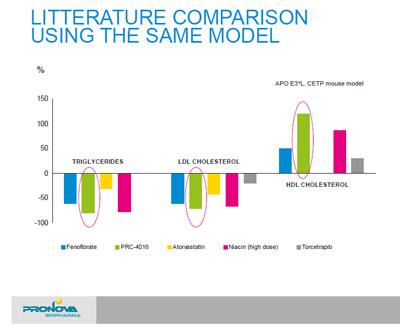 - Omthera
Omthera Pharmaceutical's TG lowering drug Epanova released positive phase III top-line results of their EVOLVE study on April 26, 2012. While these results did display positive top-line data, the results were marginally worse than AMR101 as well as not having displayed any statistically significant results in LDL levels. The drug is similar in composition to Lovaza, but is meant to be superior in absorption and bioavailability due to their specially engineered capsule. Epanova still has some time before FDA approval, but AMR101 has already displayed better results while not incorporating DHA. Epanova will not be able to compete with AMR101 directly so it will have a very limited market, if any.
AMRN Market
Finally, we get to the important question - once AMR101 is approved, how successful will it actually be? There are three possible ways for AMR101 to find its way to market:
1. Partner
2. Takeover
3. Self-Market
There are advantages and disadvantages to each, but I am assuming Amarin will either take this to market or be taken over. Amarin's CEO has made many conflicting statements, but taking into account his personality, what he has publicly stated on CNBC, the 2012 letter to shareholders which emphasizes their commercialization preparedness, etc., I believe they'll either be taken over or go it alone. This DCF should provide a snapshot of what a company should be willing to pay for the company or what sales will do for Amarin's share price - partnering would be a different story as royalties come into play.

To this end, I have created a DCF analysis combining MARINE, ANCHOR, and REDUCE-IT indications, as well as a sensitivity analysis to account for some market margin of error. Now for a breakdown of my assumptions:
Per data provided by Amarin (see graph), I created baseline U.S. population statistics.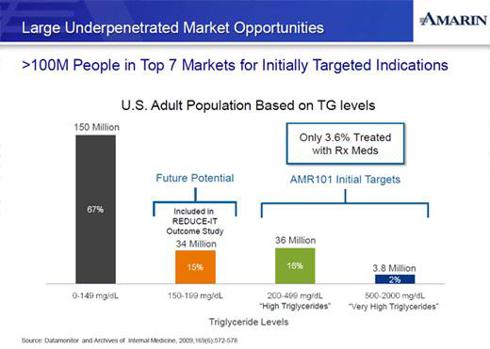 For worldwide population, I estimated by taking current Lovaza sales, in which 30% come outside the U.S., and extrapolated this and combined all three indications into one population. I realize this is a very crude method of estimation, but little data is available and these are only estimates, after all. Amarin, while based in Ireland, provides little information as far as EU (let alone Asia) approval for market, and therefore I assumed they would be entering the market by 2014. I estimated growth rates to be higher for those experiencing "moderate" TG levels versus "high" versus "very high," which grows slowest. Worldwide population growth rates are very conservative at .25% growth rate. Market penetration of AMR101 is based on general guidelines of market penetration of new drugs as well as assumptions I have made capturing market share from Lovaza. In my opinion, the market for AMR101 will be greater than that of Lovaza for the simple reason that AMR101 does not increase LDL levels. Patients are hesitant when they hear that a drug helps in one aspect of their cholesterol and negatively affects another. AMR101 does not have this issue and therefore becomes much more appealing to both patients and doctors alike.
As for REDUCE-IT market penetration, by the time AMR101 is approved for those with moderate triglycerides, there should be more market competition from the likes of improved over the counter solutions as well as novel formulations that are at least just as effective as AMR101. To this end, market penetration at the moderate trig level is quite low.
The annual retail cost for patients will vary according to indication as more or less dosage is prescribed. For MARINE indication, the max dosage of 4 pills per day * 365 days/year * $3.50 per pill yields ~ $5000 per year. Amarin has not released pricing information, so this is an estimated based off Lovaza retailing for ~$2 per pill as well as using data from Mochida Pharmaceuticals Epadel sales to derive a retail cost. As far as the cost of goods sold, I gleaned information from Mochida's financial statements as well as other resources on the internet to factor this. Compared to Lovaza, AMR101 has to go through significantly more processing to get to the 96%+ purity level, and as such this increases the cost of production significantly.
In the 2012 letter to shareholders, CEO Joe Zakrzewski stated that 250-300 representatives should be sufficient to market AMR101. At an individual representative cost of $225,000 plus 5% of sales, $75 million was the baseline SG&A number for 2012 and will increase as the company grows over time.
Amarin's Research and Development initiatives are sparse at this point. The company is devoting $120 million to its REDUCE-IT trials, but there are currently no other drugs in their pipeline. While this may lead one to postulate that the company is looking to be bought out, this will remain to be seen over the next year how development aspects at the company begin to take shape.
I used an 18% tax rate as a weighted average between U.S., Ireland, and UK tax reporting countries - all three in which Amarin files returns. Fully diluted shares in the company change rapidly - on a monthly, almost weekly basis it seems. Per the consolidated statement of operations, Amarin's fully diluted share count stands at 136 million. The company is flush with cash - 245 million per the last 10Q - so besides employee options being exercised the company should not have to dilute further.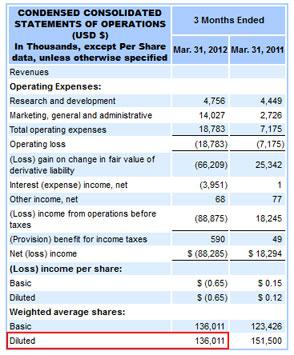 A potential growth hindrance going forward is Lovaza going generic in 2015. While this will bring in even greater pricing competition, the clinical benefits of AMR101 versus Lovaza make this a non-issue. If a doctor has the choice of prescribing a drug with some significant negative side effects with only minor, if any, benefit over another drug, the safer drug will almost always get the nod - not only from doctors but from insurance companies. One has to take into account how much insurance will cover. The fact that you are not creating any negative side effects to cholesterol levels will incentivize insurance companies to cover most of the patient cost of AMR101.
And now, for the DCF and sensitivity Analysis: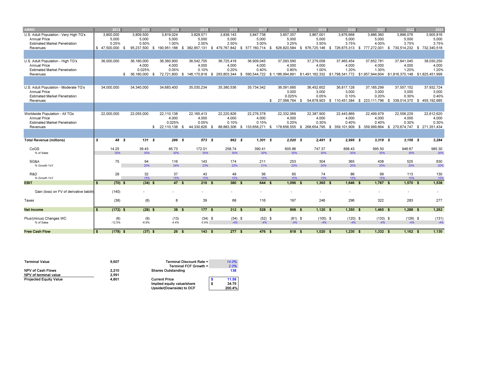 Conclusion
Before I conclude, Lipitor was very briefly mentioned earlier in the article. Lipitor going generic could be quite beneficial for AMR101 as the ANCHOR trials were indicated for people also taking a statin. Having a relatively inexpensive generic statin paired with a good TG reducer will be a powerful combination that could be prescribed to patients down the road.
Recently, there has been chatter of AMR101 receiving a 3 month extension due to the amount of materials submitted to the FDA coupled with the recent spat of PDUFA extensions that have been granted. I have no idea one way or the other whether or not this will happen, and honestly it should not matter. Yes, an extension would negatively affect short term share price, but I'll look at that as an opportunity to add as much as I can. I can wait a few extra months for a double in the market price of my holdings.
For those of you who have made it to this point of the article, I salute you. It is a lot of information to digest, but it is important to get all aspects of the Amarin situation. I do believe AMR101 will be a blockbuster drug, gaining significant patent protection, albeit without the FDA's NCE status. The drug is both safe and efficacious, so FDA approval should be no problem. I will be opening a position within the next week or two based on how it trades as well as waiting for some other plays to finally turn around (Celldex [[CLDX]]), but bottom line is that from this point you can see that with realistic assumptions AMRN's stock price should see 100%+ upside from this point.
Disclosure: I have no positions in any stocks mentioned, but may initiate a long position in AMRN over the next 72 hours.