George Risk Industries, Inc. (OTCPK:RSKIA)
World Headquarters: Kimball, Nebraska
Market Capitalization: $30 million
Enterprise Value: $5.2 million
GRI designs and manufactures burglar alarms. The company is managed by CEO Ken Risk (son of the late George Risk), age 63, and CFO Stephanie Risk (Ken's daughter), age 39. Ken owns 58% of shares outstanding.
The stock traded for $6.40 when Oddball Stocks pitched GRI in August. It currently trades at around $5.95/share. GRI has $4.92/share in cash and securities and has no debt. Enterprise value is $1.03/share.
The investment decision hinges on the answers to two questions:
Is the business worth $1.03?
Is the cash safe?
Value of Operations
The first question is actually the easier of the two.
Sales of burglar alarms are closely tied to the housing market. GRI's sales declined significantly from 2007-2010 due to the downturn in new construction.
(click to enlarge images)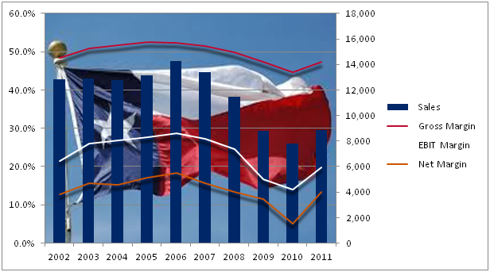 However, GRI remained profitable throughout the recession. The company has high FCF margins (16% in a bad year, usually north of 20%) and high ROE.

(Cash and securities have been eliminated from all calculations in this section)
ROE has averaged 32.63% since 2002. Book Value is $0.80/share. An investor with a 10% cost of equity should be willing to pay 3.26x book value, or $2.61/share. Using Cash ROE, 41.06%, we get a value of $3.17/share (4.11x book).
Remember, we're getting the business for $1.03. The business is worth $1.03 when LEV is 1.1, AT is 1.8, and ROS falls all the way to 6.67%. That puts ROE at 13.21%. And that's assuming cash only comes in at the rate of earnings. But it doesn't.
Free cash flow is consistently higher than net income. The average FCF margin over the last decade was 18.6%. Even assuming 10% FCF margins and stagnant sales going forward, the company would still produce 17.5 cents in FCF/share (so, you're getting a 17% FCF yield assuming terrible FCF margins and a depressed sales level).
I could go on with all of the metrics you could look at. They all suggest the business is cheap.
The company depends on a large customer. Maybe it's something to be concerned about. Honeywell (NYSE:HON) has accounted for 40-45% of GRI's sales since at least 1997. Honeywell recently agreed to a three-year purchase agreement, the first such agreement between the two companies. Based on its history with GRI, it doesn't seem like Honeywell is going anywhere, contract or no contract.
The business is fine, it's the cash that we need to be concerned about.
Is the Cash Safe?
There's a reason the business is stupid cheap. You can't reinvest earnings.
Normally this wouldn't be a problem. But Ken Risk is using the company as a personal retirement account.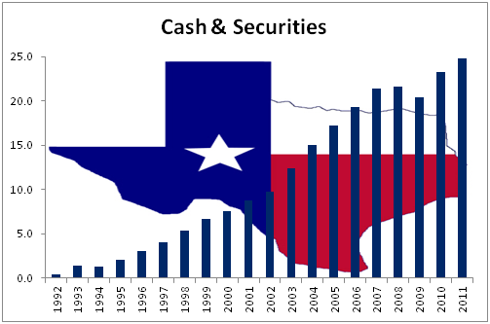 The company has a pile of cash the size of Texas. In its latest 10-Q, the company reported $29,596,000 in retained earnings and $24,921,000 in cash and securities. All the cash that the business is generating has nowhere to go.
Here's the breakdown:
Cash: $5,186,000
Munis: $9,700,000
Corporate Bonds: $176,000
Equities: $8,697,000
Money Mkt/CDs: $1,162,000
The securities portfolio is managed by an undisclosed third-party (or possibly multiple third parties, it's hard to tell).
Management can do three things with the cash:
(1) Acquisition
The following blurb appeared for the first time in the 2004 10k:
Management is always open to the possibility of acquiring a business that would complement our existing operations. This would probably not require any outside financing. The intent would be to utilize equipment, marketing techniques, and established customers to increase sales and profits.
An acquisition of a "complementary business" is probably the worst possible use of cash. However, I can't imagine there are many security products businesses in Nebraska that are also small enough for GRI to buy. I get the feeling that acquiring a business is just something that Kenny Boy fantasized about one night and decided to throw it in the 10k; I don't think it's a real possibility.
(2) Share Repurchases
GRI has repurchased 129,000 shares since September of 2008. The stock traded for $4 and change for most of 2009/2010, the company hasn't even reached the halfway point of its authorized repurchases. Part of this may be due to the illiquidity of the stock. However, it seems like management is more concerned about reducing the number of shareholders of record than in repurchasing undervalued shares:
For the year ended April 30,2011, the Company purchased $77,000 worth of treasury stock and $263,000 was bought back for the year ended April 30, 2010. We have been actively searching for stockholders that have been "lost" over the years.
Share repurchases will likely continue at a snail's pace, not at a rate that meaningfully grows the snowball.
(3) Dividend(s)
The outside passive minority shareholder's dream is for GRI to liquidate the investment portfolio and declare a massive one-time dividend. My gut tells me this won't happen. There's no incentive for Ken to pay out his retirement savings.
If Ken were to receive $10 million+ in a dividend, where would he put it? He'd give it to someone to manage for his retirement. Professionals are already managing it for his retirement, and probably at a slightly lower fee than if they were only managing Ken's $10 million.
It makes no real difference to Ken. It provides an enormous liquidity cushion for the alarm business. And, besides, Ken likes to make earnings look nice:
Management's philosophy behind having holdings in marketable securities is to keep the money working and gaining interest on the cash that is not needed to be put back into the business. And over the years, the investments have kept the earnings per share up when the results from operations have not fared well.
It does not sound like management is going to distribute retained earnings all at once. This is a situation in which it's a major advantage to have a long time horizon. The company has paid $6.2 million in dividends since 2005. It looks like the company will continue to increase the dividend year after year.
Ken is 63. He'll want a nice, steady dividend throughout retirement.
So, the cash is safe, but it's going to be difficult for shareholders to get their hands on it.
Conclusions
After backing out cash and securities, GRI's operations look cheap. There is no clear catalyst for unlocking the cash, and that is likely why the stock is undervalued. However, few situations exist where a company is obviously undervalued and there is a clear catalyst for value realization. Mr. Market just isn't that dumb.
I don't know whether Ken will act in the best interest of other shareholders, or if he just wants dividend income for his retirement and to leave a pile of cash for his daughter after his death.
But I do know that the business is sound and the cash is safe. It's hard to find much on the downside and a catalyst could come out of nowhere. I don't own RSKIA, but I may start buying in the near future. If it dips below net cash again, I'll buy as much as I can get my hands on.
Disclosure: I have no positions in any stocks mentioned, but may initiate a long position in OTCPK:RSKIA over the next 72 hours.