Several important data points were released in the past week. The stocks started the week with a mixed investor sentiment. However, they ended mostly in the negative territory. While basic materials were the biggest losers, healthcare stocks ended the week with modest gains thanks to a recent FDA approval: Shareholders of Arena Pharmaceuticals (NASDAQ:ARNA) just hit the jackpot.
Arena pharmaceuticals were the top winner of the last week. The stock gained 129% within the last 5 days. Its year to date performance of 240% is eye whooping. The company's flagship drug proposal, Lorcaserin Hydrocloride, recently received a positive recommendation by the FDA for marketing approval. Instantly the stock made a huge jump to above $6.
click to enlarge images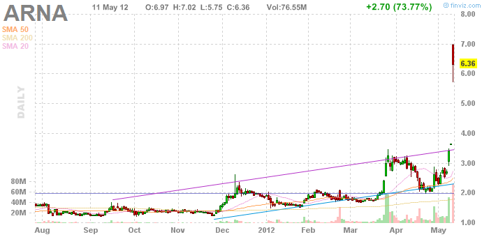 Source: Finviz
Background
Obesity is a serious problem for not only U.S. but also the rest of world. A body mass index of above 30 indicates an obese person. For an average male with a height of 5' 9", a weight of higher than 200 pounds indicates an obesity disorder. Lorcaserin can help to reduce obesity. The drug is designed to complement the weight management programs for patients with a body mass index of higher than 30 kilograms per square meter.
Obesity is a growing epidemic. According to a recent report, one-third of adults and one-sixth of children in the U.S. are obese. What is more disturbing is the growth in the obesity. In the last twenty years, obesity rates increased by 100% among adults, and 200% among children.
Clinical Trials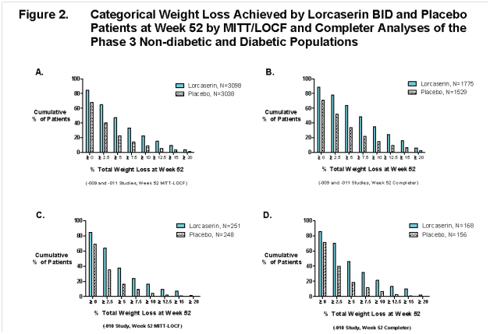 Source: FDA File
The statistical results for clinical trials speak for themselves. Compared to place users, a substantially higher percentage of Lorcaserin users achieved weight loss. What is more striking is the total number of Lorcaserin users who achieved significant weight losses during the study. While only a negligible amount of placebo users achieved weight losses of above 10%, a significant amount of Lorcaserin users achieved dramatic weight losses of above 10%.
Surely, the best way to fight obesity is to enjoy a healthy diet with active sports engagement. But anything can help. The phase two trials for Lorcaserin suggested that more than 5% weight loss was achieved by 63.9% of the Lorcaserin users. For comparison, only 33.5% the placebo users achieved such weight losses. Thus, Lorcaserin increases the probability of substantial weight loss by almost 100%. According to the materials presented to FDA, patients who completed 1 year of study participation demonstrated greater efficacy in maintaining their weight losses.
Valuation
Okay, so the drug is great. One-a-day Lorcaserin can help to fight obesity. But, the question is shall we buy the stock or not? From a purely accounting perspective, buying a stock with debt/equity ratio of 1.96, which is trading at 26 times the book value, does not make much sense. The annual loss of -98 million is another strong red flag. However, one needs to admit that it is quite hard to justify the fair value of any speculative biopharmaceutical using accounting numbers. Therefore, investors need to come up with their own calculations to approximate a fair value. So, here is my fair value calculation for Arena:
Let's say 2% of the obese population decides to use Lorcaserin on a daily basis by next year. While it might be claimed that this is a very conservative estimate, I think 2% market share is a great one for any new product. This ratio translates into about 2 million daily users out of an obese population of 100 million in the U.S. The pricing strategy is critical, but I will assume a fair value of $1 a pill, which translates into $365 annual revenue per user. Fellow SA contributor, Michael Murhpy claims a $2 price tag per daily use. However, we also need to consider other competitors in the field. The existence of competition from Qnexa by Vivus (VVUS) and Orexigen from Orex Pharmaceuticals (OREX) is likely to drive the prices down to as low as $1 a day.
Based on the assumptions above, total revenue will be around $700 million on annual basis. Even if 50% goes for operating and marketing costs, the rest will be gross profits. After deducting for taxes and other costs, it will be safe to assume a 30% profit margin. From revenues of $700 million, we can calculate the profits as $210 million for the next year. Currently, the market cap of Arena is around $1.2 billion. Thus, based on my calculation, the stock is trading at a forward P/E of about 6. That is a compelling entry point for those interested
Summary
Obesity is a growing epidemic in our country and also the rest of the world. Lorcaserin can help to fight this epidemic as an additional tool (besides diet and exercise). The approval of this drug was the first step. There will be several other steps until the drug is publicly offered to desperate patients. Once it hits the market, Lorcaserin will not only help to fight obesity, but it can also prove to be a highly profitable investment for investors. My calculations suggest that the stock is still cheap -- even after the huge gains recently. While, it is not a good idea to risk everything in just one stock, Arena Pharmaceuticals could be a good addition to the speculative portion of your portfolio.
Disclosure: I have no positions in any stocks mentioned, and no plans to initiate any positions within the next 72 hours.