Since I recommended buying puts on Martha Stewart Living (NYSE:MSO) last month, shares have tumbled more than 5% as the broader market has rallied. Yet despite this minor correction, the market is still pricing MSO as if it were an exciting growth stock, not the dying brand milking its core followers for every last penny that it really is. Recent developments reinforce the fact that this stock does not deserve its current 22 forward multiple or 2.7 P/S.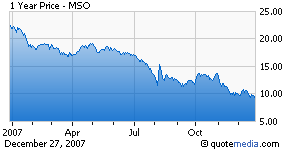 First, there was the apparently upbeat announcement that The Martha Stewart Show would be picked up by NBC/Universal for a fourth season in syndication. You had to actually read the entire press release to see the bad news that the show would now only be syndicated in 60% of the country versus the current 95% for season 3.
The surprise here is that the show was actually renewed given its dismal ratings: during November sweeps, the show garnered just a 1.1 rating, a 20% drop from last year. This put it behind Jerry Springer (1.4) and just ahead of Judge David Young (0.9). Archrival Rachael Ray scored a 2.1.
Then came word that the company would shutter its Blueprint magazine. According to the company, the magazine was "Geared to women ages 25-45, Blueprint targets a different demographic than our core consumer…thereby broadening our advertising reach." Like nearly every other effort MSO has made to expand its reach (The Apprentice, KB Homes (NYSE:KBH), K-Mart), Blueprint was a disappointment.
The company is placing new bets on recent deals with Macy's (NYSE:M) and Costco (NASDAQ:COST), but the success of these new partnerships remains to be seen. MSO's revenue from K-Mart will drop by over $40M in 2009, so it will have a lot of ground to make up.
I give Martha Stewart credit for finding a successful niche. She is a hero to my mom and millions like her. Yet there is only so much Martha that this core market can consume, and I believe it has nearly reached its saturation point. Every attempt to expand her brand to other demographics has flopped, and she has been replaced as the "it" homemaker by Rachael Ray. I have no doubt that MSO can profitably milk its loyalists for steady revenue during the next few years before its 66-year-old namesake decides to retire to the tropics. But there is absolutely no reason for this company to be priced as a growth story.
Disclosure: SmartGuyAB owns MSO puts.