(In February, Seeking Alpha posted my "Post-2009 Northern & Western European Housing Bubble" article in which I showed how Northern and Western European countries were experiencing major housing bubbles fueled by "hot money" investment inflows that were attracted to these countries' statuses as perceived economic safe-havens. The emerging markets bubble is also driven by "hot money" but these countries' primary appeal is their economic growth prospects rather than their safe haven statuses. Regardless of their subtle differences, both multi-country bubbles are catastrophes waiting to happen.)
Amid the excitement over the rise of China, investors and economic commentators have been eagerly scouring the world for "The Next China" - or at least the next country to supply the raw materials that China needs for its boom (and construction of empty cities!). Global investors, seeking to diversify away from the post-bubble heavily-indebted Western world, have inadvertently created a massive "hot-money" bubble in emerging market nations, causing overheated economies and property bubbles everywhere from Brazil to Israel to the Philippines. Soaring asset prices and easy money is creating "luxury fever" as emerging market nations copy the spendthrift ways that led to the West's downfall just a few years earlier. In its essence, the emerging markets bubble is a derivative of the commodities and China bubbles and is highly vulnerable to their inevitable popping.
The emerging markets boom was kicked off in 2001, when China was admitted to the World Trade Organization and Goldman Sach's Jim O'Neill coined the acronym "BRIC" (Brazil, Russia, India, China) to describe the "Big Four" fast-growing emerging market nations that were poised to overtake developed G7 nations by the 2020s. Each member of the BRIC nations had their own unique and complementary role: China was seen as the primary driver of growth with its rapidly developing manufacturing base, rapid urbanization and extremely ambitious infrastructure development occurring in the form of "mega-projects." India became the world's offshoring and IT services hot spot and its growing middle class was seen as a new market for Western goods. Commodity-rich Russia and Brazil's role was to provide the natural resources needed for China and India's aggressive urbanization and development.
As global commodities prices rose to unprecedented heights in the past decade, becoming a bubble in its own right, other resource-rich emerging market nations from South Africa to Indonesia saw a commensurate rise in their fortunes as well. BRIC and emerging markets started to become a popular investment theme in the mid-2000s and became even more popular after the epic 2008 crash and Great Recession shook investor confidence in Western investments. Central banks in the West and Japan reacted to the strongly deflationary 2008 crash by cutting and holding interest rates at nearly zero percent, driving even more global investment capital into high-yielding investments in the fast-growing emerging markets.
After booming for nearly a decade, emerging market economies started showing signs of bubbles fueled by global "hot-money" investment inflows. By early 2011, the Bank of England was warning of emerging market asset bubbles, while the IMF warned of "signs of overheating" in emerging markets. By the summer of 2011, emerging markets were red-hot and The Economist published a "temperature gauge" to show which emerging market economies were most overheated, with Argentina, Brazil, Hong Kong and India at the top of the list. A top Morgan Stanley economist warned that the BRICs faced an "elevated risk of credit bubbles and rising defaults" and BRIC banks started showing signs of a credit crisis. While emerging market economies and their equity markets have cooled somewhat since the summer of 2011, their bond markets are currently booming and attracting massive capital inflows, which is leading to explosive credit growth. Now that emerging market central banks are pursuing looser monetary policies to boost growth, it would not be surprising if economic overheating and stock market bubbles start to rear their ugly heads again in the future.
Global "hot money" has fueled an epidemic of worldwide emerging market property bubbles in hubristic defiance of the lessons that should have been learned from the calamitous American and European property crashes. Emerging market property investors are most likely justifying their investments with the famous last words, "this time is different!"
Here are charts of just some (but not all) of the emerging market property bubbles:
China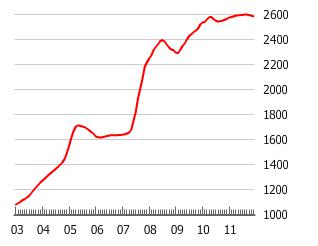 Chart Source: GlobalPropertyGuide.com
Hong Kong
Taiwan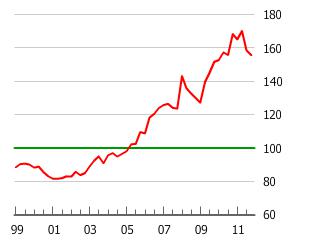 South Korea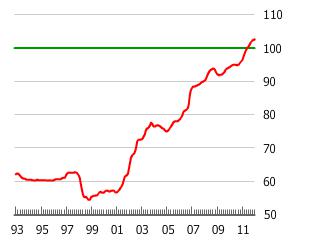 India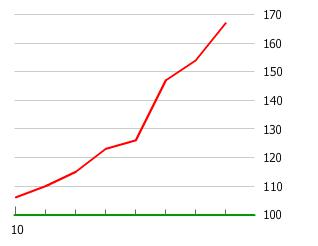 Singapore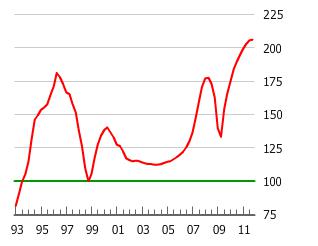 Malaysia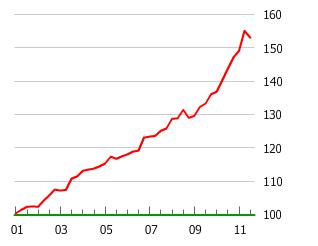 Indonesia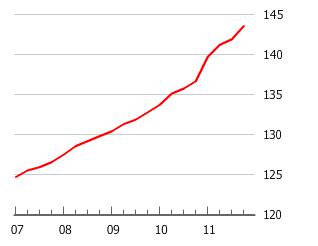 Philippines
South Africa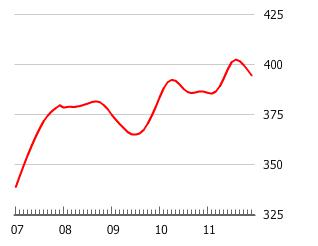 Israel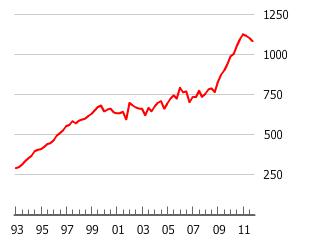 Russia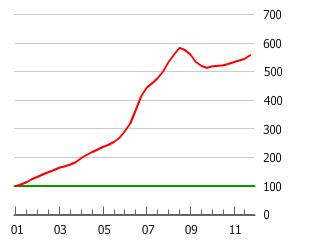 Serbia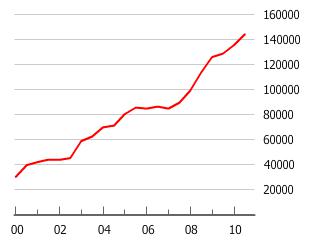 Brazil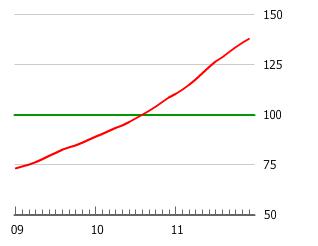 Argentina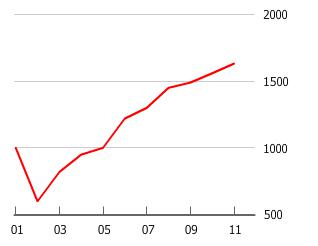 Colombia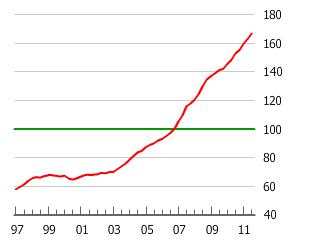 Uruguay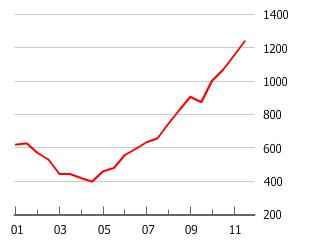 Easy money and soaring property prices are causing typical bubble-like behavior in emerging market nations. Brazilians are splurging like Americans in 2005. Singapore seems bent on becoming the next Dubai bubble as it overbuilds excessively opulent vanity construction projects that are financed by a ballooning debt bubble. Once among the world's greatest savers as recently as the late 1990s, South Korea's consumers are now binging on debt and spending like there's no tomorrow, even beating notoriously profligate Americans at their own game. In India, where nearly 95% of the population lives on less than $2 per day, brand-addicted consumers are causing the luxury sector to boom and Ferrari recently picked it as the country of choice to unveil its $687,000 FF four-seater. While the West is mired in its worst economic crisis since the Great Depression, the luxury sector has the emerging markets bubble to thank for its booming sales, including a vigorous start in 2012.
It is clear that emerging markets are experiencing a bubble of enormous proportions as their investors and consumers make the very same mistakes that the West made just a few short years ago. The emerging markets bubble will pop when the commodities and China bubbles pop, leading to a crisis like the 1997 Asian financial crisis in the best case scenario and a global depression in the worst-case but highly likely scenario. There is a strong chance that the finance and real estate-heavy island economies of Singapore and Hong Kong may experience a fate similar to Ireland and Iceland's fate in the 2008 financial crisis.
There are dizzying number of ways for investors to profit from the popping of the emerging markets bubble but the most straightforward strategy would be to short diversified emerging market ETFs. Some good options are the iShares MSCI Emerging Markets ETF (NYSEARCA:EEM), the Guggenheim Frontier Markets ETF (NYSEARCA:FRN), iShares S&P Latin America 40 Index ETF (NYSEARCA:ILF), the Claymore/BNY Mellon BRIC ETF (NYSEARCA:EEB), the SPDR S&P Emerging Middle East & Africa ETF (NYSEARCA:GAF), the iShares MSCI Emerging Markets Eastern Europe Index ETF (NYSEARCA:ESR), the Dreyfus Emerging Currency Fund (NYSEARCA:CEW) and the Market Vectors EM Local Currency Bond ETF (NYSEARCA:EMLC).
Here are some options in individual emerging market country ETFs: the Guggenheim China Real Estate ETF (NYSEARCA:TAO), the iShares FTSE/Xinhua China 25 Index ETF (NYSEARCA:FXI), the iShares MSCI Brazil Index ETF (NYSEARCA:EWZ), the iPath MSCI India Index ETN (NYSEARCA:INP), the Market Vectors Russia ETF (NYSEARCA:RSX), the MSCI Israel Capped Investable Market Index Fund (NYSEARCA:EIS), the iShares MSCI Turkey Investable Market Index Fund (NYSEARCA:TUR), the iShares MSCI South Africa Index ETF (NYSEARCA:EZA), the iShares MSCI Indonesia Investable Market Index ETF (NYSEARCA:EIDO), the iShares MSCI Hong Kong Index Fund (NYSEARCA:EWH), the iShares MSCI Singapore Index ETF (NYSEARCA:EWS), the iShares MSCI Malaysia Index ETF (NYSEARCA:EWM), the iShares MSCI South Korea Index ETF (NYSEARCA:EWY), the iShares MSCI Taiwan Index ETF (NYSEARCA:EWT), the iShares MSCI Thailand Investable Market Index ETF (NYSEARCA:THD), the iShares MSCI Philippines (NYSEARCA:EPHE), the Market Vectors Vietnam ETF (NYSEARCA:VNM), and the Global X FTSE Colombia 20 ETF (NYSEARCA:GXG).
It is important to remember that timing is everything when it comes to betting against bubbles and that the emerging markets bubble has the potential to grow even larger than it is currently, especially now that emerging market central banks are pursuing stimulative monetary policies once again.
Disclosure: I have no positions in any stocks mentioned, and no plans to initiate any positions within the next 72 hours.