Since early 2007, investment demand has been the major driving force behind gold prices. In fact, gold has seen a long-term bull market for about a decade. However, this yellow metal has seen corrections of around 15% from its peak levels in 2011. Gold is now trading in the $1,640/oz range, yet the underlying fundamental jewelery demand is expected to provide support to gold prices driven by seasonal demand starting from second quarter of 2012. Historically, jewelery is the major driver of gold prices in Q2, where the investment demand is actually weakest.
Now let us start looking at the monthly average returns for gold price since 1975 against YTD 2012-- actual monthly returns. The charts shows a period of seasonal weakness and we are about to enter a period of historical seasonal strength in gold price.
Gold Price Seasonality vs. 2012 Actual Monthly Returns (Click to enlarge)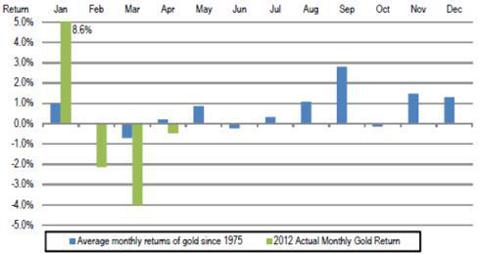 Click to enlarge
Source: Factset
After outperforming its historical monthly average return this January (+8%), gold has underperformed this February (-2%), March (-4%) and month to date in April (-0.5%) vs. historical averages.
How is the trend expected to be going forward? Now let's start with analyzing the demand drivers for Gold price.
Average Quarterly Gold Demand, 2004-2011 (Click to enlarge)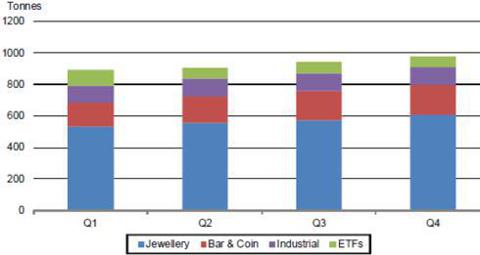 Click to enlarge
Source: World gold Council
Jewellery and bar & coin demand are clearly the most important drivers of gold demand, accounting for more than 70% of the demand.
Global Gold Demand (tonnes)
(Click to enlarge)

Click to enlarge
Source: World gold Council
Over the past 3 years, there has been a gradual shift out of ETFs into bar & coin investment. This is attributed to the 'fear trade' rather than simple investment. Global gold demand shown in the above figure illustrates the move into the physical form.

Click to enlarge
Source: World gold Council
While both gold jewelery and investment demand exhibit some seasonality, it is more difficult to predict investment demand on a seasonal basis, outside of coin purchases in the Western world around the Christmas season. We note that investment demand has historically been weakest in Q2, yet April and May show the relatively higher historical average monthly returns. Clearly something else is at play in Q2, and that something is jewellery.
Jewelery demand - the main source of seasonality
The strength in demand for the last nine months of the year is largely explained by the timing of holidays, which vary by region.
(Click to enlarge)

Click to enlarge
Source: World gold Council
India's (largest component of jewelery demand) demand for gold jewelery spikes in Q2 in line with the Akshaya Tritiya festival, with buying and wearing of gold jewelery being important on this date. Further, there is strong demand during the traditional Indian festival wedding season, which occurs in Q3/Q4 based on the lunar calendar. It is a known fact for Indian jewelers to stock up in Q2 for a strong wedding season demand.

The western world (United States and Europe) also has a very similar seasonal pattern driven mainly by the Christmas season. U.S. (+7%) and European (+6%) Q4 gold jewelery demand would alone account for growth of 13% over Q3. A relative decline in Q4 demand from non-Christian nations with major holidays at other times during the year dampens global Q4 demand growth to 5%.

Chinese gold jewelery demand is strongest in the lead up to Chinese New Year at the end of January, contributing 3% to quarterly growth in Q3 and 1% in Q4. The relative decline in Q2 (-4%) is relative to a period that includes Chinese New Year.

In the Middle East, Saudi Arabia, Egypt and the UAE are the largest consumers of gold jewelery. The relative strength of Q2 gold demand (+2%) in the Middle East could be explained by the occurrence of the Eid ul-Fitr and Eid al-Adha Muslim holidays. These holidays take place before and after Ramadan, which is based on the lunar Islamic calendar and which have recently been falling across Q3. The holiday tradition is to give gifts and money (often in the form of gold) to children. Q4 has recently been a relatively weak quarter for gold demand (-3%) because of the lack of gift-giving holidays. Another potential reason for demand in the UAE in Q2 is Indian jeweler consumers, some of whom travel to UAE specifically to purchase gems, and with that gold.

The others includes Turkey, Russia, Vietnam, Thailand, Indonesia, South Korea, Japan and all other countries. It is not worth explaining seasonal trends for this diverse group other than pointing out that Q3 is the strongest quarter (+3%) and Q1 is the weakest (-3%).
Now let us look at the India factor. India's finance minister Pranab Mukherjee, in his 2012 Union budget, proposed a 1% tax on non-branded jewelry for the first time and a doubling of import duties on gold bars, coins and platinum. This led to a strike represented by the All India Gold and Jewelery Federation. The 21-day strike ended with the finance minister assuring that he would consider the demand for the rollback of excise duty favorably. India accounts for more than a quarter of global consumer gold demand followed by China. In year 2011, gold imports increased 50% to nearly 1,000 tonne with merely 2 tonne of gold produced domestically. The country imported 967 tonne of gold in 2011.
I believe that the pent up demand caused by the strike (which one AIGJF official estimates costs the industry $4B USD), combined with the traditional seasonal strength in Q2 could be positive for gold prices in the near-term. Certainly I think that many factors bias the price to the upside rather than the downside with the end of the strike and the upcoming gold buying festival in the world's largest gold consuming nation. Investors can take exposure to this yellow metal using the following ETFs.
Disclosure: I have no positions in any stocks mentioned, and no plans to initiate any positions within the next 72 hours.