Yahoo's (NASDAQ:YHOO) new CEO, Scott Thompson, is going to be gone after four months of tenure over his college degree scandal. It's a bit of shocking news for everybody after Yahoo fired its last CEO, Carol Bartz, after only two years. It's almost like a deja vu of what happened at HP (NYSE:HPQ) after Mark Hurd was fired. What a mess.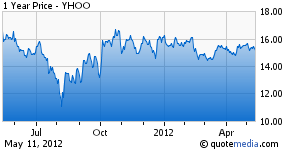 Over the past year, Yahoo's stock price wasn't going anywhere, hovering around the $15-$16 range except for a brief dip with the overall market during summer 2011. The question for all investors is, what should you do about Yahoo now?
I believe Yahoo has value and the firing of Mr. Thompson makes it instantly more likely that this value may be unleashed quickly. Yahoo's value can be separately calculated as three components:
1. The value of Yahoo.com itself. Yahoo's balance sheet is very healthy, with more than $2 billion cash and very little debt. Measured by web traffic, Yahoo.com is ranked as the No. 4 website globally according Alexa. The other websites in the top 5 are: Google (NASDAQ:GOOG), Facebook (NASDAQ:FB), YouTube (part of GOOG), and Baidu (NASDAQ:BIDU). Google's market value is around $200 billion. Facebook, with its IPO pending, is widely believed to be around $100 billion and likely a buy. Baidu's market valuation is $43 billion even after the recent price drop. Yahoo, on the other hand, is valued at less than $19 billion in market cap. There is huge potential value to be exploited from Yahoo's web traffic.
2. Yahoo's ownership of Alibaba Grouping Holdings (OTC:ALBIY). Yahoo owns 40% of Alibaba, and its relationship with the company has turned sour over Carol Bartz's tenure. Recent report suggests that Yahoo may soon sell its Alibaba shares, which is valued to be worth between $4.8 to $8 billion.
3. Yahoo's ownership of Yahoo Japan. This is another chunk of cash that Yahoo can recoup quickly by selling shares back to Yahoo Japan and refocusing on its American business. But talks to sell Yahoo Japan holdings had stalled under Mr. Thompson's tenure.
Three Point's filing suggests that Yahoo's Alibaba and Yahoo Japan ownership converts to slightly over $8 per share. Factoring that into Yahoo's current stock price, Yahoo's EV/EBITDA ratio is at an insanely cheap level of 6.58 for a profitable company.
With Mr. Thompson gone, activist shareholder Daniel Loeb of Third Point is gaining seats and power on Yahoo's board, and I expect both the Alibaba and Yahoo Japan sales to go through much more quickly. If Yahoo can successfully build a model cash-out on its web traffic, its stock price can double in a year or two. Not to mention, Yahoo might soon become a takeover target, with both Microsoft (NASDAQ:MSFT) and Google as possible suitors.
Disclosure: I have no positions in any stocks mentioned, but may initiate a long position in YHOO over the next 72 hours.