Fuel Tech, Inc. (NASDAQ:FTEK) is a company that provides optimization solutions for combustion systems in utility and industrial applications worldwide. It helps utilities and other firms reduce noxious emissions. It also works to reduce slag buildup in coal-fired plants. Fuel Tech says its slag-busting system can reduce a plant's need for coal while increasing efficiency.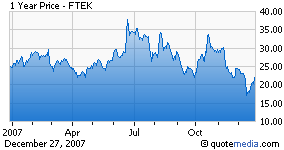 This small cap stock has been on rollercoaster ride in 2007. Its market price has fluctuated between a 52 week low of $16.89 and a 52 week high of $38.20. This wide price range reflects strongly held but opposing opinions on the stock. The bulls include Jackson Robinson of Winslow Green Growth Fund who suggested a potential two to three year price of $100/share in an October 2007 Barron's Online article. On the other side are the short position holders. Over 7 million of the approximately 20 million total outstanding shares are currently being sold short. The wide divergence of opinion has attracted my attention to this small cap stock.
The Bear Case
trailing twelve months P/E: 148.36
recent PEG of 4.24 using P/E (ttm) and 5 yr. expected growth rate (35%)
inconsistent past earnings
risk (and rumors) of a more effective lower cost alternative to Fuel Chem product
large percentage of shares sold short
The Bull Case
recent insider buying (mostly in the low $20s since August 2007)
expected 5 yr. growth rate of 35% yielding a forward PEG of about 1.0
Clean Air Interstate RulE [CAIR] regulations will set stricter standards for emissions in the U.S. in 2009
Fuel Tech has booked $49 million in new orders since the beginning of the third quarter consistent with the expectations set forth by Chief Executive John Norris
large long position taken by Fidelity Investments through various funds
tremendous opportunity in the U.S. (over 1,500 coal-fired plants) and abroad
China, the largest consumer of coal globally with over 3,500 coal-fired plants, acknowledges its pollution problem and is taking mitigating steps
low capital needs
little debt
Morningstar: narrow moat and good management
possible takeover target if GE's (NYSE:GE) product is indeed inferior (GE reportedly intends to double environmental R&D and sales by 2010)
FTEK seems to be generating strong recent sales and adding worldwide customers. With CAIR becoming effective in 2009, the wind is at FTEK's back. If the shorts are indeed wrong, they will have some substantial covering to do.
Using reasonable assumptions, a good margin of safety, and a DCF analysis, I think the potential rewards outweigh the risks for this small cap. I'm a buyer at $22 or less.
Disclosure: Author has a long position in FTEK